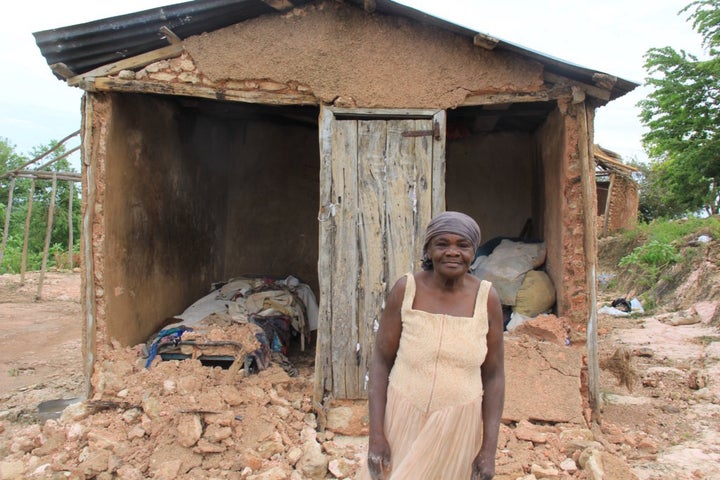 There's a pit in my stomach—and it's been there about a week.


It started when I read news reports about a powerful hurricane slamming into one of the world's poorest countries, and it grew as I read online comments from people all over the United States who were reluctant to help.
Growing up in Miami, one of my defining memories was living through 1992's Hurricane Andrew, still one of the costliest natural disasters in U.S. history. I remember the destruction—more than 100,000 homes were destroyed or damaged—and the weeks we went without power in the humid South Florida summer. But most of all, I remember the gratitude I felt for people all over the country who donated to help rebuild my city.
As Hurricane Matthew battered Haiti with 145 mph winds on the morning of Oct. 4, one commenter on a New York Times article had already predicted that donated money for victims would be "wasted on misguided projects." On Twitter, I saw dozens of tweets from people like PJ who wrote: "Can anyone recommend a reputable place to donate to help victims of #HurricaneMatthew? So many stories of scams, I don't know who to trust."


It breaks my heart to see distrust suppress compassion, even when I understand its origins.


After a 7.0-magnitude earthquake struck Haiti in 2010, billions of dollars in donations went unaccounted for, and the United Nations eventually acknowledged its role in sparking a six-year cholera outbreak that killed thousands of people. But I've always considered the instinct to help others one of the very best parts of being human, and I am optimistic that, collectively, we can find safe and smart ways to encourage this instinct and strengthen high-impact disaster relief and recovery.
Full disclosure: I work for GlobalGiving—a crowdfunding nonprofit that delivers money, tools, and training to fellow nonprofits around the world, including Haiti. We're a big community (of donors and companies, too) that has been trying to making the world a better place since 2002.
It's through my work at GlobalGiving that I know families like the Dessaints. Elianne Dessaint was living in a leaky one-room house with her six children. With help from Beyond Borders, one of more than 3,000 vetted nonprofits that make up GlobalGiving, she received goats and a pig to boost her income, as well as skills training to transform her life and the lives of her six children, all of whom are now in school.
Beyond Borders, which has been working in Haiti for 23 years, has now identified 100 families in nine communities that were the hardest hit by Hurricane Matthew. The nonprofit is using a model that is proven to help families not just to recover, but to develop a sustainable livelihood, food security, savings, better health, and improved child welfare over the course of 18 months. For $1,800, an entire family's future is transformed. I trust Beyond Borders and their local expertise so much that I now serve on its board.
I also know about this water cistern tucked in an Artibonite hillside in Haiti. It's one of 53 that the Lambi Fund of Haiti built with donations from the GlobalGiving community in the days and months following the deadly 2010 quake. The crowdfunding community raised more than $1.7 million for immediate and long-term earthquake recovery projects. On the ground, that meant more cisterns to collect, treat, and store rainwater, which provided a source of potable water for thousands of rural farmers and residents at risk after the 2010 earthquake. In communities with cisterns, the Lambi Fund found that disease rates went down and girls' school attendance rates went up. Lambi Fund is in it for the long haul in Haiti, and they're doing incredible work.


Helping people recover from disaster—no matter where in the world they live—is easier and safer than some might think.


Communities torn apart by Hurricane Matthew have a long road to recovery ahead of them. Thousands of people in Haiti, Jamaica, Florida, and other regions hit by Matthew have lost loved ones, homes, or businesses. For their sake, it's important to answer PJ's question. Over a decade of experience in disaster recovery and international development has taught me two principles to guide smart giving after a natural disaster. The first: give cash; the second: give to locally driven organizations.


Give cash because:


Survivors' needs vary greatly, from disaster from disaster, and even day to day. Haitians likely don't need your old ski jackets and Syrian refugees probably don't need your old bikinis (two examples of well-meaning donations I've seen in the field). In a country where many people live on little more than $2 a day, your cash contribution, no matter the amount, matters.


Moving money to where it's most needed is easy. Donated things often cost more to ship to disaster survivors than the items are worth. Often, things go to waste. I recently visited a refugee camp in Greece. I saw rooms filled with donated items from thousands of miles away—high heels, Spanish-language calculus books, and other discarded items—that only served to divert resources and attention from the urgent needs of refugees.


Stuff that is donated, even with the best intentions, often disrupts the local economy. After Typhoon Haiyan struck the Philippines in 2013, I met WAND Foundation, a local nonprofit that hired community members to build toilets using local materials and an award-winning design. But when a shipment of foreign toilets were suddenly delivered to the area, the effort was hampered and disaster-affected families were put out of work.


Give to local organizations because:


Local nonprofits are deeply rooted in impacted communities, and they understand needs there better than anyone else.


By investing in local organizations, you build capacity in the community, helping people to become more resilient in the future. Local organizations will be around long after a disaster strikes, and your donation has the power to benefit the community in indirect and far-reaching ways.


Local nonprofits are vital to disaster recovery, but they're less likely to have the resources to fundraise on a global scale. Less than 2 percent of funding for disaster relief goes to local NGOs, according to The World Disasters Report. Imagine how shifting this ratio would change the face of disaster recovery.
Let's all keep finding ways to foster one of the very best parts of our humanity in the wake of the very worst disasters. I can't think of anything more important for survivors of Hurricane Matthew.