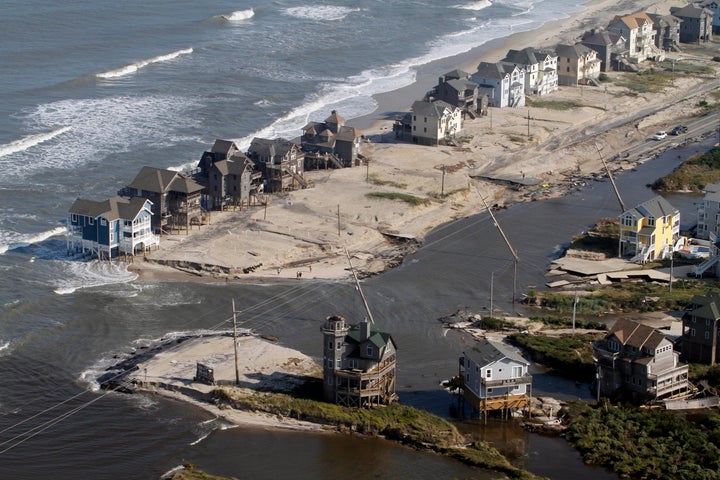 UPDATE 8/30/11, 4:15 p.m. EDT: Despite reports on its website, Wright Brothers National Memorial in Kill Devil Hills, North Carolina, is open to visitors on its regular schedule, 9 a.m. to 5 p.m. daily. Roughly half a million people annually visit the place where Orville and Wilbur Wright made the first powered flight of a heavier-than-air craft in 1903.
-------------
UPDATE 8/30/11, 1:00 p.m. EDT: Hatteras Island remains cut off from the North Carolina mainland, with a ban on all but "essential personnel or persons with special needs" allowed on the Outer Banks enclave according to Dare County officials.
The town of Duck, North Carolina, also in the Outer Banks, reopened to tourists at 10 a.m. this morning. But county officials are warning that "not all properties will be ready or open," advising visitors to confirm with their rental home manager or hotel before heading to the area.
Homeland Security Secretary Janet Napolitano and Agriculture Secretary Tom Vilsack will visit North Carolina today, the Associated Press reports, as part of a larger Obama Administration effort to tour storm damage along the East Coast.
One bright spot for Outer Banks tourism is the Currituck Beach Lighthouse, which reopened yesterday in Corolla. Site manager Meghan Agresto tells HuffPost Travel that "we haven't had anybody come climb yet, but we'll stay open if they come."
"All the paint got sandblasted off the top of the lighthouse," Agresto said, adding that they'd just repainted over the off-season. But the 158-foot-tall beacon is open for business. "Branches and leaves are down, but it doesn't seem like it's too bad [here]."
-------------
Hatteras Island in the Outer Banks of North Carolina has been cut off from the mainland after Hurricane Irene made its first U.S. landfall on the 200-mile-long chain of tourist-friendly barrier islands. State Highway 12, the main thoroughfare through the islands, is interrupted in five places, reports the Charlotte Observer, isolating Hatteras. The towns of Duck and Rodanthe were also cut off.
Ocracoke, another island in the Outer Banks that's home to one of the country's oldest continually operating lighthouses, was also cut off over the weekend. Ferries have since restarted service after the hurricane.
With Labor Day still a week away, one hotel manager is holding out hope for a final tourist surge. "This next weekend would have been one of our biggest moneymakers. And many people come here after Labor Day to enjoy the season when it's less crowded," the manager of the Comfort Inn in Buxton, North Carolina told the Miami Herald.
Popular in the Community