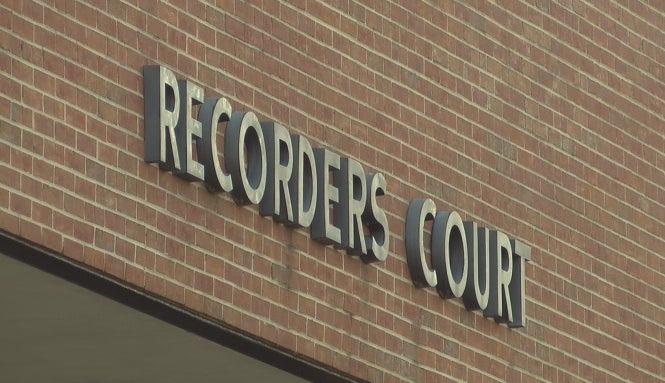 On June 10, 2016, police were called to the Columbus, Georgia home of Cleopatra Harrison. Harrison, then 22, told the officer that she'd been physically abused by her boyfriend the night before. He had choked her and pushed her up against a wall. The assault left visible bruising and lacerations on her face, neck, and torso. Her boyfriend was arrested and charged with aggravated assault.
Harrison didn't want her boyfriend to go to jail. At the time, she was making $12.18 an hour cleaning the mess hall at an Army base in Fort Benning, and she couldn't afford rent on her own. She was instructed by police to attend her boyfriend's preliminary hearing. She did so, and truthfully told the judge the same account she had given to police. She also informed the prosecution that she didn't want to press charges.
By the end of the day, she was in jail.
Harrison, already a victim of domestic violence, had fallen victim to another abuse: a Columbus city ordinance that allowed judges to charge "victim assessment fees" for women who declined to prosecute their abusers. When Harrison affirmed the facts of the case but expressed her desire not to serve as a witness for the prosecution, Judge Michael Cielinski immediately assessed a $150 fee to Harrison, ostensibly for wasting law enforcement's time because she wanted to dismiss the case. There was no question about why she hadn't wanted to move forward with the prosecution. Harrison didn't have enough money to pay that day. She was given a document warning that an arrest warrant would be summarily issued if she failed to pay within one week.
As she attempted to leave the courthouse, she was stopped by the same officer who had been called to the scene of the assault. Without any factual basis for doing so, the officer accused her of lying about the assault. She was handcuffed and taken to jail, where she was kept until her boyfriend came with money to bail her out.
The Columbus Recorder's Court's "victim fee" policy came to light after an investigator for the Southern Center for Human Rights noticed the disturbing practice. Multiple women would come before the court to ask that charges against the accused be dropped, often in cases in which a woman had been assaulted by a spouse or domestic partner. According to the National Domestic Violence Hotline, on average, it takes many survivors of domestic violence an average of seven attempts before they are able to leave their abuser for good.
Harrison's experience was not an isolated incident. In May 2016, police found a woman incoherent on the side of a road after her boyfriend beat her over the head with a handgun. The woman appeared in the same court for her boyfriend's preliminary hearing. Although she had not been responsible for police involvement in the incident, Judge Cielinski imposed a $200 "victim fee" on her when she expressed her preference for dropping the charges. Two months later, a woman was having an argument with her boyfriend in their apartment. During the argument, her finger was fractured. An unknown person called police, due to the disturbance. When the woman appeared in court and asked that the charges be dismissed, Judge Cielinski again imposed a "victim fee" of approximately $200.
On October 5, 2016, the Southern Center for Human Rights, along with a Columbus attorney, Mark Post, sued the Consolidated Government of Columbus on behalf of Harrison and others who had been forced to pay these fees. Yesterday, the U.S. District Court for the Middle District of Georgia approved a final class action settlement. Harrison, along with 33 other people, will receive restitution of the fees they were forced to pay, as well as compensatory damages.
Also, as a result of the lawsuit, the City has repealed the victim fee ordinance. "This was an archaic law that was being used by the court to punish and intimidate victims of domestic violence," said Sarah Geraghty, Managing Attorney at the Southern Center for Human Rights. "To the City's great credit, it did not defend the ordinance, but repealed it and agreed to compensate those who were forced to pay victim fees."
"I'm not suing to get no money," Harrison told Cosmopolitan. "I'm suing for my rights."
Calling all HuffPost superfans!
Sign up for membership to become a founding member and help shape HuffPost's next chapter