I began working as a consultant in change management services with my current employer back in 1991. After trying to juggle raising two kids with my consulting career-my husband also had a career in consulting-I hit the wall in 2000 and went through a total burnout. This life-changing experience gave me the opportunity to make some major changes and to find my mission in life.
I transitioned to a human resources role and used my personal experience to put mental health on our company's agenda, as well as to put in place the mechanisms to promote a healthy work-life balance.In 2010, I took on the role of Human Capital & Diversity lead for Norway. In this role I work on developing leadership, talent and culture. I am also the Nordic Inclusion & Diversity lead.
My passion for inclusion and diversity grew out of my life experiences: my professional burnout in 2000; the lessons I learned while restructuring my life and my career to find balance and pursue roles that are meaningful to me; and by being the mother of two beautiful children adopted from Colombia (now 20 and 17 years old). Each of those experiences gave me insight into being "different" in both positive and negative ways and inspired me to focus on the diversity of our people, especially those who struggle and who are not part of the majority.
I feel really blessed to work in areas and on projects that are so close to my heart. I really feel that I was put in this world to make a difference in the inclusion and diversity area. My life was preparing me for this work-I can see that clearly now. I am credible in my role because I have experienced how important it is to be included and valued for who you are, even when you do not follow the path of the majority and even when you fail. We each bring different insights and value to a team. When those difference are valued, synergies and solutions are created that would not have been possible if we all were the same.
Lessons from a proud daughter
In 2008, my beautiful and proud daughter came out of the closet at age 13. As her mother, I have certainly made mistakes, but I have also been able to learn and explore a new world. Together, we have participated in the Oslo Pride parade, the San Diego Pride parade, and we have visited the LGBT (lesbian, gay, bisexual and transgender) community in San Francisco. She protested, however, when I said that I wanted to watch "The L Word" television series (I did anyway), which portrays the lives of a group of lesbians and their friends and connections in Los Angeles.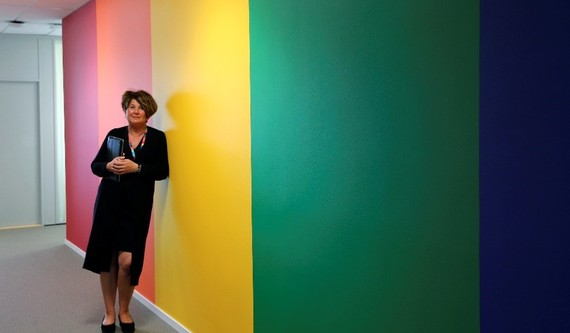 When I started talking about my daughter with friends and colleagues, there were many people who suddenly gave me hugs and said, "Oh no, I am so sorry." Initial reactions like that, often followed by silence and disconnection, made me wonder and then react. I kept talking about the subject, allied with the global LGBT network at my workplace and our Norwegian LGBT organization, put an LGBT flag in the office and put an LGBT sticker on my laptop so that everyone could see it.

Read the full article

Calling all HuffPost superfans!
Sign up for membership to become a founding member and help shape HuffPost's next chapter