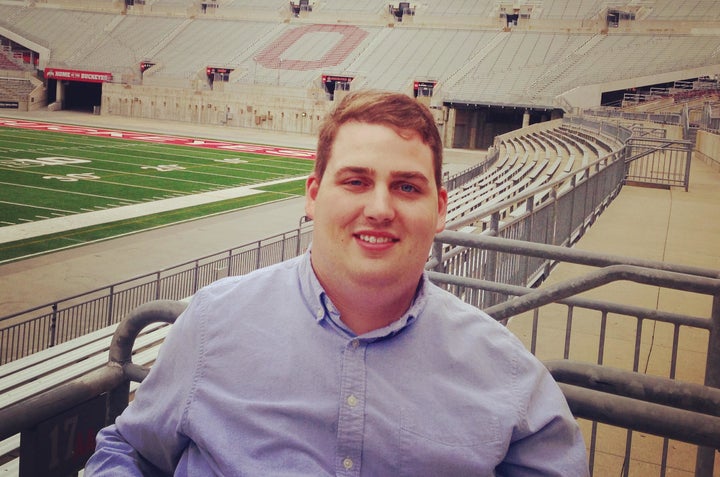 A lot of people these days take a gap year between high school and college to learn, explore, and mature. Some take a year or two off to work various jobs and save enough to help pay down those student loans before they even start piling up. Others, like myself, have taken several years away from a full time college education for very different reasons that were totally unplanned, even unthinkable.
When I was 19 years old, I had an injury that forever changed my life. While swimming with buddies of mine, a diving accident left me with quadriplegia.
I don't want to get into the ups and downs of the last six years of my life. Instead, I want to focus on what it means for me to go back to school.
This January 9, I'm enrolling to earn my bachelor's degree at The Ohio State University. Like a lot of students, I'll have my share of butterflies, concerns about whether I'll get my top choices of classes, and what new friends I'll be able to make.
It's no secret, however, that for disabled people like myself a new semester presents a whole set of challenges that I previously never thought twice about. How am I going to get that door open? Are people going to see me as a fellow student or pity me? How much extra time do I have to devote to typing that term paper?
In case you're wondering, yes, it takes a lot more effort and hours, but I'm able to type through a combination of voice technology, a virtual keyboard app I operate using my pinky, and using the back of my hand on top of a track ball mouse. In the big scheme of things, these are all minor issues that are easily overcome compared to what I've already been through.
So while I'm a bit nervous, what I'm really feeling is tremendous excitement about what lies ahead and how my education can truly open doors for me that I never thought possible.
In a way, I've never left OSU. For the last four years, I've been on campus three times a week, participating in a research study at the Wexner Medical Center at The Ohio State University. I don't hesitate in describing myself as a human guinea pig, and am proud to play a role in advancing medical research by hooking up to a first-of-its-kind system with a brain implant and muscle stimulator developed by the Battelle Institute and the team at OSU led by Dr. Ali Rezai. In fact, thanks to their genius and hard work, I made history, regaining movement in my hand, enough to swipe a credit card, hold a glass, and, most exciting, play Guitar Hero.
One way I've grown is coming to realize that the people and professions that I value most are those that help other people.
But the time spent at the university was really less about developing a professional obsession with electrical engineering, or even surgery, and more about honing my personal skills and focusing on what's most doable.
I've always been a practical and goal-oriented kind of guy, definitely less introspective than some people I know. In a way, that's been a huge blessing, as it's given me focus and can-do dedication. Yet I've also grown in many ways since my injury. One way I've grown is coming to realize that the people and professions that I value most are those that help other people. I wouldn't be here without an amazing team of nurses, occupational and physical therapists, physicians, engineers, and, of course, my family and friends.
At one point in my life, I dreamed about running a video production house, or about taking my interest in business to the next level and becoming an entrepreneur or even joining my family's business. But now, with the perspective of the injury in mind, I've fallen in love with a profession that many consider a bore: accounting. Although many thought I couldn't pull it off after my injury, I'm getting on with my life plan by enrolling full time to become an accountant. For me, it's less about the financial spreadsheets software and even tax preparation, and much more about truly connecting with other human beings at a very vulnerable place. Finances are something that many don't even share with their partners. Probably more than anything, financial worries keep people up at night and produce stress that can lead to disease. In the world of business, accountants are really the first and last advisors you'll ever need. Accounting is the ultimate in professional service acting as an intermediary between everyday life and financial health.
If I can take my affinity for people, numbers, and business, as well as my ability to quickly analyze a problem and just as quickly generate trust, I'll be giving back in the best way I know how.
It's been a hell of a detour, but I'm confident I'm going to be able to accomplish my goals. Now that I'm headed back to school, I'm psyched to get started.
This piece is part of a special brain health initiative curated by Dr. Ali Rezai, Director of Ohio State University Wexner Medical Center's /wexnermedical.osu.edu/neurological-institute/departments-and-centers/research-centers/center-for-brain-health-and-performance"}}">Stanley D. and Joan H. Ross Center for Brain Health and Performance. For more, visit The Huffington Post's /www.huffingtonpost.com/topic/brain"}}">Brain Health page.
Calling all HuffPost superfans!
Sign up for membership to become a founding member and help shape HuffPost's next chapter