This article is the sixth in a series of about the Netherlands' efforts to reduce its carbon footprint and increase its reliance on renewable energy and energy efficiency. (Links to preceding articles in the series are at the bottom of the article.)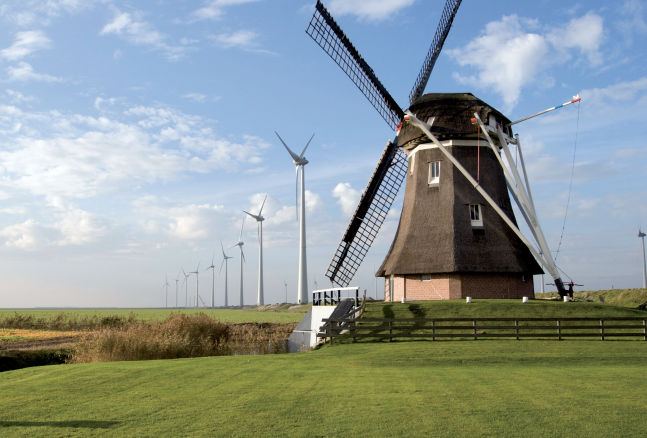 Amsterdam, The Netherlands — For the past nine years, a Dutch cooperative wind power project in North Holland has been stalled. Ironically, the project seems to fit perfectly with the renewable energy goals both of the nation and the city of Amsterdam, where the turbines would be sited.
The difficulties of this citizen-based renewable energy effort indicate how, even in a city renowned for its progressive climate and energy policies, political opposition can stifle the growth of renewable energy.
In turn, this renewable energy snafu illustrates the challenges that even prosperous, progressive European cities may face in attempting to achieve a rapid transition from fossil fuels to renewable power.
Amsterdam's Ambitious Climate Goals
When it comes to clean energy, Amsterdam and the Netherlands are not exactly on the same page.
Amsterdam has an ambitious climate policy designed to reduce its carbon emissions 40 percent below its 1990 levels by 2025. By 2040, the city plans a 75 percent reduction in emissions compared with 1990.
The Netherlands also would like to be regarded as a pacesetter in clean energy. In 2012, it adopted the Energy Agreement for Sustainable Growth. The Agreement proposed an energy strategy for the Netherlands that would lead to the development of a wholly sustainable energy supply by 2050.
It was drafted by the country's multi-stakeholder Social and Economic Council (SEC) which advises the Dutch government and Parliament on important social and economic issues.
Progress under the Agreement, however, has been less than stellar. Political opposition to renewable energy by the center-right People's Party for Freedom and Democracy (Volkspartij voor Vrijheid en Democratie [VVD]), at both national and provincial levels, has led to siting regulations that have hobbled would-be wind power developers in the province of North Holland and elsewhere in the Netherlands.
The Agreement calls for the Netherlands to initially reduce the country's final energy consumption by 1.5 percent per year and increase the proportion of energy obtained from renewable sources from 2.5 percent in 2005 to 14 percent by 2020 and 16 percent within another three years. The average EU target is 20 percent by 2020.
"The Netherlands performs poorly when it comes to meeting the targets as agreed upon in the EU Directive Renewable Energy for 2020," according to the Netherlands Statistical Bureau (CBS). The country now gets only 5.8 percent of its energy from renewables—less than half the way to its 2020 renewables goal, but after almostthree-quarters of the allotted time.
Among European nations, "only France is further away from its national target," CBS noted, and only Malta and Luxembourg get smaller percentage shares of their energy from renewables.
Meanwhile, "one-third of European countries have already reached their agreed [EU] targets," and countries like Denmark and Austria are only a percentage point away. Sweden, a star performer in renewable energy, already obtains 53 percent of its energy from renewables. Finland and Latvia are tied for second place in the EU at 39 percent. (Iceland gets more than 80 percent of its energy and 100 percent of its power from renewables, but is not in the EU.)
Because the Netherlands is the EU's largest natural gas producer, "nearly every house in the Netherlands is connected to the natural gas grid and gas is fairly cheap," according to CBS. The country has little hydropower or biomass and national renewable energy subsidies are lower than in front-running countries like Denmark and Germany.
Wind Projects Encounter Stiff Head Winds
Under the 2012 Energy Agreement for Sustainable Energy, the main mechanism for increasing the country's share of renewable energy is the SDE+ or Sustainable Energy Incentive.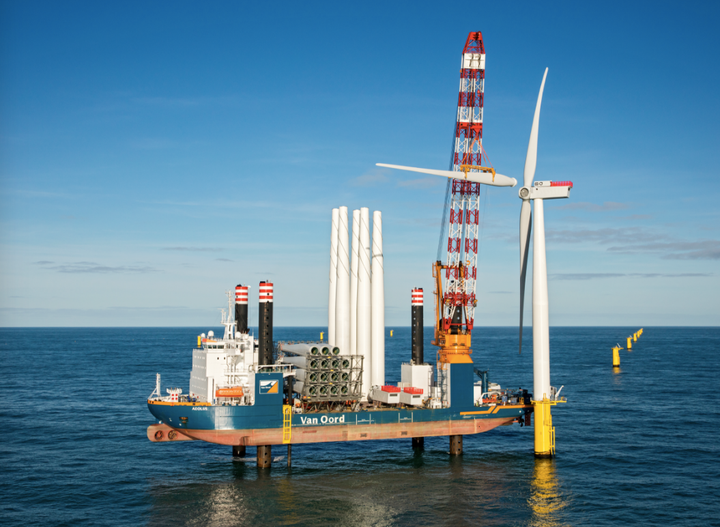 The SDE+ guarantees renewable energy producers a minimum price for each unit of energy sold for an extended period of time. That makes for stable prices and a predictable long-term revenue stream, which in turn makes it easier to attract investment capital. But that hasn't been enough to create a renewable energy gold rush, as in some other countries.
To fulfill the Energy Agreement's wind energy goals, the Netherlands was to scale up its offshore wind capacity from about 1,000 MW in 2011 to 4,450 MW by 2023. In addition, 6,000 MW of onshore wind was to be built by 2020. That is a relatively small amount of capacity for an industrialized nation: the 3,031 MW in place in 2015 avoided only 1.2 percent of the country's fossil fuel use.
The expansion of wind power in the Netherlands has not gone as rapidly or as smoothly as it might have. A premise of the 2012 national Energy Agreement was that local residents would be able to participate actively in the planning and operation of wind projects under the rules of their respective provinces. But in some provinces, many barriers stand in the way of wind power expansion.
"If the experiences of citizen wind coops in North Holland are any indication, the Netherlands still needs to clear some major obstacles at the national and provincial levels that currently hinder the citizens of Amsterdam and elsewhere from achieving their clean energy goals."
Onze Energie and Windvogel
Windvogel (Wind Bird in English) is a democratically run citizens' wind energy coop of 3,300 members established in 1991, inspired by the environmental concerns expressed in the Club of Rome report.
People can join Windvogel for as little as 50 euros and then become co-owners of the co-ops renewable energy projects. Members democratically help set co-op policy, including investment decisions and how to price wind energy projects. They also receive education, training, and information about renewable energy.
Local chapters of Windvogel actively work for renewable energy in Amsterdam and six other Dutch cities as well as in several Dutch provinces. The emergence of renewable energy co-ops like Windvogel in the Netherlands is a natural offshoot of the country's long tradition of citizen co-ops in agriculture and horticulture.
Windvogel's experience trying to create a new wind project in Amsterdam with other local wind co-ops, however, exemplifies the difficulties that citizens of the Netherlands have encountered in trying to help the nation meet its clean energy goals.
Since its founding a quarter century ago, Windvogel has built or shared in the construction of just four wind turbines from 600 kW to 2 MW in size, plus two small turbines. All told, the co-op's turbines produce approximately 7,600 megawatt-hours per year—enough power for about 2,500 households.
Windvogel would like to build more wind turbines while increasing public support for renewable energy. The slow pace of the co-op's progress, however, has nowhere been more apparent than in Amsterdam where the largest project Windvogel has been involved in still exists only on paper.
That project was initiated in 2007 by a local, largely voluntary co-op called, "Onze Energie" (Our Energy) in cooperation with the City of Amsterdam. The group soon found how time-consuming the planning and political process for the development of wind energy in the Netherlands can be.
Nine years of collaborative effort have since been expended in an attempt to gain financing and government approval for a wind project of just five new large wind turbines and an existing turbine in Amsterdam's NDSM Wharf area. Onze Energie's main partner in this venture is NDSM Energy.
NDSM Energy is a four-year-old cooperative of companies doing business at Amsterdam's NDSM Wharf on the site of the old NDSM shipyard in Amsterdam North. Its 60 members include multinationals as well as local businesses and artists.
In addition to the wind project, NDSM has put solar PV panels on company roofs and is planning a large-scale solar park. "We hope to raise awareness and inspire as many people as possible to produce and use their energy in the most sustainable way," said Keijen van Eijk, NDSM 's Project Manager.
Soon after its founding, NDSM Energy partnered with Onze Energie, providing new support for the project. Since 2012, NDSM Energy has led the wind project's spatial planning and political process.
In 2016, the NDSM-Onze Energie alliance was further broadened by affiliation with Amsterdam Wind, a newly formed collaboration of Windvogel, Zuiderlicht (Southern Lights), and Amsterdam Energie. Windvogel's formal involvement in the project began at this time, according to van Eijk.
In May 2016, NDSM Energy representing itself and the citizen co-op alliance, submitted a license application for its 15 MW wind project near the NDSM Wharf.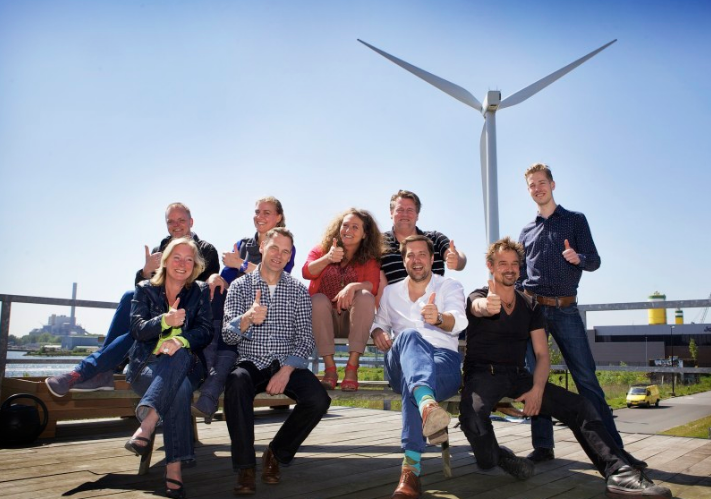 If the application is successful, the project could supply enough power for thousands of Amsterdam households and all 400 companies on the NDSM Wharf. However, in addition to meeting national environmental regulations, the project, like other wind farms in North Holland, has to meet stringent and, some would say unnecessary, additional provincial statutory requirements.
The Netherlands' VVD Party traditionally is the largest party in the provincial government of North Holland. Before the elections of 2011, the VVD campaigned for a moratorium on land-based wind energy. When it won and formed a national coalition government, restrictions on wind energy became national policy until 2015.
Under the 2012 Energy Agreement for Sustainable Energy, North Holland had been allocated a 2020 minimal target of 685.5 MW of onshore wind by 2020. After the VVD won the North Holland provincial elections in 2015, the province's restrictive policy towards onshore wind was reaffirmed.
Arcane Rules and Restrictions
Thus the province of North Holland requires that wind farms must consist of a minimum of six turbines and that, for each new wind turbine installed, project developers must buy and retire two old turbines. In addition, the new turbines have to be sited at least 600 meters from residential areas, almost twice as far as national laws require.
According to NDSM Energy's Director Martijn Pater, in open rural landscapes the national legislation serves to prevent excessive encroachment of wind turbines on residences. In the city, however, in between the highways, industrial areas, and other types of dense and noisy development, "the rule doesn't make any sense," he contends.
"The province actually limits the number of wind turbines that Dutch people can put in North Holland," he said, with evident frustration. As mentioned, under the country's Energy Agreement, the federal government is committed to having 6,000 megawatts of wind power on land in the Netherlands by 2020, divided among Holland's 12 provinces.
The province of North Holland was apportioned slightly over 11 percent of the total capacity because it is close to the coast and has more wind-generating capacity. "This [allocation] was by no means a cap," said Pater.
However, when the VVD won control of the provincial government in 2011, "they actually promised the voters that they will put up as few wind turbines as possible. . . . They don't believe in sustainable energy because it is heavily subsidized," according to Pater.
"The situation I'm in right now is almost Kafka-esque," Pater said, "but it comes down to this: North Holland has to at least put up 685.5 megawatts of wind turbines." But to make sure that no more than that capacity is installed, the province introduced three wind project permitting rules.
Ironically, these rules are stricter than Dutch law to slow the implementation of wind power in a country that's nominally interested in expanding its wind and solar power capacity to reduce its carbon emissions.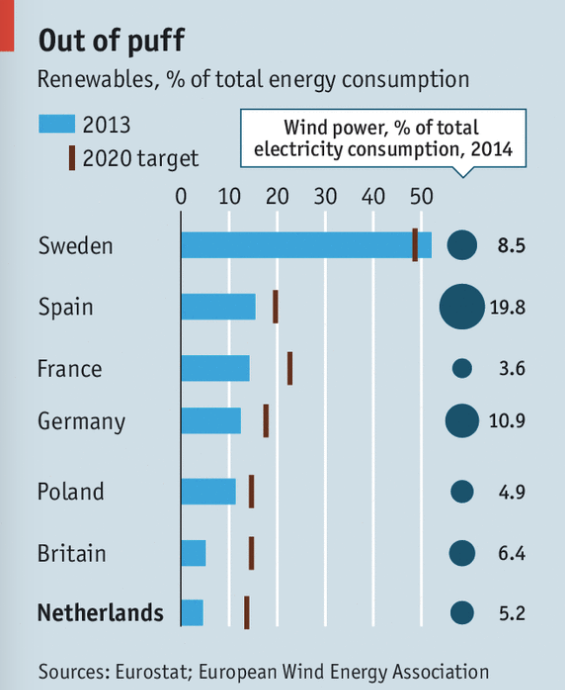 The rule that turbines must be 600 meters from the nearest house, "created a problem for us," Pater said, "because here where we are now in the industrial area, we are only 450 meters from houses, so [the wind project we want to build here] wouldn't be complying with the provincial law."
The second provincial rule is that a wind project cannot consist of fewer than six turbines and is related to the third rule which requires taking down two old turbines to put a new one up. "So you have to find farmers or people in North Holland who already have wind farms and buy at least 12 old ones," Pater said.
What happens, Pater continued, "is that they basically organize themselves in a cartel," in order to negotiate for ownership rights to the project. This can make project financing and management challenging.
According to Pater, the province has blocked NDSM from building a turbine for which it had strong local support, a city permit, and federal subsidies. (The subsidy guarantees a floor price of €0.09 per kilowatt-hour for each kW-hr produced.)
The turbine would have been the first of the six-turbine NDSM-Windvogel project. Four of the project's turbines would be sited along a highway near NDSM, and two would be along the waterfront.
Each turbine would be 3 MW in capacity for a total of 18 MW. "If we're able to install them," Pater said, "we'll have enough electricity for 400 companies—26 million kilowatt-hours—and [13 million kilowatt-hours] for 6,000 households in North Amsterdam."
The new turbines will cost about €4,200,000 each and, at the guaranteed price of €0.09 per kW-hr, would earn about €585,000 per year and would generate about €100,000 in profit.
Pater sees NDSM as a "sustainability laboratory." "I think 75 percent [of the profits] will be invested in new renewable energy projects and education," he projected. The remainder, minus operating costs, would be given back to the co-op member-investors, he indicated. "The whole idea is to invest and create a sustainable wharf," he said.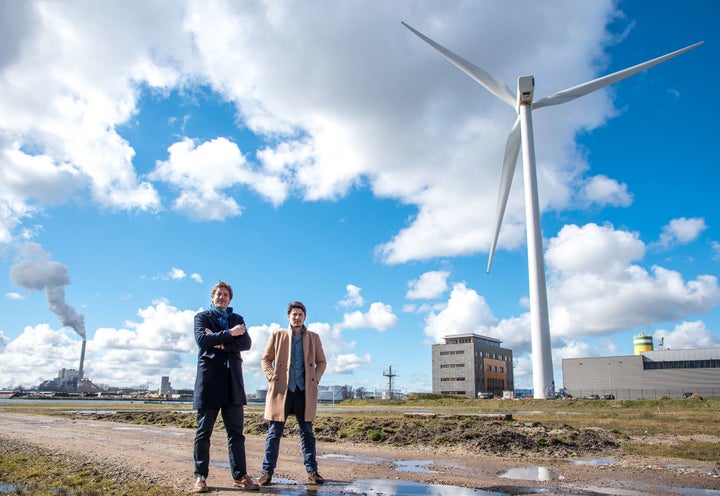 NDSM, joined by the City of Amsterdam, took the provincial government to court last November. "We want the province to change its siting rules. . . . Are we creating the rules for the rules, or are we creating rules for the people?" Pater asked.
According to NDSM's van Eijk, "Technically, the province took the City of Amsterdam to court, by appealing the city's decision to grant us a permit for the turbine, stating that it was the province's [right] to grant permits for building wind turbines on provincial territory."
The Netherlands' Council of State, the country's highest administrative court, ruled in the province's favor on the narrow jurisdictional issue but failed to weigh in on the merits of the province's rules, as NDSM had hoped.
Although Amsterdam Wind and NDSM cannot meet all the provincial statutory requirements, the co-ops have decided to seek an exemption from these regulations and apply for a license anyway, with the support of the Amsterdam city council, which owns the proposed project site.
Alderman Abdelhuleb Choho of Amsterdam, in a letter of support to the provincial government, asserted that provincial support for local energy cooperatives would be consistent with the province's own Energy Policy Agenda 2016–2020.
Initiatives such as the proposed project are essential for a successful energy transition, he added, politely reminding the province that it has the authority to grant an exemption from provincial siting policies to a municipality.
Specifically, the involvement of citizens and local businesses is important in meeting the state's wind power targets, according to van Eijk. Revenues from the wind farm would also contribute to the economic sustainability of Amsterdam and would help fund other sustainable ventures, he pointed out.
"Although politics and restrictive government policies can be a frustrating phenomenon," van Eijk observed, "I think the bottom-up movement of citizens and businesses is here to stay and plays a crucial role in the energy transition. . . ."
The Environment Department for the North Sea Canal Area is currently reviewing the Amsterdam Wind and NDSM application along with others, and the province expects to issue its first licenses in 2017.
Perhaps that will be the year in which the protracted citizen-based campaign to expand cooperative wind power in Amsterdam triumphs over the formidable regulatory obstacles in its path.
Other articles in the Netherlands sustainability series include:
Related
Popular in the Community