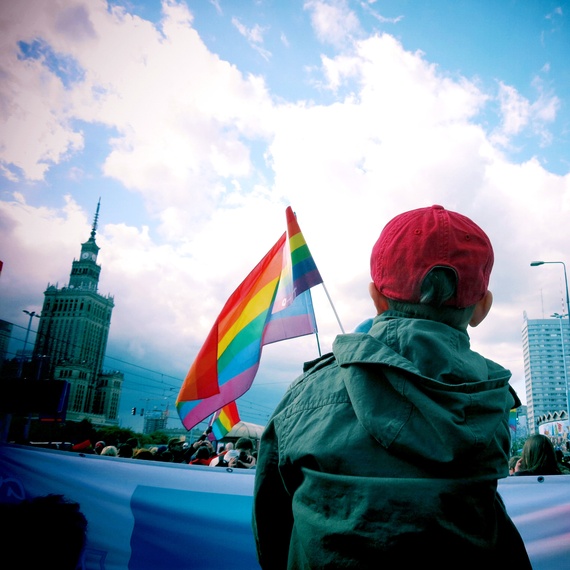 We woke up Sunday morning to more heartbreak in the headlines. My eyes scanned the ticker, reading words like "worst mass shooting in history," "massacre," "50 casualties," "53 wounded." It couldn't get any worse. Until it did. The victims--mothers, fathers, boyfriends, girlfriends, sons, daughters -- were not chosen at random. They were targeted because of how and who they love; shot dead for doing nothing more than being themselves.
I spent the rest of the day scrolling through social media feeds, virtual fingers pointed in every direction. Some people blamed religion, while some blamed our laws (or lack of). Others, myself included, placed our anger square on the shoulders of politicians. But, though our opinions as to how we ended up here differed, we shared one common goal: how do we stop this from happening again? And, while I'm sure there's more than one answer to this question, I think it starts with our children.
When I had my boys, I made a conscious decision not to mention or point out when someone looked different than them. I wanted to wait until they noticed and asked. I waited and waited, sure those questions would come any day. But, to my surprise, they didn't come for years. Until, finally, one morning as my oldest was coloring, he looked up at me and said, "Mommy, people come in all colors." Then, holding up crayons to demonstrate his point, he continued, "Some people have white skin, some people have peach, some have brown and some have black." I smiled and said to him, "You're right buddy! Pretty awesome, huh? How boring would the world be if we all looked the same?" He agreed and carried right on coloring.
I continued to use this approach with my kids. When my friend Zack was coming over to hang out, my son asked if he was coming over alone. "No, baby, his boyfriend Darren is also coming." Yes, I could have gone on to explain boys and girls and relationships and love, but somehow that felt more complicated, as if I was making something simple -- just like the love I shared with his father -- into something difficult.
Another birthday came and went, and, with it, more complex questions. "Why does my friend at school have two daddies?" he asked me one afternoon. "Because every family is different. Some have a mommy and daddy, some have two mommies, others have two daddies. But it makes no difference because their love is the same." I replied, then waited for a reaction that never came. He didn't bat an eye. The kid just got it.
With every passing year he asked more questions, and our talks became longer and more involved. When the Supreme Court opened the doors of marriage equality and invited everyone in, he watched alongside me as I cried, screamed and clapped. It was then I explained to him that there are people in the world who are terrified of those who don't look and act like them. "That's silly, mommy, how boring would the world be if we were all the same?" he said, knocking the breath right out of me.
I pride myself on always being truthful with my kids, to the extent their age can handle. And I've always felt comfortable talking to them about most everything... until Sunday that is. Because along with the lives this coward took, he also took my words. How could I explain to a seven year old that boogey men really do exist in real life when I can barely understand it myself? How do I tell him there are people in the world who will kill one another just for being who they are? I don't want him navigating his way through life with fear and uncertainty, but, at the same time, I want him to know that he has the power and responsibility to change the future with love and understanding.
When I found my words late last night, I sat down to share them. I started off by saying that, "We may not be able to change the world overnight, but we can change it slowly, by raising our kids with tolerance." But something didn't feel right. I've used the word tolerance a million times, and suddenly it became one I never wanted to use again. Because, to tolerate implies putting up with something, and putting up with something implies that it's less than. I realized that I've had it wrong the entire time, but, with one small edit, I could make it right again.
We may not be able to change the world overnight, but we can change it slowly by teaching our kids that differences in color, sexuality, lifestyle, size, shape and religion are something to be celebrated, welcomed and respected -- not just tolerated. Because my son is right, how boring would the world be if we were all the same.
This piece was originally published by Allison Zapata on Mommy Nearest. Allison Zapata is a happily divorced mom, writer, and photographer. She spends her days in Houston, Texas, raising her two young boys and three rescue dogs, and living the life of a professional bleeding heart and over-sharer. When not shooting anything with four legs or a pair of wings--ahem, with a camera--she's using her BS in Psychology to self-diagnose. Her days are made up of loving on her boys, new adventures and equal parts angst and joy. And, her nights, a totally acceptable amount of wine.
Popular in the Community