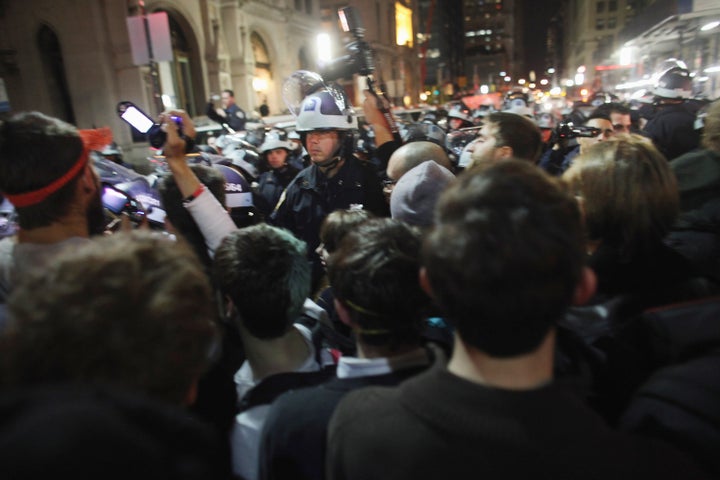 Following the NYPD's controversial "media blackout" during the Occupy Wall Street raid in November, New York's finest are getting retrained on media guidelines stressing appropriate conduct allowing fair coverage for journalists.
Capital New York spoke to Deputy Inspector Kim Royster who detailed the training program's "media representative summary" which included these instructions:
Members of the service will not interfere with the videotaping or photographing of incidents in public places. Intentional interference constitutes censorship. Media access to demonstrations on private property will not be impeded by the Department unless an owner or representative indicates press is not permitted. The media will be given access as close to the activity as possible with a clear line of site and within hearing range of the incident.
The "media blackout" was widely condemned by both free speech advocates and journalism protection groups. Representatives from 13 media organizations, including assistant general counsel for The New York Times George Freeman, issued a scathing letter to the department, criticizing police conduct during the raid for "numerous inappropriate, if not unconstitutional, actions and abuses" that took place.
Mayor Bloomberg defended police actions and said that the police department routinely kept the press off to the side in order to protect them from harm.
"It's to prevent the situation from getting worse," the mayor said. "And it's to protect the members of the press."
While Royster insists the training program had been continuously enforced prior to the letter, in the month following Police Commissioner Ray Kelly reissued their "non-inteference order" to be read aloud to officers across the department, suggesting the letter had prompted Kelly to take some kind of action to address the condemnation.
Royster further described the program's efforts and said that over the past year and a half, the police department had widened its training program to include higher-ranking officials. She also said that members of the press have come in to help participate in the program.
Related
Popular in the Community