The bishop of Providence, Rhode Island doesn't see eye to eye with Pope Francis when it comes to homeless people.
"Help is always right," Pope Francis said in response to a question about almsgiving. He qualified that by saying: "Certainly, it is not a good thing just to throw a few coins at the poor. The gesture is important, helping those who ask, looking them in the eyes and touching their hands. Tossing the money without looking in the eyes, that is not the gesture of a Christian."
In a Facebook post on Tuesday, Tobin echoed the pontiff's sentiment but urged against giving money to homeless people altogether.
"It is a practice that enables a few dishonest individuals to prey upon the compassion of others to ask for money, even when they don't have legitimate needs," Tobin said in a three-point argument.
The bishop's warning that "dishonest individuals" prey on the kindness of strangers parallels an argument Francis said he's heard before.
"There are many arguments to justify oneself when you do not give alms. 'But what [if] I give money and then he spends it on a glass of wine?'" the pope told the Milan newspaper. "If a glass of wine is the only happiness he has in life, that is fine."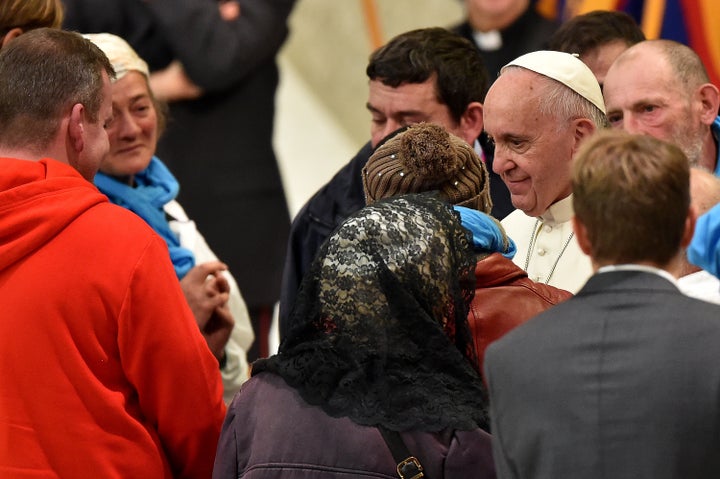 "People who live on the streets understand immediately if there is true interest on the part of the other person or when there is, I do not want to say that sentiment of compassion but certainly of suffering," Francis told Scarp de' tenis.
Tobin didn't refer to the pope's interview comments in his post, and a spokesperson for the bishop told the Associated Press the Facebook message wasn't intended as a response to Pope Francis.
Tobin even included a quote from the pontiff to back up his argument. "Pope Francis has said: 'The great danger, or temptation, when aiding the poor, is falling into an attitude of protective paternalism that, at the end of the day, does not allow them to grow,'" the bishop wrote.
Francis addressed the issue of paternalism in his comments to Scarp de' tenis, saying almsgiving should never be about "offloading one's own sense of guilt."
"It is touching, looking at our inner poverty that the Lord understands and saves," the pope said. "Because we all have inner poverty."
REAL LIFE. REAL NEWS. REAL VOICES.
Help us tell more of the stories that matter from voices that too often remain unheard.
BEFORE YOU GO
PHOTO GALLERY
Pope's Best Instagram Moments