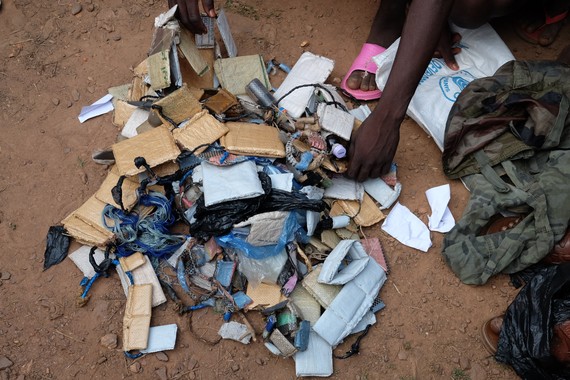 The bags of amulets that children released from the Anti-Balaka group brought to the transit centre. ©Unicef CAR/2015/Le Du
In the transit center for children formerly associated with armed groups, in Bambari, Central African Republic, Jonathan* a 16-year-old boy, is sitting on the floor and going through a big bag full of 'jujus' - necklaces, armbands and little pouches.
"This amulet used to protect me against Kalashnikov bullets. This other one made me invisible to the enemy," he says. Other children circle around him, amazed to see that he is sharing these secrets with foreigners. Then Jonathan grabs a knife and rips open one of the amulets. A murmur erupts from the crowd. He looks up, smiles, and says: "we are safe now. We do not need these anymore."
I was present when these children were released some two months ago by one of the armed groups involved in a conflict that has displaced hundreds of thousands of people in the Central African Republic. They had been with the Anti-Balaka armed group, which was created as a "self-defence" militia against the mostly Muslim Ex-Seleka group that briefly seized power in 2013 in CAR.
Back in May, children associated with the Anti-Balaka group, stand in a clearining, minutes before their release.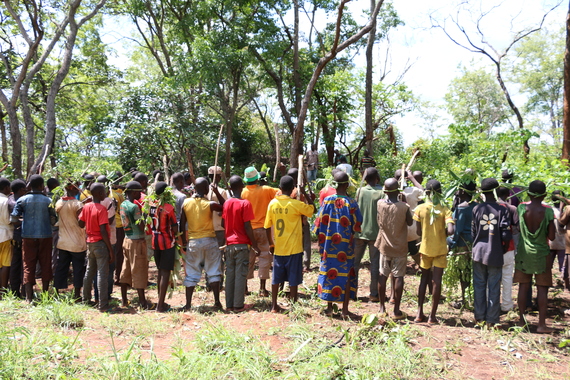 Back in May, children associated with the Anti-Balaka group, stand in a clearining, minutes before their release. ©Unicef CAR/2015/Le Du
On May 14, in Bambari, a town located in the center of CAR, the two groups released a total of 357 children who had been serving in their ranks. The children from the Anti-Balaka and Ex-Seleka were released the same day but sent to different transit centers. Although at peace now, Bambari is still very much a frontline town, with a river dividing the city. Communities are just beginning to cross the bridge during daytime to go to the markets, but at dusk everyone goes back to their side of the river.
On the day of the release, we went down into the forest, as close as we could get to their base, in order to escort the children symbolically, up the hill, to freedom. It was a hot and humid afternoon. The commander, dressed in a ripped Bob Marley t-shirt, was waiting for us in the clearing. Around him stood 181 children in rags, some of them as young as six- or seven-years-old, in traditional camouflage made of leaves, their faces covered in black mud. They were silent.
On the commander's signal, they got rid of their traditional attire, dropped their knives on the floor and started walking. The commander took my hand: "see this little one," he said pointing to a very little boy, "he is only seven. I am giving him to you. But you need to look after him very carefully because...he knows how to kill."
Now when I arrive at the transit centre where the children spend their days, there is traditional music and the sound of drums and trumpets coming from the field where I can see dozens of children dancing. Another group is playing soccer, while some sit in the shade, concentrating on a checkers game. I recognize some of them. They are the same children who looked so solemn and confused in May. Today they are smiling.
Most of these children have family close by, so they go back to their relatives at night after spending the day at the centre where they get medical and psychosocial support. They have long conversations with the social workers who help them come to terms with what happened and to realise that they were victims, and who explain that they need to leave the violence behind.
The children's education levels have also just been assessed and those who are able to go back to regular school will soon be able to participate in Unicef-supported catch-up classes before start of the new school year scheduled for early October. Those who will not be able to go back to regular school will go through accelerated learning programs and vocational training.
Joachim, the head of the local NGO which is taking care of the children, explains how the children spontaneously brought their amulets to the centre after a few days. "We have been telling them that they needed to forget about the war," he says. "But we never asked for that. They just decided that they did not need them anymore. It was their way of putting their past life behind."
Starting a new life is never easy, especially when you are a child, still living in a camp for internally displaced persons, and when you have witnessed - or done - what no human being should ever have to experience. For the 357 children released in May from the armed groups in Bambari - both from Anti-Balaka and Ex-Seleka armed groups - the road ahead will be long.
With every group involved in the conflict here having agreed to release all children from their ranks Unicef is working to ensure that last month's ceremonies are repeated across the country. And with an estimated 6,000 to 10,000 children still associated with those groups, the hope is that many more amulets will be discarded.
*Name has been changed to protect identity.
Related
Popular in the Community