 "Words Failed Us" read the Greenpeace banner on Nelson's Column at the close of the Rio Earth Summit. No, not the one that just ended, but the one 20 years ago, which by comparison seems like the golden age of multilateralism in action.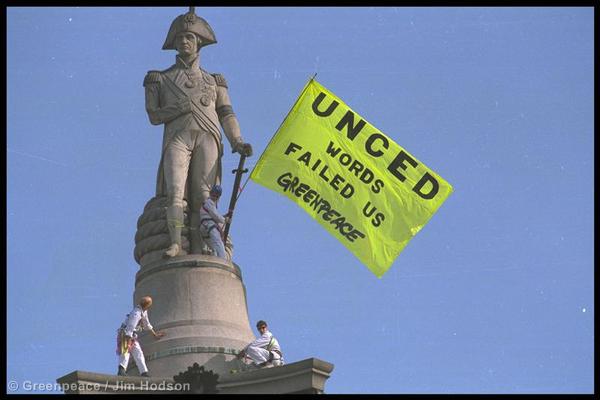 Photo courtesy Greenpeace/Jim Hodson
Let's face it. The United Nations Conference on Sustainable Development (Rio +20) was a flop -- at least the part that involved negotiations amongst governments. What happened in the margins was much more interesting, and virtually every post-Rio commentator has suggested in one way or another that "it's all up to us now."
But what does that actually mean?
For some, it means voluntary commitments. The Rio +20 Secretariat announced that more than 700 voluntary commitments were registered, amounting to more than $500 billion in tangible commitments toward sustainable development.
For others, it means increased activism. The International Trade Union Confederation vowed to "activate [their] 175 million members and their families and build the social power that will make the alternative model we are proposing the best possible solution." CARE International called for catalyzing action at the community level. Greenpeace announced the launch of a campaign to save the Arctic. And 350.org suggested it was time to start breaking the rules.
No question that these are all good things. But are they enough? Would it be churlish of me to point out that the $500 billion in voluntary commitments is significantly less than what we spend each year shooting ourselves in the foot in the form of fossil fuel subsidies?
In one of the more poignant analyses of Rio's results, George Monbiot makes a point that has been troubling me for a long time:
The governments which allowed the Earth Summit and all such meetings to fail evince no sense of responsibility for this outcome, and appear untroubled by the thought that if a system hasn't worked for 20 years there's something wrong with the system. They walk away, aware that there are no political penalties.
No political penalties indeed.
Climate change is a perfect example. Few politicians have been penalized for failing to take the necessary action to dramatically curb CO2 emissions; more often than not it's the reverse.
Strong, internationally coordinated action will only be achieved when negotiators get the necessary mandate from their political masters -- when word comes from on high that climate change is a greater threat to national interests than any "redline" issue they're fighting over. When they get a mandate, in fact, to act in accordance with the seriousness of the threat. And this mandate will only be given if politicians are held to account by an electorate which feels so strongly about the need for solutions that it outweighs the vested interests and corporate lobbying geared towards maintaining the status quo.
Ensuring that global CO2 emissions peak in the next few years and begin their dramatic decline, as both the science and economics of climate change demand, requires nothing short of a seismic shift in politics at the national level.
In developed countries, public opinion polls generally show that a majority of people favor action on climate change. A recent study of European attitudes, for example, concluded that more than half of the respondents (51 percent) considered climate change to be one of the world's most serious problems, with 20 percent rating it as the most serious issue of all. A large majority of Americans (65 percent) understand that climate change is affecting U.S. weather, and 66 percent believe the U.S. should sign an international treaty requiring emissions cuts of 90 percent by 2050.
But belief in the existential threat posed by climate change has not yet fully translated into action. Voters -- in larger numbers -- must begin to signal that a politician's stance on climate will be a factor in how they vote.
So the next time you take action to protect our climate -- whether it's on coal, tar sands, fracking or the Arctic; whether it's by signing a petition, holding up a banner, or getting arrested -- let your elected officials know you've done it. And that come election time, you'll be voting for your children's future.
REAL LIFE. REAL NEWS. REAL VOICES.
Help us tell more of the stories that matter from voices that too often remain unheard.