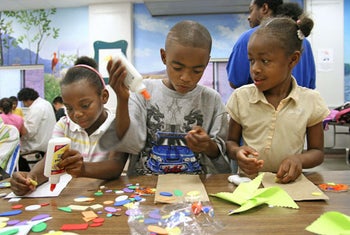 A multitude of empirical studies have clearly shown the positive impact of after-school and summer programs for students in the areas of academic performance, school attendance, and grade-level promotion among others. These programs also have the capacity to offer opportunities for education that may not be offered in traditional school settings like financial literacy, leadership development, and conflict resolution training.
Additionally, these extended learning opportunities, not only can provide academic enrichment, but they also provide a supervised space for students to engage in constructive activities that keep them away from potentially dangerous activities. Any youth violence prevention strategy should include an enhancement of after-school and summer programs.
In spite of the tremendous need, these programs are often financially vulnerable and subject to be placed on the political chopping block. The future of support for these programs at their current level is under attack. Most notably, President Trump's proposed budget would eliminate the $1.2 billion allocated for 21st Century Community Learning Centers.
21st Century Community Learning Center grants have traditionally been the major federal funding mechanism for after-school programs. In an atmosphere of declining public budgets, these programs need advocacy. Funding for after school and summer programs may not get on the agenda without a sustained push in the universe of competing issues . Services like these help to meet critical needs in our communities. We must remain vigilant about protecting the presence of after-school and summer programs in this age of potential peril.
Summer learning gaps are likely to expand if funding for summer programs is reduced further. There is ample evidence that these programs help to reduce the number of school dropouts and narrow learning gaps that traditionally expand over summer breaks. If the country does not invest now in these programs, then the likelihood will increase that we will pay significantly more later if students go into the criminal justice system.
The likelihood of a person going to prison increases dramatically if they drop out of high school. Former U.S. Secretary of Education Arne Duncan said in a 2015 speech that Black males who are between the ages of 20 and 24 and lack a high school diploma or GED have a higher chance of being behind bars than employed and high school dropouts make up more than two thirds of the inmates in state prisons. Whether students go to the state university or the state penitentiary is often at stake.
New York City Mayor Bill de Blasio provided a great example for other cities by using his political capital to secure the funding to institutionalize after-school programming for every middle school student in New York City. The initiative, School's Out New York City (SONYC), is "structured like clubs, the model offers young people a choice in how they spend their time; provides rigorous instruction in sports and arts; and requires youth leadership through service…..Programs are offered three hours each day, five days per week."
State and local governments will need to step up like New York City did with funding cuts likely coming at the federal level. It will take the use of political leverage to bolster the further development of after-school and summer programs. They will not be able to sustain on a large scale relying on private charity. Embedded funding streams should be fortified in public policy.
This will not happen without the advocacy of concerned citizens who can put pressure on officials to protect these needed programs. These services will be difficult to restore if they are stripped of funding. This is the time to remind key decision makers of the powerful words of Frederick Douglass: "It is easier to build strong children than to repair broken men." A spotlight needs to be placed on the importance of after-school and summer programming.
Marcus Bright, Ph.D. is a Scholar and Activist
Support HuffPost
The Stakes Have Never Been Higher
Related
Popular in the Community