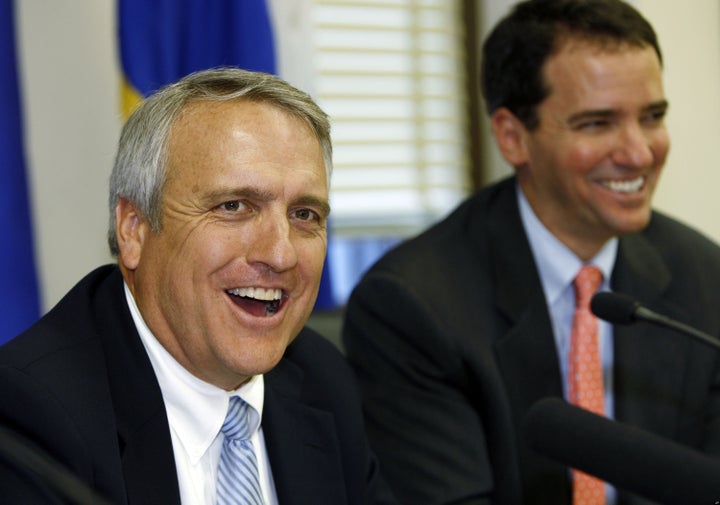 Ahh, wouldn't it be nice? When you fail to comply with a law, just rewrite it. This is the strategy of Gov. Bill Ritter, a Colorado Democrat and former elected district attorney, who was questioned publicly this week after failing to enforce a major ethics executive order.
Under the mandate, put into place by previous Gov. Bill Owens, all members of a governor's cabinet and senior staff must submit annual conflicts of interest reports. This means that at least 30 reports should have been filed nearly three years into Ritter's tenure. But a little recent digging by the Independence Institute, where I am a policy analyst, has revealed that just one such report was ever filed.
While Ritter's Agriculture Secretary John Stulp saw fit to play by the rules, no one else in the administration viewed compliance as a priority. Ritter spokesman Evan Dreyer declined to return the institute's repeated requests for comment or explanation. According to insiders, it wasn't until the Denver Post caught wind of the story, which was first published by the institute late Thursday, that Ritter's people finally started returning calls.
On Monday's Mike Rosen radio show, Ritter was forced to address the flap during his monthly appearance there. When Rosen asked why Ritter's cabinet wasn't in compliance with the ethics order, one can only imagine how hard Ritter gulped before uttering the following: "Thank you to Jon Caldara and the Independence Institute [for revealing the lapse]." Ritter went on to say that the Owens order was a decade old, and thus needed updating. Ethics can be squirmy like that.
But having spent much of his political career as the enforcer of laws -- including outdated laws -- Ritter knows better. And as any first-year law school student should be taught, compliance with an executive order is not optional. In fact, such orders -- until revoked or amended -- carry the full weight of law.
Taylor, ever eager to jump to the public microphone, is taking an uncharacteristically laid back approach to the situation, telling the Post, "I'm hoping, in light of the exposure to the issue, that this would be quickly and appropriately corrected." She must have been too busy attacking Republicans to conduct her own investigation. Makes you wonder.
While Ritter's humble appearance on the Rosen show was a good first step in damage control, his issuance of a new order should not be enough to shut the door on this issue.
In today's Post coverage, titled "Ritter Staff Skirts Disclosures," reporter Jessica Fender highlights the fact that the new order will not retroactively cover the last three years of Ritter's violations, not even with the aid of Ritter's own spin machine, headed up by spokesman Evan Dreyer, who flippantly referred to the mistake as "an oversight," and one that had been "remedied" by the new order.
The new order rescinds a section requiring gift disclosures and puts monitoring authority in the hands of the state's Independent Ethics Commission. Certainly, this is not what voters expected when they past Amendment 41, an aggressive constitutional amendment sold to them as a way to increase transparency in state government.
And voters should not buy the line that Ritter's lack of compliance was a mere oversight. After all, when new governors take over the reins of the state, it is standard practice to review the previous administration's orders and kick out the ones deemed politically unpalatable. Ritter did just this, in fact, rescinding several of Owens' other orders.
This certainly isn't the first time Ritter has faced flak for ethics issues. Just last month, a Colorado Court of Appeals panel ruled that a campaign finance complaint made by a Republican legislator and against Ritter could move forward. And last fall, Ritter's administration was put in the hot seat after using state resources to campaign against Amendment 46, a statewide ballot initiative I ran. After Ritter made and sponsored campaign appearances against the measure, his economic development chief Don Elliman conceded to reporters, "We blew it."
Down the road, there is a larger debate we should have here concerning the value of disclosure requirements. But in the mean time, Ritter should get to work. While he may view compliance with certain laws as optional, the state constitution proves otherwise.
If Ritter really wants to do the right thing -- both in terms of the law and in terms of ethics -- he should require his staff to supply the reports. And if he doesn't, we can all only assume he has something to hide.
So, Mr. Governor, where are those reports?
REAL LIFE. REAL NEWS. REAL VOICES.
Help us tell more of the stories that matter from voices that too often remain unheard.