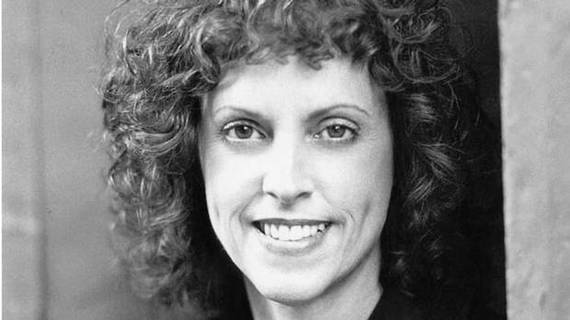 At the age of 21, and after just three months of courtship, author Theresa Weir married an apple farmer.
Back then, she "was young and naive," she says; her notions of living on a farm "idealized."
"Farm life was nothing like I'd expected it to be," she wrote in a recent essay, "and I spent the next 20 years swimming in pesticides."
At age 42, her husband died of cancer.
"Just like his father and grandfather," Weir writes, "all three of them subjected to years of chemicals used in the orchard."
Her memoir about those years, The Orchard, became an Oprah magazine-pick, and a featured title in Entertainment Weekly.
Today Weir, who spends part of the year in rural northern Wisconsin, is a New York Times and USA Today-bestselling author of over 30 books.
I caught up with her recently, to ask about her journey as a writer, and an activist:

HI: Tell us a bit about yourself.
TW: I've lived in many places, but was born in Burlington, Iowa, where a portion of The Orchard takes place. I went to high school in the little desert town of Artesia, New Mexico. I have no college education, and I began writing in my early twenties.
HI: How did you meet your late husband?
I met my farmer husband while working at my uncle's bar in Illinois. He showed up one evening and began courting me. He was funny, and he liked to draw. That's all we had in common, but three months later we were married. I was 21 and he was 23.

I had this idealized notion of getting back to nature and the land. I imagined myself barefoot with a baby on my hip, raising crops and canning organic vegetables.
HI: And was it like that?
TW: Farm life was nothing like I'd expected. At night, pesticides drifted in our bedroom window while we slept. During the day, the poison coated the sheets and clothes I hung on the line. It was all around us. I was horrified by what I witnessed, but I felt helpless to do anything about it.
HI: From there, how did you become a writer?
TW: I've always had a strong drive to create, but the isolation of my new life sparked a different creative urge. Living in that isolated world, I started writing genre fiction. At that time I didn't know any other writers, and knew nothing about submitting manuscripts. I began mailing manuscripts to the publishing house addresses I found in books. My first sale was to Simon & Schuster.
HI: Then you wrote a memoir.
TW: I'm not the typical memoir writer. I've never liked to talk about myself, and I was happy writing genre fiction. But I'd had this unique experience that had taken place in a secret world known only to a small group of people, this weird and awful and wonderful life in which I'd married a farmer, moved to his planet, observed his culture, had babies, and returned to tell people about it.
Along with my experience, I had years of writing under my belt. In a way, I felt an obligation to tell my story--a documentation of eighties farm culture.
HI: What do you want readers of The Orchard to walk away with?
TW: Most of the events in The Orchard took place some time ago, but sadly not much has changed.
Apples continue to be the most pesticide-laden fruit in the country.
I think people need to know what's happening and what has happened. At the same time, it's important to keep in mind that farmers aren't to blame. The market dictates what crops are raised and how they're raised.
Farmers couldn't sell imperfect produce, and a lot of farmers paid the price for that perfection. Many men and women died to provide food for our tables.
The United States as a culture seeks perfection in everything, and no one person is strong enough to stand up to that culture, but fortunately, today we are all more educated consumers.
HI: Was it hard for you to write about that culture?
TW: Before writing The Orchard I didn't think about the emotional toll it would take. Life on the farm was a past I'd worked hard to put behind me. Immersing myself in that past for a year and a half was just plain awful.
HI: What quality did you rely on, as a writer, to help you get through that?
TW: I'm stubborn. I don't give up.
Theresa Weir writes fiction under the pen name Anne Frasier. Visit her online.
*Photo credit: Tony Nelson
Calling all HuffPost superfans!
Sign up for membership to become a founding member and help shape HuffPost's next chapter