I'll tell you a fictional story 'After The Arctic Spill,' but first some announcements from the real world. Last week was filled with news about offshore oil drilling in the U.S. and it came in all flavors -- "the good, the bad, the ugly."
First, 'the good' -- Last Wednesday the Obama administration announced that for at least the next seven years it will not allow any offshore drilling off the East Coast of the Atlantic or in the Gulf of Mexico near Florida. This is 'good' news.
Next, 'the ugly' -- Last Friday ABC News presented a story 'Scanning The Gulf Floor: Sub Trip to Capped Well.' We got a chance to see the Gulf of Mexico seafloor nearly eight months after BP's spill in April. In the video we see marine scientist Samantha Joye, who has been studying the Gulf seafloor since May. She is inside a tiny submarine, a mile below the water surface. We see the seafloor and hear her voice, "yeah, it looks like everything is dead." This is very 'ugly' news.
And last, 'the bad' -- Also last Wednesday the Obama administration shared some news about Shell's drilling plan in the Beaufort and Chukchi Seas of Arctic Alaska. Here are some headlines: from Democracy Now, 'Admin Cancels Atlantic Gulf Drilling, But OKs it in Alaska,' and from The Lipman Capital Times, 'Salazar says No Drilling Off Alaskan Coast, Until 2013.' You see its very confusing -- did the administration approve Shell to go drill in the Arctic or not and if yes, then when? The truth it seems is somewhere in between and that is why this news is in between good and ugly and falls in the bad category.
Here is what's happening. Shell has been pressuring the Obama administration to give them the permit 'this month' so that they can get their fleet prepared for drilling that could begin in the Beaufort Sea during summer 2011. Michael Bromwich, director of the Bureau of Ocean Energy, Management, Regulation and Enforcement (BOEMRE) said, "We're not going to be constrained by any deadlines, we understand that Shell needs a decision, and when we've completed the review and analysis, we'll make a decision." That is tough talk and a necessary one to bring some credibility to that agency.
It's worth noting the birth of BOEMRE. Once upon a time there used to be an agency called the Mineral Management Service (MMS), which was part of the Department of Interior (DOI). But it seems that some of the MMS employees were not only having 'discourse' but also 'intercourse' with oil company folks while handing out permits and regulating their operations. It was BP's Gulf spill -- not WikiLeaks Cables -- that smoked out the fun-loving MMS regulators. President Obama was outraged and gave birth to BOEMRE.
Back to the Shell news -- the DOI is willing to evaluate Shell's Beaufort and Chukchi Sea drilling proposal in the 2012-2017 five-year Outer Continental Shelf drilling plan. The DOI is also considering very soon granting Shell the permit for drilling an exploratory well in the Beaufort Sea during summer 2011. You might be curious about what is an exploratory drilling well? To give you an example, BP's Deepwater Horizon was an exploratory well. The result turned out to be ugly, as we all know.
If you're thinking it's hypocritical that the administration would close off the Atlantic for offshore drilling but would entertain the idea to open up a much harsher place, the Arctic, where major spills would be inevitable -- you're right -- it is indeed hypocritical. You can check out details about this in a press release circulated last week by numerous environmental organizations.
Anyway, so far Shell still does not have the permit to go drill in the Beaufort Sea during 2011 and the administration has imposed a December 22 deadline to accept public comments concerning Shell's drilling proposal.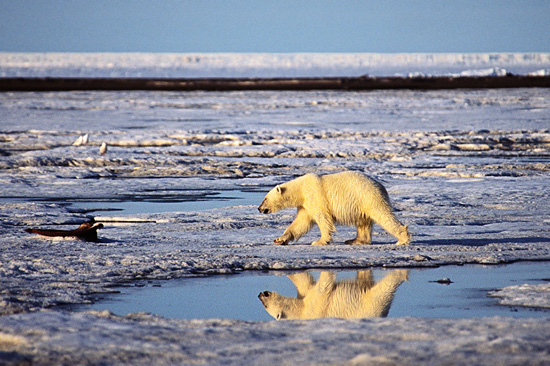 Polar Bear on Bernard Harbor, Beaufort Sea coast of Arctic National Wildlife Refuge
Photo by Subhankar Banerjee, 2001
Here is a fictional story titled, 'After The Arctic Spill,' that I'm offering as my public comment and am requesting that this story be entered as a public record in the federal register. Because it is fictional I'm not 100% certain what to do about the 'under the penalty of perjury' clause. But I have used real character names with the hope that they might perfectly fill these roles if it were a real story.
The Spill
March 2012: an oil spill has happened in the Beaufort Sea from Shell's drilling operation. Its winter, the Arctic Sea is completely covered in ice and the oil is floating around in the water underneath the ice.
The News
No one knows that there has been a spill, except perhaps Shell. Days went by, perhaps weeks. Then an Inupiat hunter named Robert Thompson from Kaktovik was seal hunting on ice. He first smelled something and then looked at the water through a 'breathing hole' (seals break ice and keep several holes open for breathing) and saw oil-like substance floating in the water. He didn't have good luck with seal hunting that day and he told his story to a few folks. Soon thereafter Shell released a press release that stated nearly 1000 gallons of oil has been spilled due to some accident that they're investigating.
The Media
The media got very curious and showed interest in covering 'The Arctic Spill' story. But it turned out that this was no Gulf of Mexico adventure. The trip would be very costly (NYC-FAI-NYC r/t: $900; FAI-Kaktovik-FAI r/t: $700). But worse was that the crew might have to wait many days after arriving in Fairbanks as there might be a blizzard blowing in Kaktovik and the planes don't fly during Arctic blizzards. On the way back the same kind of wait could happen. But most importantly after all these wait and expenses there might not even be a dramatic story to tell--like Katrina, Tsunami, BP's spill--this is just a 1,000 gallons of oil underneath the ice that the media crew might not even get to see.
Mainstream media dropped the idea. But one intrepid and adventurous Alaskan -- Sarah Palin -- decided to tell the true story. She thought correctly -- who better to tell the story than a real Alaskan, it could be a news segment for FoxNews and great raw material for Sarah Palin's Alaska. Palin finally arrived in Kaktovik. She and her crew stayed at Waldo Arms, a trailer-turned-motel owned by legendary former bush pilot Walt Audi. After Palin ate the famous-and-tasty burger-and-fries at Waldo Arms, she was satisfied and decided to take a long nap. When she woke up, a blizzard was blowing.
She waited for a few days but the blizzard kept blowing. She got bored -- burger and fries and playing pool at Waldo Arms started to annoy her, her time was also very valuable, and the cost was climbing rapidly with all the crew she had with her. She finally reported for the FoxNews segment "it's a hostile wasteland, I don't see any oil spill here." She was also quite upset that she got no good material for Sarah Palin's Alaska. Finally the blizzard lifted and she went home.
The Scientist
Even though mainstream media didn't do any coverage of the spill (except Palin's FoxNews segment), some progressive outlets did some interview with Robert Thompson and published something about the spill that caught the attention of a marine scientist, named Samantha Joye. She became determined to know what's going on in the Beaufort Sea floor. The scientist waited a few months, both for the sea ice to melt and to raise necessary funds from the National Science Foundation to conduct her study. She finally arrived in Kaktovik on a beautiful July day and made many dives. She announced, "Beaufort Sea is dead -- everything is dead here." She even showed videos and speculated that it wasn't a 1000 gallons spill but perhaps tens of millions of gallons.
The Investigation
Her story made front-page news and also made into TV channels in the U.S. and around the world. Finally America came to know that there was a major oil spill during March 2012 from Shell's drilling operation in the Beaufort Sea.
This was a real bad news for President Obama. First, because in 2010 he had designated the area as a 'critical habitat' for polar bears, but now everything is dead--the plankton, the fish, the seals, and of course the polar bears. But most importantly it was a bad news because the presidential election was just a few months away. Obama was outraged and appointed a committee to investigate the matter pronto. The investigation proceeded rapidly and it seemed what happened was rather simple: a large iceberg had collided with Shell's rig and caused the whole accident. Obama slapped a big fine on Shell but Shell decided to fight it out in court.
The Ruling
The court finally ruled in favor of Shell and determined that the real culprit was not Shell but 'climate change' that melted the Greenland ice-sheet resulting in these large 'rogue icebergs' that drifted from a 'foreign country' and arrived in America's Arctic water and destroyed a foreign company's (Shell) rig. There was nothing Shell could do to fight nature and save the rig, the court determined. It was a double-victory for Shell -- they didn't have to pay any fine and they could now keep drilling many more wells because you can't kill a dead sea.
The Solution
After the court ruling the administration decided that since the Beaufort Sea is dead anyway as the scientist showed, our priority now should be to protect Shell's many rigs there, and for that we must 'arrest' all rogue icebergs from foreign countries before they destroy valuable infrastructure-and-life in America. Obama decided to put the best science and engineering brains with Nobel Laureate Secretary Chu at the helm to solve the foreign-iceberg-invasion problem.
Obama hoped that his swift action would help his reelection campaign that was just around the corner. But Palin hoped that since she was the only person to brave the Arctic and tell something about it when it happened and from where it happened, that ought to help her presidential campaign. Both of them were right and we eagerly awaited the poll numbers.
After laughs, come tears.
America -- that's You and I, because Ginsberg is dead -- we must howl and demand that President Obama denies Shell the permit to 'BP the Arctic.'
[Notes for Chief of U.S. Federal Register: While the truth-value of my fictional story is questionable, here are a few Arctic facts from past events that I'd like to include as supplemental material accompanying my fictional story for the federal register.
1: The worst oil spill in Arctic Alaska happened in March 2006 from a severely corroded transit pipeline. It spilled 260,000 gallons of crude oil in an oil field that was jointly operated by BP, ExxonMobil and Conoco Phillips. The spill went 'undetected for five days' until an oil field worked smelled hydrocarbon while driving around and suspected there was a spill. We came to know that this was not a freak accident but due to BP's years of neglect, poor maintenance and cover-ups that activist Chuck Hamel brought to our attention.
2: The news about how much oil was actually spilling from BP's Gulf of Mexico spill was a constantly moving target and it went like this: 1,000 gallons a day, then 5,000 gallons a day, then 25,000 gallons a day, then 70,000 gallons a day, and finally a total tally of about 180 millions gallons of crude oil and extremely large amount of methane that no one has actually estimated, but something that Samantha Joye and other scientists brought to our attention.
3: Leslie Stahl of CBS 60 Minutes went to Kaktovik in 2001 to tell a story about the Arctic National Wildlife Refuge. She experienced a blizzard that prevented her from seeing much and I vaguely remember she reported something like it's all white and there is no wildlife here in winter. At the same time Robert Thompson and I were camping in the nearby tundra observing winter wildlife activities.
4: In 2007, CBS 60 Minutes did an episode on seed banks in the Norwegian Arctic. The program opened with an introductory statement--'Arctic is a hostile wasteland.']
[Notes for readers: I want to thank veteran journalist and host of Report from Santa Fe Lorene Mills for bringing the ABC story to my attention.]
Subhankar Banerjee is currently editing an anthology titled "Arctic Voices" that will include nearly thirty essays, testimonies and stories by indigenous activists, scientists, writers and artists (Seven Stories Press, forthcoming). Most recently Subhankar has been appointed 'Director's Visitor' at the Institute for Advanced Study at Princeton for fall term 2011.
Copyright 2010 Subhankar Banerjee
Support HuffPost
The Stakes Have Never Been Higher
Related
Popular in the Community