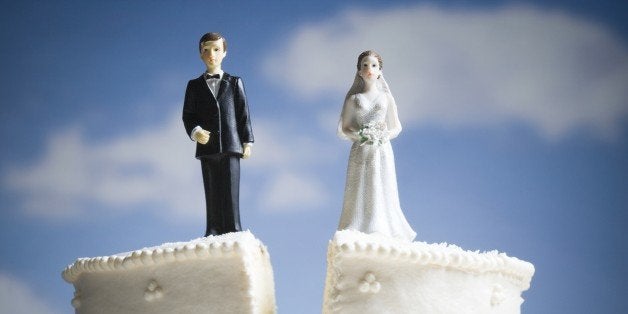 I recently saw in someone's living room an oversize framed wedding photo on the wall. That reminded me - where is mine? I've been divorced for years now, so it took some reflecting. I think it's in a box. What'd I do with that box?
I got married in the mid-1990s, before smartphones, Instagram filters, and easy to use digital cameras (we splurged and took the Agassi-era Canon Rebel on our honeymoon - a film camera which, like André's mullet, is long gone) insured that everyone had a zillion photos of themselves, in the most flattering angles possible.
When it comes to "pictures we put some effort into" my generation had only class pictures, high school yearbook photos (why yes, my head was always tilted at a 45-degree angle), and then wedding photos were the big leagues - you got to actually choose the photographer. Oh, and there was no such thing as elaborate engagement photos - especially not the "hidden camera" kind. (Or flash mobs for proposals. Have those died out or are they still a thing?)
Those wedding photos were some damn good pictures. My hair and makeup were professionally done, for the first and last time in my life. Youthful errors in judgment (such as a certain amount of superficiality in choice of partners) worked in my favor, as we photographed well and our inherent incompatibility was not obvious. There are some good ones of me by myself, but some of the better ones have someone else in them. Back in the days before we could digitally crop photos, one of my best friends would cut herself out of any group photos she found unflattering. Kids, that was the pre-smartphone method of saying, "Delete that one!" What is the etiquette for a similar move with one's wedding photos?
Mine were taken in the era when it was new and different for couples to start having more "magazine-like" photos (e.g., taken outdoors, from behind, in the setting sun), instead of the stiffly posed Sears Portrait Studio-type standard (Sorry, Sears. I will always love your Wishbook). Now every newborn starts off life with a variation of an Anne Geddes photo shoot, so maybe younger generations don't mind so much if a stash of professional photos has to be tossed.
But for those who want to maximize the return on their investment, I've been thinking of starting a combination online dating/online gambling (some might say that's redundant) site for the divorced crowd. You'd have to post a chopped-up wedding photo as a profile picture. No current photos allowed. If you decide to contact someone, you'll have to make a bet on that starry-eyed young person's future path in life - was that bride with the unfortunate perm and heavy hand with mousse capable of learning from her mistakes? You'll have to read what she wrote in her profile to find out more clues. If he's wearing a powder blue tuxedo, was it his choice, or his ex's? And if the latter, does he still harbor animosity towards her because of that? All sorts of opportunities to assess a person's judgment before going out on a date. If nothing else, it would make post-divorce dating less predictable!
For those of you whose wedding photos no longer reflect the status quo, but include some great pictures of you, what did you do with the evidence? Share in the comments section below.