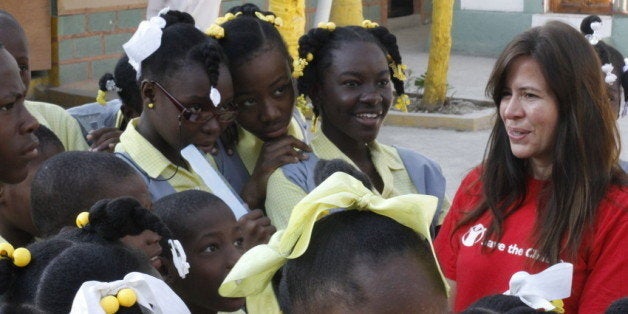 "If my mother and father were alive I would be protected. They wouldn't let me live like this."

These are the words of Lovely*, a shy 12-year-old who is a child domestic worker. Myrlande, my counterpart in Haiti, is translating Lovely's words into English. She's visibly shaken by her story. But Lovely* is very matter of fact; it's obvious that she doesn't think her situation is uncommon. It's simply what life has handed to her.

I've returned to Haiti on behalf of Save the Children Italy which, five years after the devastating 2010 earthquake, commissioned an award-winning photographer to produce a series of portraits of affected children. I was here a few days after the disaster that killed over 230,000 people and left two million homeless. I feel strong ties to Haiti, so when I had the chance to return I grabbed it.

We are sitting in a small school in Port-au-Prince. It's a location chosen because of its anonymity. The child protection officer sitting with us is pregnant. I wonder what she thinks of Lovely's situation. Myrlande and I are here to interview child domestic workers. Domestic child labor is a major problem in Haiti, with up to 225,000 children aged between five and 17, mainly girls, virtually living as slaves. They are trapped in this lifestyle because of a series of twisted events. Some of them are orphans, but more often they have been given away by their own parents or extended family in the hope that other families will, in exchange for the child doing chores, provide them with the food, shelter and access to education that their own families cannot afford. Sadly, these hoped-for benefits rarely materialize, as the children are often given to an equally poor family that lack the resources to provide for even their own children. Lovely* tells us that she's regularly beaten and there are frequently days when she isn't fed. She wakes up at 5am, prepares the household meals, fetches water from the local well, and does all the cleaning and laundry. Did I mention that she is just 12-years-old?

She continues. "I don't even go to school. I used to go to school, I got to the third grade but ever since my mom and dad died I never went back to school. I would like to become someone tomorrow, although I don't know what. I want to tell other children in the same situation, those children like me that don't have a mother, that don't have a father just like me, not to be discouraged because life is like a ball -- it rolls and rolls and you never know where it's going to take you."

In Haiti, Save the Children is working at the national level to raise awareness about child abuse, and at the local level it is working with child protection organizations to eradicate this practice. But we leave Lovely* with a heavy heart, knowing that all NGOs working on this issue need to move so much faster if we want to give children like Lovely* the chance of a better life.

Back in the car we make our way through heavy traffic. The rubble that once lined the roads is mostly gone, and the collapsed buildings have been rebuilt. Small businesses and markets alongside the road are teeming with produce, but the pigs are still here, wading through rubbish and polluted water in the gutter at the side of the road.

Our next stop is a primary school that Save the Children supported immediately after the earthquake -- we helped to remove rubble and repair classrooms - and our support here continues today as we provide teacher training and school supplies. Education is a major focus of our work in Haiti. It needs to be: only 2 in 10 children in Haiti learn to read by the end of first grade, and 15% of children dropout before grade 6. Over 50% of Haitian adults are illiterate.

Although signs of the earthquake are mostly gone, the memories of that day are still very fresh for the children we meet. They tell us their stories of that fateful day. There's Jeantal who couldn't save the baby he tried to protect when a wall fell on top of them. He says he now develops terrible headaches every 12th January, the anniversary of the earthquake. He is clearly still shaken by his memories.

Then there's Oswaldynyo, who is 9, who refers to himself as "petit homme" or "little man". On his forehead is a scar he got from a falling cement brick. He's been telling us about the evacuation drills he is doing at school so he can protect himself if there is another earthquake. He tells us he loves school, and he holds his schoolbook tight to himself during the interview, preferring to look through it rather than make eye contact with us. He's worried that his parents won't have the money for schoolbooks or his uniform.

And then there's Betchina, a soft spoken and shy 13-year- old. She shows us her knee, which still has a massive scar where a block of concrete fell on her during the earthquake. She wants to become a nurse to help injured people and to provide for her parents.

These children bear physical scars from the earthquake, but there are also signs of emotional scars. How do you reassure children whose lives have been turned upside down that this won't happen again? In our work there are often times when we meet children who leave a very strong impression on us. Bettchina is one of these children. I leave her hoping with all my heart that she gets what she wishes for.

Camp life has become a permanent fixture for over 85,500 people displaced by the earthquake. Of these more than half are children. There are approximately 123 camps still in existence. Basic services like clean water and health care are very limited in these camps, and cases of abuse are prevalent.

During my trip, we met five children living in one of the largest camps. They were all girls, and they all told us that they were worried about their own safety. They were afraid of armed gangs and afraid of going to the toilets at night because of the fear of being sexually abused. However, despite all the fear and harsh conditions in the camp, these girls were an inspiration. They are leaders of our child protection clubs and they were all so positive about continuing their education and making sure that their rights were respected. In fact something quite remarkable happened during these interviews. When we were interviewing Marie Darline, she turned the tables on us and began to quiz us about our mission and vision, and how we would continue to support her goal to become a diplomat. It was then Katiana's turn to test her Spanish on me, since she decided that she had spent long enough answering our questions!

I left this camp full of awe for our community workers working with these children and creating such resilient young leaders. And I'd like to share Katiana's words about them:

"I would like to congratulate you on the work that you're doing. Save the Children is helping us however they can so I ask you to continue. It would help me a lot and would help the community a lot if you kept doing the work that you do here."

I want to promise Marie Darline* and Lovely* that we will be there for them, but the reality is that the cameras and reporters have gone, funding has dried up for Haiti, and I can't help remembering an overused line from NGOs five years ago. "Don't forget Haiti" we said in unison. Have we?
Related