The most important event this past week in New York was not the 400k People's Climate March, nor the UN Summit, nor any of the Climate Group-backed events around the city. Not even Leonardo DeCaprio, Sting or Al Gore. The most important event was Flood Wall Street. The reason it looms large is that this was the single event that precisely targeted the root of the problem -- the system that is preventing the changes that must be made if we are to survive into the future. Flood Wall Street boldly denounced and bypassed the false solutions, greenwash, vague promises, voluntary "commitments" and thinly veiled initiatives designed to maintain the status quo for corporate profit-making at all cost that so many, (even many present at the People's Climate March) are willing to advocate and hang their hopes on.
Not only was it targeted, but Flood Wall Street was also BIG, demonstrating that ever more people are setting their sites on the root of the problem, not distracted by shiny baubles like "100 percent renewable energy" or "go vegan" or promises of miraculous new technofixes like climate geoengineering designed to perpetuate business as usual. Instead, they are clearly focussed on the economic system that serves corporations as if they were not just "persons" but the most high and mighty all important persons of all, whose insatiable greedy interests trump all else, who are granted privilege to run roughshod over our rights, our lands, and our futures and who have bought and sold our governments and the UN with their ruthlessly accumulated cash reserves, and who exist only to make money, with no regard for anything else -- not me, not you, not our children, not life itself.
Flood Wall Street was gutsy and creative. Over a hundred were arrested, but not until they had staged a sit-in that went on for hours, as an oddly composed NYPD watched, apparently reluctant to interfere.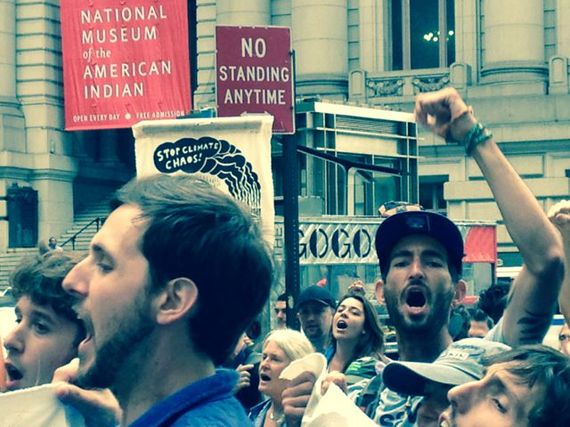 One had only to listen to the testimonies of peoples at the Climate Justice Summit and other events over the weekend to understand the extreme lengths that the profiteers are willing to go and why they must be targeted. We heard about the ongoing and expanding struggles of indigenous peoples resisting extraction from their (remaining) lands, from tar sands in Alberta to the Otter Creek coal mine and rail line in Montana, to the ongoing pillage and devastation of mountain top removal in Appalachia, to the onslaught of fracking in just about every state in the nation, oil drilling in the melting Arctic, the aftermath of BP's catastrophic disaster on the Gulf Coast, pipelines crisscrossing the land, exploding trains wiping out entire towns, land and water grabs for biofuels and oil palm, the frequent murders of activists fighting to protect forests, most recently manifest in Peru, the vast incarceration of Black American men and women, people fighting for housing, transport rights, clean air, rights to food and water, and more: all as airstrikes on Syria got underway.
The litany seems endless and can be numbing to contemplate, but there is mounting and ever more creative movement afoot. And, what is becoming crystal clear, well-evidenced this week at numerous events I attended, is that there is a fast growing awareness that the climate crisis -- as it already exists and threatens to escalate, is the cumulative impact of all these abuses and wrongdoings. Recognition of this commonality is finally expanding, opening the possibility of a united movement that will act with resolve to overcome divisions, will no longer be satisfied to call for reformist measures or settle for crumbs and will demand system change.
This week provided a hopeful glimmer. Without doubt the road ahead is long and complicated and must be navigated with great care and thoughtfulness. While we may call for system change, and may believe in the power of social movements, the stakes are even greater than ever before -- with consequences for virtually everything and everyone, not just our particular race, class, nationality or profession. We need to think very carefully about where it is exactly that we want to go, what are the right demands? What steps will we need to take, what potential contingencies might we confront?
Perhaps above all, to preserve and grow as a united movement for change, we need to carefully avoid succumbing to our human tendencies towards egoism, our individual need for attention and recognition, our desire for heroism and martyrdom, and various other inherently self-serving tendencies. We need to tap into the best of human nature that exists and patiently encourage it in others, even as we are fierce and uncompromising in our opposition to the system, the corporations, the policies and policy makers who seek to perpetuate their profit-making at all cost.
What is clear is that if we do not challenge that system, we will lose, no matter how much "green investment" is pledged by governments at the UN, and no matter how many "public private partnerships" with nice sounding names like "climate smart agriculture" or "sustainable energy for all" are launched, no matter that some members of the business community think a carbon tax would be nice, no matter that the Rockefeller Brothers Fund agreed to begin divesting from oil.
Everything is at stake, and the changes we need to make must be commensurate with the risks we are facing. Let's hope this past week was the start of something much bigger and better.
Calling all HuffPost superfans!
Sign up for membership to become a founding member and help shape HuffPost's next chapter