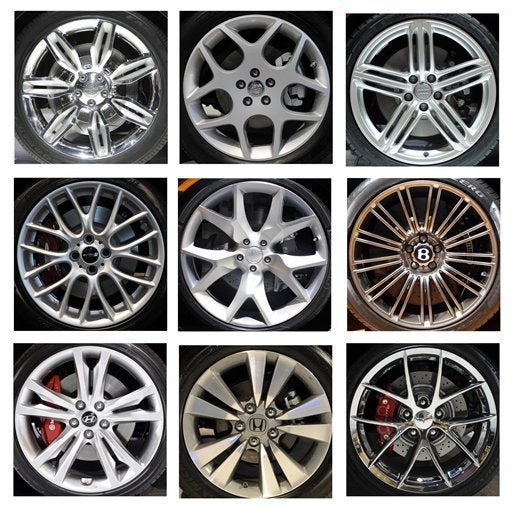 The automobile business has never been in worse shape. Two of Detroit's Big Three, Chrysler and General Motors, have been bailed out by the taxpayers and are on the verge of bankruptcy. Even it doesn't come to that, both carmakers, along with Ford, are all facing declining market share, anemic sales, and legacy union costs. Things are no better for the Japanese. Earlier this year, Toyota posted its first-ever operating loss, a corporate humiliation that proves even 70 consecutive years of making money on cars can be swiftly and mercilessly reversed by a dismal economic climate.
Many industry experts and observers are wondering just what the auto business will look like when all this creative destruction finishes playing itself out. Regrettably, a casualty of the downturn may be design. The debate should be on everyone's mind this week, as the 2009 U.S. car show season winds down in New York City.
The past decade has been perhaps the greatest in the century's long history of car design. Almost everyone built extremely cool rides, and some, like Cadillac, BMW, and, Audi debuted vehicles that delivered aesthetic home runs. Boxy, overly adorned cars from the 1980s and '90s gave way to smooth, sculptural forms. Car designers as a group developed, in the parlance of the profession, swooping and occasionally controversial new "form vocabularies."
At BMW, designer Chris Bangle (who recently announced his retirement) moved the carmaker away from a vaguely retro look and created vehicles that were carved, angular and slightly threatening. At Audi and later Ford, J Mays ushered in an era of curvaceous shapes, on cars such as the VW Beetle, the prototype of the Audi TT, the Ford Thunderbird and the Mustang. Designers ceased to think of cars as "styled," in the old Harley Earl way of conceptualizing extraneous chrome and faux-heraldic badges. Instead, designers envisioned the car as a bold form that emerged from a billet of steel. Angles, as with the Stealth-fighter inspired Cadillac XLR, became hard, clearly defined, and de rigeur. Never again would the public be forced to digest to stunted mediocrity of the Cimarron from the early 1980s, by common assent the worst car Caddy ever produced.
This Golden Age of car design cast the designers as heroic figures and allowed them to separate themselves from engineers. Designers glissaded around Motown or Tokyo--and, often enough, Southern California, where many automakers headquartered their design operations -- in monochrome suits, exotic eyeglasses and pricey footwear, presenting themselves as artistic companions to contemporary architects like Rem Koolhaas and Daniel Libeskind, or noted product designers such as Philippe Starck. The engineers were left to their dreary suburban dad threads, lumpy khakis and oversized polo shirts, as they labored on what thrummed away under the sensuously articulated hood. For designers, sleek good taste became an inspiration as they decisively shifted away from the previously efflorescent period in car design, the fabulous 1950s, with its tailfins, hood ornaments, and whitewall tires.
The results were glorious. Even lowly econo-rides, like the Ford Focus, looked sharp. Car shows in Detroit, Los Angles, and Paris became showcases for acres of gorgeously crafted sheet metal. Concept cars once again drew then oohs and aahs of the salivating public. Whole new aftermarket industries, dedicating to customizing the rides of the rich and famous, sprang up.
This was all fueled, of course, by the idea that consumers, flush with credit and easily bored, would want to aggressively pursue next year's model. One of the Big Three, Chrysler, made outlandish, over-the-top design its signature, producing a fleet of cars that exhibited massive aesthetic swagger. Now, of course, it's unclear whether the auto industry will be able to carry on in anything that resembles in pre-Financial Crisis form. The expectation is that consumers will want more sober vehicles. The anti-design of the Toyota Prius, which by looking no-nonsense advertises its Green credentials, could be the way of the future.
Which would be too bad, as great design can still be actively pursued, no matter what kind of fuel-economy numbers a car is supposed to muster. In fact, the urgent demand to do something about global warming may bring about a second Golden Age in auto design. It's one thing to start with a long-hooded, broad-shouldered Cadillac V8 as your canvas, but quite another to make something like the diminutive Smart car seem visually appealing. Obviously, cars that could chase ever-escalating performance, or simply be built large as in the case of many SUVs, invited dramatic design. The challenge now will be for the designers of the next decade to pack a different kind of emotion into smaller frames. It will probably never be like it was, back in the design-supercharged 2000s, but it could, and should, be good again. Because if we're going to keep driving, we should look cool doing it.