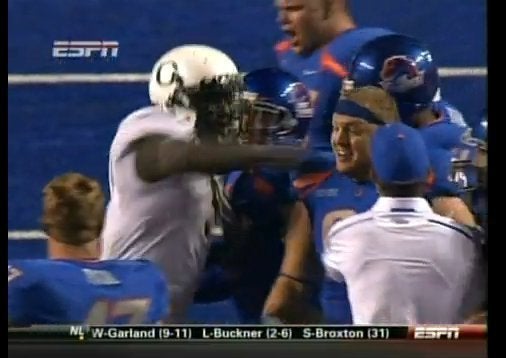 The season-long suspension of LaGarrette Blount by the University of Oregon football team for sucker-punching Boise State's Byron Hout after last Thursday's game has kept sports mavens busy all weekend. All seem to agree that Blount's misconduct was outrageous and that it warranted serious discipline. They differ on whether the amount of discipline was justified, considering the fact that Hout had verbally provoked Blount.
Blount will pay an enormous penalty for his loss of control. Spending his senior year on the Duck's bench will likely reduce his value in the NFL draft. He was projected to be a high draft choice and a candidate for the Doak Walker Award as the nation's premier running back. A drop in the draft will cost him millions. Do you think it came as a surprise to Blount that he was suspended? Probably not, but he was not thinking at the time. He was quick to apologize, but it was too late. The punch had already made it to YouTube.
The incident raises the difficult issue of how to deter such misbehavior once the game is over. If, in fact, a player's rational thought cannot intercept misbehavior of this kind, we may be in a bind. The game of football lends itself to harmful and offensive contact. Football players are primed for mayhem.
NFL and college coach John Ralston testified in the 1977 torts suit brought by Dale Hackbart against Charles "Booby" Clark, who had attacked him on the field of play and broke his neck. Ralston explained that the pre-game psychological preparation should be:
...Designed to generate an emotion equivalent to that which would be experienced by a father whose family had been endangered by another driver who had attempted to force the family car off the edge of a mountain road. The precise pitch of motivation for the players at the beginning of the game should be the feeling of that father when, after overtaking and stopping the offending vehicle, he is about to open the door to take revenge upon the person of the other driver.
No wonder Blount punched Hout.
One would think that the intervention of "adults" could control the situation, but coaches are known to order a hockey goon out on the ice to attack the opponent's key goal scorer, call for a fastball pitcher to hit the batter with high and inside "cheese," and stop a basketball breakaway with a hard foul to avoid a dunk. We cannot rely on these men (and, I guess, women as well) to maintain the peace. Chip Kelly, in his first year as Oregon's head football coach, made the decision to suspend Blount. What could he have done before the fact?
In the absence of individual responsibility, only a clear and uniformly enforced rule can provide some protection against a repetition. There was no good reason for Blount to be on the Boise State sideline. Any player who trespasses on to an opponent's sideline during a game or after the gun sounds should be suspended for at least a game. No need for a punch to be thrown. If Blount was not over there by Hout's right jaw, the incident would not have occurred. (Also, coaches, please advise your players not to take off their helmets.) This "no-visiting sidelines" rule is also something that coaches can actually teach their players.
The rule will not stop confrontations. There will be plenty of time during a game to try to injure your opponents. Blount was at a significant disadvantage not having his teammates around him to restrain the star running back from potentially ruining his football career. During the game, violence may flare up, but the Ducks would have swarmed to hold Blount at bay.
Those who think that the game of football is improved by assaults on opponents like Blount's attack on Hout will find this blanket prohibition an annoyance. I offer no solution to such miscreants other than watching the Ultimate Fighting Championship® match nearest you. I am still working on a solution to the gauche blue artificial surface at Bronco Stadium.
Calling all HuffPost superfans!
Sign up for membership to become a founding member and help shape HuffPost's next chapter