GM's spring announcement that it would close its Hummer division produced cork-popping among environmentalists and probably even sighs of relief from auto enthusiasts tired of having to defend or apologize for it. It was obscenely big, horribly polluting, belligerently designed, and for a military vehicle, an ironically easy target. So, we wondered, with the reviled Hummer gone, what stands to replace it as the vehicle that earns its owners the booby prize as the car Americans love to hate?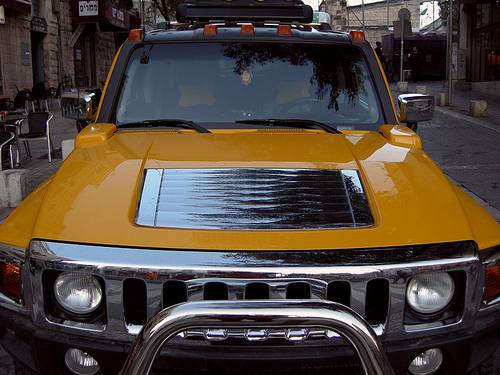 Sadly, there's loads of competition. Here's our top ten list*:
1. Low MPG/luxury category It's a disappointing tie for the Germans between the Mercedes ML 63 AMG and Mercedes G550 SUVs. According to the EPA, these two suburban status seekers go a measly 11 miles city on a gallon of gas (15 highway), worse than the Hummer H3.
2. Low MPG/regular folk category Mommy and Daddy probably don't like how much gas they end up buying for their Toyota Sienna 4WD minivan. Maybe its 16 city/21 hwy rating explains why in one Sienna commercial Mommy is parked in the driveway using the backseat as a day spa.
3. Low MPG/truck category Most people who bought a Hummer didn't need it for combat duty, and plenty of people who buy pickups don't need them for trundling to quarries to tote unwieldy payloads of giant rocks; yet, they can still buy the ginormous Nissan Titan 4WD and get 12 city/17 hwy.
4. Dirtiest Not even a diesel, the outdoorsy Dodge Ram 2500 wins a dismal EPA score of 2 out of 10 for air pollution, spewing a lot of the stuff that ruins the outdoors by causing smog, haze, asthma, and heart disease. In cars, the Lexus SC430, Chrysler Sebring, and Dodge Avenger each eke out a 3. In terms of greenhouse gas emissions, a host of European sports cars and SUVs are just awful, but the Porsche Cayenne gets our vote because like the Hummer its spicy name has helped make it too easy to find on the road.
5. Gratuitously gargantuan Here's where you'd think it would be hard to replace the Hummer, but no. The overachieving engineers at Lincoln have blessed us with the Navigator L. Its 208 inches of length and 78-plus inches of width and height make parking an exciting outdoor adventure -- for everyone in the lot. The Navigator L also puts the gross in weight, tipping the scales at 7434 lbs.
6. Ad nauseum Most redundant vehicle: the Chevy Traverse, the biggest selling crossover in June, maybe because buyers confused it with the Buick Enclave, Ford Edge, Saturn Outlook, or another clone they'd seen advertised. One reason the glut of crossovers earns our ire: they're being marketed effectively as more fuel-efficient than SUVs but are often not much better. Even many hybrid versions of crossover models get less than 30MPG city.
7. Mechanic's choice No surprise here unless you've been on an extended news diet: the winner for least reliable car and least reliable truck are both Toyotas. Corolla and Tundra have had the most recalls year-to-date, meaning that if you own one, you've probably been spending enough time in your mechanic's shop to know the color of grout in his waiting room floor tile.
8. Too fast, too furious Porsche's Boxster is street legal despite its ability to reach 163 mph. And it's fast on its way to faster -- zero to sixty in 5.6 seconds. Why is the Boxster worthy of Hummer-level hate? Because drivers going too fast contributed to about 10,000 deaths and a million injuries in crashes last year. And yes, it is the driver not the car that does the speeding, but if fast cars don't inspire drivers to go fast, then we really can do without them.
9. Safety worst The Hummer H3 was rated by the Insurance Institute for Highway Safety as one of the least safe in its category. Now that its particular illusion of safety is no longer, we choose the Kia Sorento SUV, marketed as a family fun delivery system despite 2003-2009 models earning a "poor" IIHS side crash rating. While the Sorento's ratings have improved, it remains our pick based on its ad messaging. The sock monkey in its "Joyride" commercial might lose more than a button eye in a crash riding if he and his buddies keep sticking their heads out of the moonroof; same goes for kids drawn to imitate them.
10. Most monumentally stupid option Vehicles these days come pre-loaded with unnecessaries, even before any of many ridiculous options get added. Simply stupid: for an extra grand, Mercedes' SLK350 roadster's "air scarf" will blow hot air at the back of your neck so you can keep the top down all year round. Or you could buy a scarf. Then there's dangerously dumb: the Cadillac CTS offers dealer-installed wireless internet -- but don't get us started.
*Our picks are not always the statistically very worst in every category. We excluded pricier vehicles, commercial vans and diesels, for example, and leaned toward more popular or heavily advertised models.
Catherine Lutz, an anthropologist at the Watson Institute at Brown University, and Anne Lutz Fernandez, a former marketer and banker, are the authors of Carjacked: The Culture of the Automobile and its Effect on our Lives (Palgrave Macmillan).
Calling all HuffPost superfans!
Sign up for membership to become a founding member and help shape HuffPost's next chapter