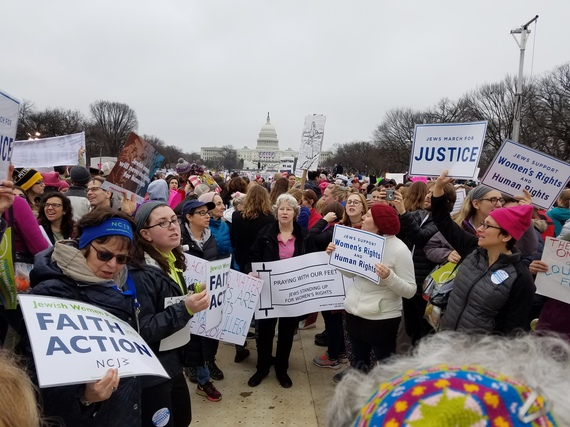 On the morning of Saturday, January 21, thousands of Jewish marchers gathered at the historic 6th and I Street Synagogue to pray and to rally, and then, with a police escort, process to the National Mall with the hundreds of thousands of others marching for our rights and for our democracy. For me, personally, it was the culmination of weeks and weeks of work and expectation, and the overwhelming crowd of peaceful, spirited women, men and children was exhilarating.
The DC March along with the 600 other marches across the United States and the world was the single largest protest march in the history of the United States and maybe in the history of the modern world. The common experience worldwide of women tired of second class status; of governments that ignore their needs and those of their families; and of men who think they have the right to control women's bodies and suppress their rights was on full display. Women and their many allies here and elsewhere declared, yet again -- women's rights are human rights.
The march was a wake-up call and the beginning of a renewed movement for social change. Its success will be determined by how many choose to continue the protest--most importantly by joining with one or more of the many organizations that supports the need for progressive change. Hundreds of thousands of us are in fact already connected to organizations at every level. Women from National Council of Jewish Women been marching for years. Our challenge, and the challenge of many committed organizations, is to maintain our unity, to welcome and integrate newcomers and to create action strategies that will make our opposition to the plans of the new administration clear and public. We must each find our path to engaging in this movement and commit ourselves to an intersectional view of our collective fate.
Not only are all women created equal to each other and to men, but as we each encounter life in different ways -- as poor, as rich, from many racial and ethnic backgrounds, here for generations and arrived yesterday, different religious traditions and gender identities -- we have a huge task ahead to ensure that we all can not only survive, but thrive. We want equal rights, but we also want safe streets, good schools, quality affordable health care, and decent neighborhoods for our children and families. We want not only the legal right to control our own bodies, but the actual ability and means to do so, absent any religious view imposed on us. We must be free from harassment not only at the highest levels, but from bosses and landlords and boyfriends and, yes, husbands. We need new norms of decent treatment and equality of personhood spliced into our lives.
We can get there if every one of us marches, joins, advocates, and acts. If we maintain the spirit of the Women's March, draw from its inspiration, build on its power, we will not only survive the Trump agenda, we will overcome it. To begin, we have an immediate to-do list.
Focus right this minute on the cabinet -- call your senators at 202-224-3121 regarding the nominees you oppose for their disregard of their agency's mission and lack of qualifications. Contact your representative and senator (both at 202-224-3121) to tell him or her to save funding for Planned Parenthood in any budget bill. Watch for the Supreme Court nominee to be announced and if that person is not committed to fundamental constitutional rights and freedoms, urge your senator to vote no.
Most importantly, reach out to your friends and family directly or through social media to spread the word about what needs to be done and how you are doing it. Get some of them to act with you and ask to meet with your senator and representative when Congress takes its next weeklong break February 20-24. Tell them you want to keep the Affordable Care Act and at a minimum that no replacement bill can offer less to any of us -- lives hang in the balance.
The countdown has started, with you, with me, with every woman in America and around the world. Don't let the beauty of Saturday's march eclipse the reality that we have work to do. If not now, when?
REAL LIFE. REAL NEWS. REAL VOICES.
Help us tell more of the stories that matter from voices that too often remain unheard.