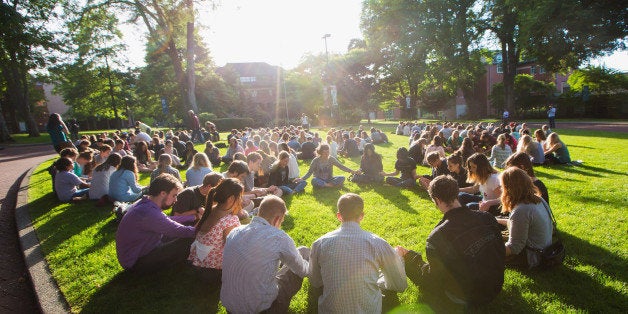 I expected the shock of an earthquake--not a shooting. In fact, they're retrofitting our oldest building, Alexander Hall, to prevent earthquake damage. How do we retrofit Otto Miller Hall lobby, where yesterday's shooting took place? Erase the memories? Sure, we can remove the blood-stained carpet, paint the blood-splattered walls, clean up the shell casings.
But the lobby, which I've walked through hundreds of times on my way to class, where I've casually picked up a free copy of the New York Times, where students gather to study and chat, will always be the place where "the shooting" happened. We'll always be that small Christian college in Seattle that had the shooting. The name will reverberate. Columbine. Virginia Tech. SPU.
Yet this community is so much more than a now infamous acronym.
Last night I sat with a group of students. The scheduled prayer service was packed, overflowing, so my wife Priscilla and I, both SPU faculty, were directed to a makeshift mass of students sitting in small groups in the evening light on The Loop, the central grassy area on campus, which sits less than a football field from Otto Miller Hall. Priscilla started us off in prayer with the words, "Gracious God." Then we mostly sat silent, bewildered.
None of them, not one, asked God to make things right. They sat in grief.
None of them, not one, found easy solutions. They sat in unknowing.
None of them, not one, filled the air with clichés or cheap prayers. They sat in silence.
We listened to other groups singing quietly their own songs. A few young women found the old hymn "Be Still My Soul" on their phone:
Be still, my soul: the Lord is on thy side.
Bear patiently the cross of grief or pain.
Leave to thy God to order and provide;
In every change, He faithful will remain.
Be still, my soul: thy best, thy heavenly Friend
Through thorny ways leads to a joyful end.
We must have sung six or seven verses, all slowly, all quietly, all prayerfully. But mostly we held hands, picked at the grass, wondered, grieved with each other, simply took time to breathe.
A few of us read a smattering of scripture.
The young man next to me read from Psalm 18: "Out of my distress I called on the Lord."
I read from Lamentations: "for God does not willingly afflict or grieve anyone."
A young woman read slowly, thoughtfully, from Ecclesiastes:
"For everything there is a season, and a time for every matter under heaven ...
a time to be born, and a time to die;
a time to weep, and a time to laugh;
a time to mourn, and a time to dance ...
a time to keep silence, and a time to speak ..."
For everything there is a season.
I am dumbstruck, dope-slapped by the ambiguity of it all. The mixed-up jumble of existence we call life. Priscilla's spiritual director from our Chicago days, Jane Koonce, told her, "In consolation, remember desolation. In desolation, remember consolation." We do. We have. Both.
For everything there is a season. A time to weep and a time to laugh. A time to mourn and a time to dance. I understand the rhythm of this, the wisdom of it. Yet sometimes we have both, even when we're not sure which is which. Sometimes we weep and laugh at the same time. We mourn as we dance, dance as we mourn. Sometimes there is consolation during desolation, desolation during consolation.
Consolation in desolation, desolation in consolation. Being given the chance, at fifty-seven, to sit with twenty-two year old students on a golden evening in a grassy collegiate quad--praying with them for people we don't even know, holding the hands of students whose exams I've graded or others I've just met, and caring, really caring, how they're doing.
Is it callous to say I found consolation in desolation on that grassy quad with students I admire and cherish? These students were so reflective, comfortable in the silence, mature in their prayers for the shooter, the victims, our community. I didn't mean to or want to, but I felt hopeful. In four short years, just 120 weeks, these students, most of them seniors, had learned to live into ambiguity, had garnered a textured faith free of trivialities.
I tell my students I teach for when they're forty, when they're black and blue. I'm honest with them about ambiguity and doubt and worries that pierce the hollow night. I'm honest with them, too, about faith. I'm still believing, still hoping, still laughing as I weep, weeping as I laugh, dancing as I mourn, mourning as I dance.
Well, yesterday our campus turned forty. All of us. In the split seconds of text alerts and booming shots. In the sirens. In the cameras and news trucks. In the grassy quad. In the evening light. In prayer.
A canal runs near the SPU campus, just on the other side of Otto Miller Hall. I've walked with countless students along that canal, talking about boyfriends and grammar and grad school and summer plans. Not far down the canal, you can watch the salmon return home to spawn. They're scarred, every last one of them, with scales missing, totems of hooks and bites engraved on their bodies. And they're still swimming. These are the salmon that survive, the ones that make it, the hope of the future.
I'm not quite ready to talk hope. I believe in the resurrection of Jesus, yes. I believe in the life everlasting, as the creed puts it. But for now I grieve, as sad at dawn this morning as I was at dusk last night. Sad for the mothers and fathers, sisters, brothers, and friends grieving a lost son, urging a daughter back to life. But I confess, too, to a certain deep consolation--maybe it is hope after all--lying somewhere inside me next to that ball of grief, as I recollect the faces and faith of my students.
Related
Popular in the Community