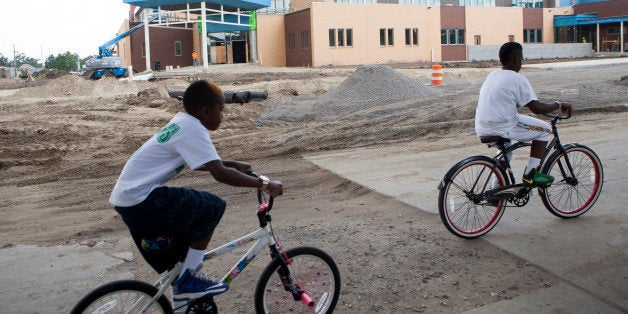 Akili Academy of New Orleans looks in many ways like a new school, with its bright white walls, long-tinted window panes and a shining banner announcing the school's name.

But that's just the new wing. The heart of Akili Academy is the other half of the school -- a perfectly renovated building with freshly polished wood floors and desks. Inside this wing is a very special classroom, Room 2306, also known as the Ruby Bridges Room.

In 1960, when Akili Academy was William Frantz Elementary, 6-year-old Ruby Bridges, escorted by National Guardsmen, bravely walked past racist protestors to exercise her right to attend a great public school. Today, the room where she studied alone with one teacher--classmates refused to share a room with Ruby--stands as a testament to one brave little girl and one excellent educator.

Room 2306 and Akili Academy are also testaments to the strength of New Orleans. As the 10th anniversary of Hurricane Katrina approaches, Akili Academy, and the many public charter schools that educate New Orleans students today, serve as reminders of the city's capacity to bring educational opportunity to all children. Today, New Orleans stands as a beacon to other cities and states trying to turn around their public school systems.

When I visited the new Akili in June, I was struck by how carefully William Frantz Elementary had been preserved. It was a far cry from what New Orleans schools looked and felt like a decade earlier. Back then, the city's education system was on the ropes, academically, financially and physically. Schools failed to educate the great majority of their students -- only one in three eighth-graders could pass a state reading test. Bribery and corruption were common enough that the FBI had a satellite office at the school board headquarters.

The physical conditions of the schools pre-Katrina were sometimes the most heartbreaking. Many schools had no functioning bathrooms for students -- stall doors missing, no toilet paper and non-functioning toilets. When voters passed a bond to add air conditioning to the city's sweltering classrooms, it took nine years to install the equipment. Students had to try to learn -- and good teachers and principals had to work -- in downright horrific environments.

The storm brought a new level of destruction to the city schools. More than 100 schools were severely damaged, rooms flooded with mud, holes torn in walls, rubble strewn in hallways. It was hard to imagine that New Orleans schools could come back from all of that, but they did.

As Louisiana's state superintendent of schools from 2007 to 2011, I worked with Governor Kathleen Blanco and Sen. Mary Landrieu to begin our recovery. One of the first things we did was to direct emergency federal funds to rebuild school buildings, putting doors on all the bathrooms and making sure they worked. We fixed up cafeterias and classrooms and wired schools with Internet access. All told, to date, we spent or committed more than $1 billion on building, renovating or refurbishing schools 63 schools without corruption--something that would have been unthinkable just a few years before. Since Superintendent Patrick Dobard began overseeing the city's schools, a quarter of all dollars spent on school rebuilding has gone to businesses owned by women or people of color.

Now, the city's public schools are doing far better, and not only by appearances. Thanks to the Recovery School District--a state-created system that allows school leaders to actually run their schools, rather than imposing a top-down bureaucracy--teachers and principals have the opportunity to succeed. Seventy-four percent of students attended a failing school 10 years ago. Today, only 8 percent do. Proficiency on state tests has more than doubled, and the RSD is the fastest improving district in Louisiana in average ACT scores. Schools in the city are competing, but cooperating at the same time in a new model for operating a school district.

Around the country, parents and leaders are realizing that it is unacceptable and downright un-American to let students attend, year after year, schools that have fallen into disrepair and that fail to prepare them for life after high school. Even without a natural disaster, they're taking action to improve public schools. New Orleans has set the standard for state turnaround efforts in Tennessee and Michigan that our foundation has supported. Nevada and Georgia are taking note and following suit.

The schools in New Orleans aren't perfect -- academic achievement is still not where it needs to be. School buildings still need to be completed, and across the street from Akili Academy, homes still stand in disrepair and communities suffer.

But Akili represents hope for the future. It sends a message to the students who walk through the front door that they deserve a great education in a gleaming school -- in a school that literally preserves the old while making way for the new, in one dramatically intertwined school building.

Across the city, things are better. New Orleans residents by the thousands are taking an active role in the governance and creation of their schools. Brilliant young people and experienced veterans have created a silicon valley of education where entrepreneurs thrive, engage each other and create dramatically improved ways of educating our children. Educators around the country come to visit and learn. As we move forward, we should take care to remember the past, especially before Katrina, no matter how painful, so we can remember how far we've come -- just like they do in Room 2306.
Popular in the Community