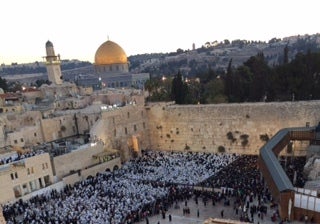 Shortly after last week's vote at UNESCO engineered by Arab and Muslim nations erasing Jerusalem's Western Wall from Jewish history, I spoke to UNESCO's embattled Director General Irina Bokova.
And now, the UNESCO Executive has completed the dangerous fiasco by confirmed the earlier vote.
We at the Simon Wiesenthal Center are no strangers to UNESCO. We have had official NGO status for years and have run two major conferences on Anti-Semitism at its headquarters in Paris and sponsored Holocaust-related educational activities. The Wiesenthal Center also gained the co-sponsorship of UNESCO for our historical exhibition—People.Book.Land. The 3,500 Year relationship of the Jewish People with the Holy Land
We experienced first-hand the bullying tactics of the Arab League, as its members at UNESCO initially succeeded in blocking its presentation in the main floor of UNESCO headquarters. Worldwide protests and the intervention of US Ambassador Samantha Power eventually succeeded in clearing its presentation. Since 2014 it has been presented at the UN headquarters in NY, Capitol Hill, Israel's Knesset, The Vatican, Copenhagen, New Delhi, and in a historic first in Baku, the capital of the Muslim majority country of Azerbaijan! UNESCO sent six senior diplomats to that historic opening.
Given the recent vote, we will seek to present the exhibition again at UNESCO headquarters. Perhaps diplomats there will take time off from their poisonous Orwellian machinations to breathe in the oxygen of historic truth for a change.
I am here in Jerusalem for the Sukkot festival and it is difficult to quantify the fury of all Israelis by this insulting and dangerous move at the United Nations.
I told Mrs. Bokova that the UN vote had galvanized Jews in the Holy Land, including this one to vote with their feet, as throngs made their way, family by family from every corner of the state of Israel and the Diaspora to the Western Wall.
At this point, the usually fractious Israelis agree on one thing:
They are in no mood to be lectured by or dictated to by The United Nations, including its diplomatically powerful and morally bankrupt Security Council. It is not lost on Israelis that the US and Russia have failed to forge any realistic or practical plans to stop the bloodletting in Syria. Neither have China, France or the UK. Syrians keep dying in the hundreds of thousands, millions have been displaced, thousands more wounded, with only the lucky ones being able to get treatment at an Israeli field hospital, Aleppo has been virtually destroyed—with the world's hypocritical silence an un-indicted co-conspirator to its demise.
There are many rumors swirling about that President Obama is looking to make a grand gesture "for peace" between Israelis and Palestinians.
Mr. President: The United Nations is the last place you should make your last stand for peace. Its record on the Holy Land, on Syria, on the ethnic cleansing of Christians in Iraq, is nothing less than a trail of shame, hypocrisy, and abject failure. Don't do it!
Calling all HuffPost superfans!
Sign up for membership to become a founding member and help shape HuffPost's next chapter
This post was published on the now-closed HuffPost Contributor platform. Contributors control their own work and posted freely to our site. If you need to flag this entry as abusive,
send us an email
.