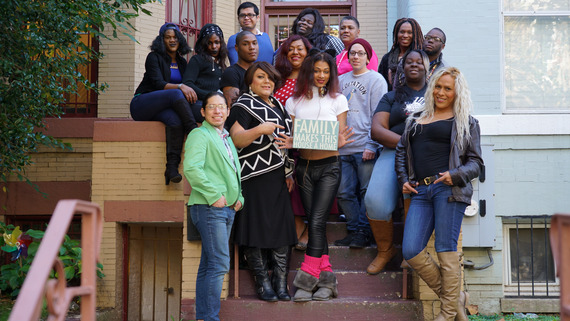 This week, I asked Ruby Corado to share her reflections and her thoughts around TDOR. Her story and words and work are a far more powerful testament than anything I could share today. Please read and share her words.
Today is Trans Day of Remembrance (TDOR), a time of year that is very difficult for me personally. I am reminded of the sisters that I've lost to violence. I miss their voices, their laughter and their spirit. I miss watching them become who they were meant to be. All of us miss the contributions they would have, and should have, been able to make to our community, movement, and our lives. Had they lived, many of these women would have only been in their early thirties today. My heart aches to know that I will never see the beauty and power they would have grown into.
As I prepare for TDOR, I am reminded how I was almost one of the names that many of us will read in memorandum this evening. It was only seven years ago that I was almost killed in a violent hate crime. It was only six years ago that I was homeless and afraid, unsure of how I would make it until tomorrow. While so much has changed for me and for our community, the world is still not a kind place for someone like me: an HIV positive, indigenous, immigrant, and trans woman of color. If I am honest, there are still days when simply reaching tomorrow seems an unbearable distance.
What has gotten me this far and what inspires me to keep going is the resilience, creativity, and tenacity of the trans and genderqueer community. What keeps me going is seeing the ways we have loved ourselves and each other, deeply and fiercely enough to refuse to accept what is, and insisting on building our community upon that love.
Today, on this day of mourning, I want to lift up the story of this work - and what makes this work possible - because it is the truest and most powerful way in which I can honor the memories of the sisters I have lost.
Here in Washington, DC, we have created an organization called Casa Ruby, committed to creating new possibilities for the most vulnerable. Casa Ruby offers transitional housing, a safe place, and meals for the most vulnerable in the LGBTQ community - most of them trans and gender non-conforming people of color. Casa Ruby began as a dream of mine when I was still living on the streets, and it is now one the largest employers of trans women of color in the country (many of whom began as clients). I'm proud of the progress we've made, but I am aware of how much more there is to do. As I write this, winter is getting close. As the temperature is dropping, LGBTQ homeless people, and in particular youth, are pushed into more and more dangerous conditions. The shelter systems are already overburdened and too many of our young people are afraid to stay in many of these shelters because of a very real danger of physical or sexual violence. This sort of desperation puts already vulnerable people in even greater danger. So we must again create a new solution for our community. Right now, we are working to raise the funds to ensure we can extend our housing to create space for ten emergency beds. Each bed we are able to fund will provide a warm, safe place on a cold winter night. Each bed we are able to fund represents another concrete lifeline, and with it, different and better possibilities.
In any given year, thousands walk through our doors. They are black, white, Latino, and Asian. They are HIV positive and HIV negative. They are lesbian, gay, bisexual, trans, and queer. All of them represent the most vulnerable in our community. All of them come in carrying pain, trauma and the experience of being rejected and thrown away. Most have wondered how they would make it another day. Many of them have come close - so very close - to being a name we read on TDOR.
But because we exist, because in Washington D.C., there is someplace to go and something entirely new becomes possible. They have access to a warm and safe place as well as opportunities for education and employment. They experience love and the power of a chosen family.
Casa Ruby is one example of one part of the solution, but examples like Casa Ruby would not be possible without the support of many inside and outside the LGBTQ community. It's not an accident that we named this campaign chosen family. I did not move from homelessness, sex work, and trauma from a hate crime that almost ended by life by myself. I did not create Casa Ruby by myself.
Casa Ruby would not have been possible without the contribution of trans and genderqueer individuals that came before me, people like Dee Curry, Savanna Wanzer, and Roberta Gills. Casa Ruby would not be possible without the countless gay, lesbian, bisexual, queer, and straight allies of all colors and economic backgrounds that stepped up to support my vision. Without those that went before me and without those that stood with me, I would not be alive today. Without a chosen family of my own, I could not have brought my voice and my labor to our struggle. Without chosen family, there would be no Ruby and no Casa Ruby.
This evening, many of you reading this article will attend a vigil. You will read the names of those we have lost. You will light a candle. I thank you for showing up and bearing witness, and I want to ask you, beg you, implore you to do more.
To take the memory of those whose lives you honor tonight to build the possibility of a different world for the trans and genderqueer people who as you read this are wondering how they are going to make it through another day.
Please consider supporting Casa Ruby. As one of the few organizations led by and supporting trans women of color and providing services to the most vulnerable we are not only impacting critical needs in DC, but defining a national model of what our community can do and what we can build elsewhere.

Please don't stop there. Please learn about and support the incredible work that is happening in your community right now. Read the names of those we lost this evening but take the time to learn about those who are fighting to create a world where trans people can not only survive but thrive. Learn about incredible local leaders like Marisa Richmond, LaSaia Wade, Monica Roberts, Bamby Salcedo, and Ariana Lint and their work doing in your community. Learn about leaders on the national level like Kris Hayashi, Isa Noyola, Cecilia Chung, and Mara Keisling. Get to know Gabriel Foster and the Trans Justice Fund's list of grantees that are making a difference all over the country. Learn about the organizers, activists, and leaders in your community whose names I've not yet had the honor to learn. Learn about this work and ask how you can help. We cannot do it alone. We cannot do it without you. We need to build a chosen family together.
Tonight we will mourn those we were not able to reach, to keep safe or protect. We will read their names and we will light a candle in their memory. Tomorrow, join me and countless others, and let's make a world that honors their loss by joining together - as a chosen family - to create a world where Trans people are loved and affirmed, where we can see more of our beautiful sisters (and brothers and those that identify outside the gender binary) grow into their full beauty and strength, hear their laughter and voices, and savor the contributions they make.
Ruby Corado is the Executive Director of Casa Ruby, an organization that serves the most vulnerable within the lesbian, gay, bisexual, transgender and queer people in Washington, D.C. Casa Ruby provides meals, a safe space, housing and a community of love and support. Casa Ruby is one of the largest employers of trans women of color in the country and the largest trans focused organization led by a trans woman of color.
Calling all HuffPost superfans!
Sign up for membership to become a founding member and help shape HuffPost's next chapter