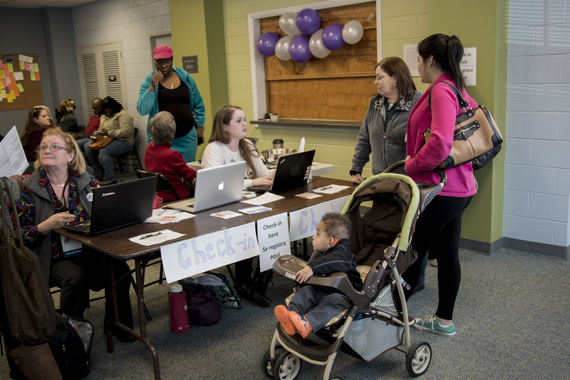 Since the successful close of the third open enrollment period under the Affordable Care Act, we at Enroll America have a lot to be proud of. With our 6,700 partners across the country, we've mounted a national, multi-sector effort that has made the promise of the Affordable Care Act a reality for millions of people. And yet, we know a lot of work remains to make our success permanent and get even more people covered. That's why we're excited to unveil a multi-year plan to continue our work into the next Administration and ensure our tested strategies are passed on to the local and permanent organizations who will continue to do this work after Enroll America is gone.
Before we get into what our work looks like in the future, how did we get to this point?
As millions have enrolled in coverage, we've learned about what works, refining and testing the "science of enrollment" over the past three years. Lessons emerged during this enrollment period that tell us a lot about where the effort stands. For example, we saw the "surge" in new enrollees leading up to the earlier December 15 deadline, rather than the final deadline at the end of the open enrollment period, suggesting marketplace consumers are becoming more informed and proactive about their health care options.
At the same time, Kaiser Family Foundation polling in January showed there are still significant information gaps among the uninsured when it comes to basic facts about enrollment, like the deadline and the fine amount. And some know the facts, and value health insurance, but struggle to fit that cost in among other competing budget demands. Affordability is a critical component to thriving enrollment and robust retention. So even as we celebrate the success we've seen, we have to continue investing in proven tactics, especially in-person assistance, outreach, and the tools that make the process smoother for consumers and assisters.
As the enrollment coalition continues to evolve from a start-up to a more mature effort, we at Enroll America find ourselves at a crossroads. The organization was not created to be a permanent entity, so we've thought a lot about what the most appropriate role for Enroll America is moving forward, and what the organization's lifespan should be. We know how we've fit into this effort these past few years; I like to think of us as the jet fuel that gave a powerful boost to the enrollment effort during take-off. Yet, we know that millions remain uninsured and after three enrollment periods, the challenges of reaching that population are greater than ever. The question is: How can Enroll America best serve the enrollment effort going forward?
To guide our work into the future, we've created a multi-year plan built on five ambitious organizational goals that we want to achieve by the end of the fifth open enrollment period (OE5) in 2018. The plan provides benchmarks for reaching and activating consumers and embedding our best practices within thousands of organizations that reach deep into communities of the uninsured; it also shows just how much work there is left to do.
Our goal at Enroll America is to put ourselves out of business by building and supporting a community-based enrollment infrastructure that will continue long after we are gone. In 2018, we expect this infrastructure will be strong enough that our direct consumer engagement efforts will no longer be needed, and the Get Covered America consumer outreach campaign will officially end. At the same time, we've developed and continue to improve tools to support the consumer enrollment experience (like the Get Covered Calculator, Connector, and Plan Explorer) that are already central to the work of many assisters - for instance, more than 429 organizations in 37 states used the Connector to organize their work this year. Those tools need to last, and we're committed to seeing them become a permanent fixture in the enrollment landscape. So we'll make sure there is a plan to continue to support those tools - whether through other organizations or a smaller, pared down version of Enroll America.
We chose to create this plan through the end of OE5 for a few reasons, most notably that we want to support the transition into a new Administration to ensure continuity. Regardless of who the next President is, it will be critical that a new Administration understand the experience we've had over the previous years. Our transfer of knowledge will position the next Administration to ensure enrollment runs smoothly for consumers in 2018 and beyond.
To paraphrase Winston Churchill, this is not the beginning of the end, but it is, perhaps, the end of the beginning. The start-up phase of this effort is behind us; now we must turn our attention to sustainability. This ramp to 2018 gives us urgency to make sure we can accomplish all the ambitious goals we've laid out, while continuing to make a direct impact on consumers; serving as the nerve center for enrollment analysis, information, and best practices; and leading and training the enrollment coalition.
Our long-term vision is to institutionalize the outreach and enrollment resources and best practices we've developed so they become part of the fabric of American life. Building out a plan through OE5 will give us sufficient time to make a deep impact on reducing the number of uninsured further, while creating a sustainable nationwide enrollment infrastructure. It's a lot to achieve in just a couple of years, but - together with our partners - we can't wait to get started.
Popular in the Community