It's been a great run. I remember the very first moment I had in my hand the peanut-shaped controller that ran my TiVo DVR. It was magical. After a lifetime of TV programming me, setting my schedule, forcing me to make time to watch my favorite shows when they were broadcast, TiVo set me free. I was in control, I watched what I wanted when I wanted it. Oh yeah, and I skipped the commercials. I guess I knew I should watch them - but back then I was paying for cable and skipping interruption advertising seemed flat-out fair.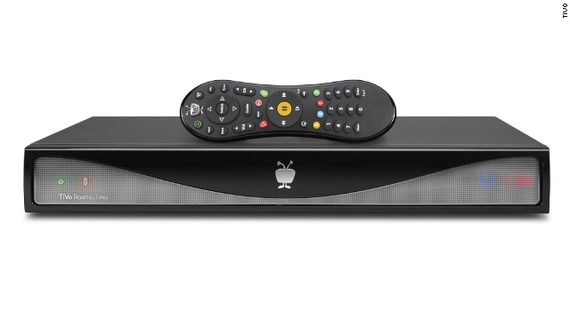 Since then, I've cut cable - and my TiVo Roamio became my OTA recorder. That's over the air, and it has been a great ride. Tons of prime time TV, news, specials. All in HD glory, just floating in the air to be recorded and watch when my schedule permitted. Then, thanks to TiVo I had Netflix and Amazon Prime videos - paid, of course - and the occasional series that I purchased like FX's The Americans, Season 3.
Here's the history of TiVo - in a snapshot:
Jan 1999 -- Introduced at CES
Sep 1999 -- Traded publicly on the NASDAQ (Ticker: TIVO)
July 2006 -- TiVo service wins a Primetime Emmy® award
Jan 2008 -- First Comcast DVR with TiVo service shipped
Sep 2010 -- TiVo launches Pandora internet radio on Premiere platform
Jan 2011 -- Release of TiVo app for iPad companion
May 2011 -- TiVo partners with Comcast to support on-demand features
Mar 2016 -- TiVo is for sale.
But alas, my 15-year odyssey with user-controlled media is coming to a close.
So, who will provide an Over The Air video recording device as the next chapter of media now unfolding?
A quick tour of emerging OTA offerings reveals a few players - and even a surprise rising winner.
ChannelMaster is best known as an antenna company - but they do in fact have a subscription-free DVR that allows you to capture your local signals and record them. There are a number of versions - and they each require you to shell out some cash. The 1TB version is $400 bucks, the 16GB version is $250. But both are ethernet only, so you'll need to add a Wi-Fi adapter for another $40. An external 1 TB drive will cost you another $60 bucks or so. So expect you're going to pay $350. But the good news is no monthly subscription fee that TiVo Roamio nails you with. So, a pretty good deal.
Amazon buyers give it 4.5 out of 5 stars, and gripe a bit about the remote needing lithium coin batteries rather than AA. There's some grumbling about software, but that seems to be in earlier versions. Overall, it's called a "TiVo Killer" a bunch of times, so maybe that's what it is.
The Simple TV 2 DVR is cheap at a $200.00 entry price. It streams to mobile devices, can be watched on multiple devices, and can record more than 1 show at a time. But Amazon reviewers aren't entirely sold. A troubling 50% of all buyers give it a fatal 1-star review. And only 30% give it either 4 or 5 stars. Ouch. With reviews like: "Terrible tuner" and "Old Model - New Case - Same Problems," this is probably an OTA DVR worth skipping.
But fear not... there's hope.
Tablo OTA DVR really does look like a TiVo competitor. Tablo offers 3 versions a 2 tuner version for $219.99, a 4 tuner version for $299.99. If you need to record more than two shows at a time, go for the 4 tuner version, otherwise, save the cash. 65% of Amazon users give it either a 4 or 5-star review which is pretty solid. They have a program guide, but unlike TiVo, it isn't required which is cool.



The device requires you to buy an indoor or outdoor OTA antenna, a 1 or 2 TB hard drive (check with Tablo to be sure it is compatible). One important point, the Tablo doesn't connect directly to your TV. Do I need to own a streaming device with Tablo DVR? So you will need a streaming device like Roku, Amazon Fire TV, Android TV, AppleTV or Chromecast. And while there were some issues with Tablo after a recent Roku update, they seem to have been fixed quickly and Tablo owners seem very pleased with the quality of the support and the overall attitude of the Tablo team.
Amazon reviews like: "Best OTA DVR Solution I have found" and "Tablo TV Cut my Cable" and "Awesome OTA Recording Playback Solution!" all seem to suggest that this is the best offering in the market.
Even with some options available, it's clear that TiVo's pending sale and demise will take a big player out of the market. And unless you see a product from Sony, or Samsung, or one of the other major CE players jumping in to pick up where TiVo now provides an excellent product - it seems like we may be seeing the end of the DVR era for all but the most committed cord-cutters. Until we see the outcome of the TiVo transaction, we'll just have to wait and see.
Popular in the Community