I'm Just back from the TED conference in Vancouver. From holograms to virtual worlds - the world of immersive media had the room of scientists, artists, and thinkers deeply engaged.
I slayed a dragon with a flaming torch as he breathed his clammy cold breath on the back of my neck. I saw a human skeleton and was able to reach in and pull out the organ systems with my bare hands - no gloves or sensors, just a hologram responding to my touch. The Microsoft Hololense turned a phone call into a live hologram of your formerly 2D friend - making the holodeck from the Starship Enterprise a reality.The sci-fi fantasies of Minority Report and Iron Man aren't far-off fiction - the screens that Tom Cruise snapped around in thin air are now real. I know this because I manipulated them with my two hands and a pair of augmented reality "Meta2" glasses.
The thing to remember is that TED isn't a group that is easily bamboozled by new technology. But my entirely unscientific survey came up with a consensus - the era of immersive media is arriving. It's a sea change - or maybe 'see change' - moment.
It's why noted blogger Robert Scoble and techno-explorer literally cried when he tried on the Meta2 glasses. He told his fans and followers that Meta2 was the first thing he's seen since the Apple II that really is world changing. It's the power of computing, the depth and breadth of the web, and a personal interface that makes holographic motion-media a fully immersive world of ideas and images. As Meron Gribetz the 29-year-old CEO of Metavision says - what he's building is the iOS for the mind.
In what was the world's largest group VR experience ever convened - the entire theater at TED in Vancouver held its collective breath as the visual artist JR hung out of a helicopter over Times Square. As Chris Milk from the VR shop, Vrse told the TED crowd "I believe that everyone on Earth needs to experience what you just experienced. That way we can collectively start to shape this not as a tech platform, but as a humanity platform."
Tom Hennes - the chief designer of Thinc Design, who did much of the foundational work on the 9/11 Memorial Museum - was blown away by the blended reality of The Void. He said: " It's the first time I've experienced VR that crossed the threshold from interesting visual curiosity to a viscerally convincing experience that had me responding physically to the virtual world, as if it were real." Brian Cohen, one of the first investor in Pinterest and the chairman of New York Angels - said TED's VR offerings were 'mind blowing.' And Andrew Blau who leads Strategic Risk Solutions for global consultancy Deloitte proclaimed the VR/AR space a "a multi-billion dollar shift in the connection of computing and communications." Oh yeah - and one more guy. Beard and glasses, quietly at TED for the first time. Seemed pretty engaged by the Meta2 glasses. Yup, Steven Spielberg. Can't wait to see what he's thinking about augmented reality.
A room full of scientists, artists, and storytellers saw the future of Virtual Reality arrive with a vengeance. A future where the Internet is no longer something we 'browse' or 'surf' - but instead - a place we inhabit and explore.
One more thing - as awesome as it is, TV 2.0 - it might also be terrible. Dr. Laura Jana and I had lunch at TED. She told me the American Association of Pediatrics tells parents to limit kids' screen time to no more than 2 hrs/day. That's not just TV screens, but computer screens, smartphones, and that's before the AR/VR world reaches the family living room. "We know that children learn best and their brains develop best with human interactions, not screen interactions," she told me. But she's says there is a an opportunity for children in this new medium as well: "one area of most interest is trying to make use of new technology's social engagement potential to improve access/educational opportunities (as opposed to common passive 2D TV experience)" Jana told me.
I'm not a gamer. But after 15 minutes wandering through the VR world known as "The Void" - I really didn't want to leave, and I can only see kids getting more immersed.
Today the hardware is bulky - and the first generation Oculus Rift gear expensive. And some of the 360 film experiences are reported to induce dizziness and nausea. But that wasn't my experience - and the evolution of both hardware and cinematic techniques are sure to overcome those early obstacles.
There are billions of dollars deployed - with the ultra-secretive "magic leap" already having raised 827 million dollars. The industry's poised for massive change are diverse and global. From telemedicine to distance learning. From tourism to engineering and architecture. Immersive media is moving from the labs to the living rooms. From science fiction to real life. And the change is more than a new way to watch old media, it's a new form of communication, storytelling, and shared knowledge transmission and creation.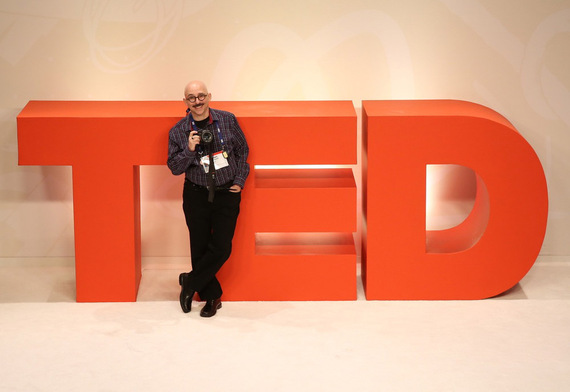 Calling all HuffPost superfans!
Sign up for membership to become a founding member and help shape HuffPost's next chapter