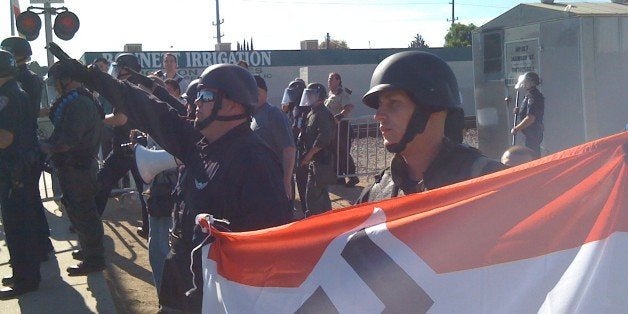 The Southern Poverty Law Center (SPLC), a Montgomery, AL based civil rights group, in an annual report released today stated that the number of domestic hate and anti-government groups declined last year after years of sustained increases that saw levels reach modern records. Hate groups, including neo-Nazis, racist skinheads and the Klan, who espouse falsehoods and bigotry based on group status such as race, religion and sexual orientation declined 7% to 939 in 2013, from 1007 the previous year. The number of hate groups has declined for two consecutive years since hitting a multi-decade high of 1,018 in 2011.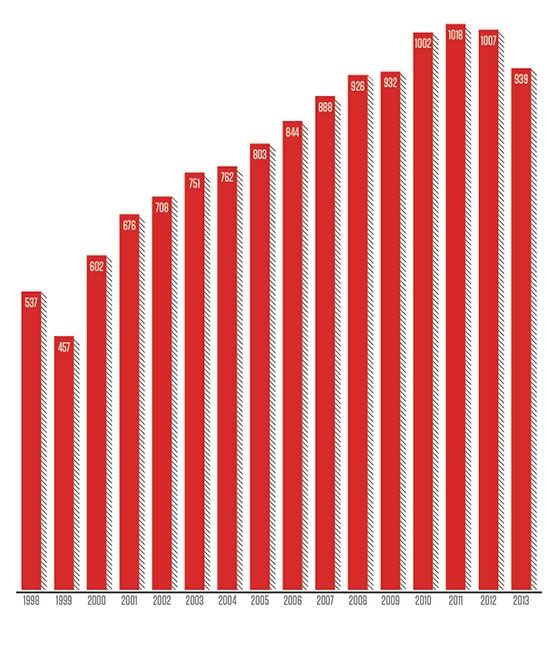 Hate Groups 1998-2013
The recent previous record run-up in hate groups has been attributed to such issues as international events, gay rights, immigration, demographic changes, the economic downturn of 2008, and racial antipathy over President Obama's first campaign and eventual election. Even with last year's decrease, 2013's totals were the third highest number of hate groups ever recorded by the SPLC since they began systematically tracking them over three decades ago. The states with largest number of hate groups tended to be the most populous with California first at 77; followed by Florida, 58 and Texas, 57. The most prevalent hate groups in the United States last year were Ku Klux Klan groups (163), Neo-Nazi groups (143), White Nationalists (128), and racist skinheads (126). In 2000, the organization counted only 602 hate groups nationally.
Patriot Groups Drop, But Still High
Even more pronounced, however, is the decline in extreme anti-government "Patriot," "sovereign citizen" and militia groups, whose antipathy for the government extends beyond mainstream political disagreements to embrace such ideas as succession, violence, unaccountable private armies, destruction of exiisting political, legal, and economic institutions and wild conspiracy theories. These anti-government groups dropped 19% last year to 1,096, from the record highs achieved in 2012 of 1,360. From 1999 through 2008 these Patriot and militia groups held within a steady range of between 217 in 1999 and 149 in 2008, before exploding over the next four years. Last year's tally of 1,096 is still the third highest annual total since the SPLC started enumerating anti-government groups in 1995, after the Oklahoma City Bombing killed 168 in April of that year. The states with the largest number of anti-government groups were similar to previous years with Texas at 67; California, 62; and Michigan, 57.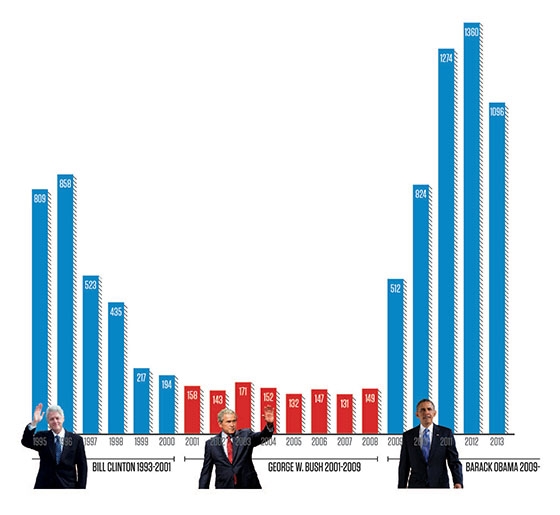 Patriot Groups 1995-2013
Just this week three Georgia men were arrested in an FBI sting for allegedly plotting to bomb federal agencies with pipe bombs and explosives. "This case is a stark reminder of the threat we face not just from abroad, but from within our own borders from our own citizens," United States Attorney Sally Quillian Yates stated to reporters. This subgroup is estimated to have between 100,000 and 300,000 adherents nationally. While many are well-armed and some have undertaken criminality, the overwhelming majority are nonetheless nonviolent.
Official Data
Official government data on hate crime has not shown significant increases in recent years, as crime rates overall have also fallen. The Bureau of Justice Statistics victimization survey of households nationwide found that in the latest year, 2012, there were an estimated 293,800 hate crimes in the United States, an estimate similar to that of 2004's 281,700. What was striking was a change in who was targeted in those years with a significant increase in those targeted because of ethnicity, religion, and gender. Researchers at Northeastern University posit that changes in hate crime are due to a greater number of reactive offenders who react to international, domestic, or community changes or events. Previously, young people, who are now less prejudiced than previous generations, with shallow prejudices committed hate crime more frequently for peer validation and excitement. In 2012 the Federal Bureau of Investigation's annual statistical release of hate crimes actually reported and classified as such by police showed a multiyear low of only 5,796 incidents. The report has been criticized because of the high number of agencies reporting zero incidents for numerous cycles and the lack of active participation by many states.
Reasons For Declines Aren't All Good
Analysts posit various reasons for the recent decline in hate and anti-government groups. First, for many hate groups leadership vacuums caused by the death, mismanagement, or incarceration has caused the decline of many including Klan groups, as well as others like Aryan Nations and the National Alliance, the latter falling into to decline after the deaths of their founders. Next, there has been heightened criminal enforcement against the most violent fringes of the hate and anti-government world. Thirdly, an improving economy has reduced concerns among some. Furthermore, many of the most dire specific predictions of gun seizure, martial law, and civil and economic collapse failed to materialize.
Lastly, there has been the "cooptation of the issues of the radical right" by mainstream political figures according to SPLC senior fellow, Mark Potok. He pointed to politicians who focused on purported threats such as "Shariah law" encroachment and the UN's agenda 21, which has been wholly exaggerated as a means to impose socialism on American citizens, yet still alluded to in the RNC platform.
Beyond that it may be worth noting that bigoted and incivil rhetoric comes from all sides of the current social and political discourse whether its on Twitter, webpages or the comment sections of newspapers. However, with the right wing more splintered, populist and conspiracy oriented and without the unity of message that comes from tight leadership, it seems much bigotry is coming from "transmitters" who still have one foot in the mainstream. More prominently, bigotry and incivility, is increasingly becoming a way that influential commentators get more notoriety, whether it be the racial taunting of Ted Nugent, the homophobia of Ann Coulter and the Duck Dynasty patriarch or the sometimes over the top anti-religious rants of comic genius Bill Maher.
While there is good news in a reduction in the number of hate groups, those that remain may very well be more dangerous as a sustained core of more radicalized adherents sticks around. Even with the declines the numbers are still near record highs. And some of those who left, may have not changed their bigotry, but rather have found a home in a splintered mainstream socio-political climate that tolerates dog whistle bigotry when it doesn't come overtly wrapped in a Klan robe or swastika.
Calling all HuffPost superfans!
Sign up for membership to become a founding member and help shape HuffPost's next chapter