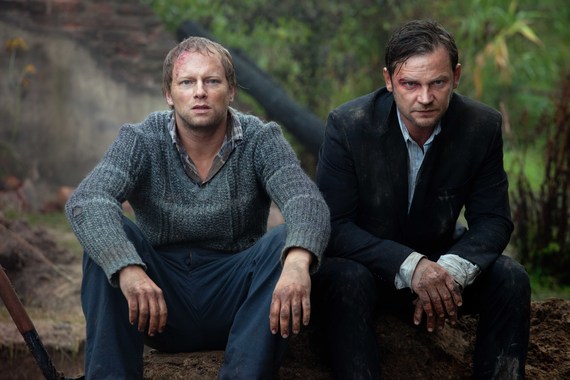 Photo Copyright 2013 Menemsha Films, Inc. Józek (Maciej Stuhr) on left, and Franek (Ireneusz Czop) on right

Although the Polish film Aftermath seems to have nothing to do with Halloween, its release tomorrow at New York's Lincoln Plaza and Cinema Village invites a connection. This fictional drama -- which has elicited tremendous controversy in Poland -- is not simply about two brothers who investigate their father's actions during World War II; it is literally about a haunted house, and ghosts that never left the landscape of mass murder.
Written and directed by Wladyslaw Pasikowski, Aftermath (Poklosie) begins with the return to the Polish countryside of Franek Kalina (Ireneusz Czop), who moved to Chicago 20 years earlier just before Martial Law was established in 1981. He visits younger brother Józek (Maciej Stuhr), who takes care of the family farm.
The town seems to ostracize Józek, whose wife and children have already left for Chicago too. Franek discovers that his brother has been systematically removing the Jewish gravestones that were appropriated to pave a local road, and placing them in his field. Józek has no logical reason for this dangerous behavior -- "There's no one left to look after them," he says simply -- but the film reveals a kind of ancestral curse.
Although Franek is initially repulsed and urges Józek to stop, he is caught up in the mysterious pull of the past. Creating a Jewish cemetery on their farm turns out to be a family repentance for their father having killed Jewish neighbors during the war.
Although fictional, Aftermath seems inspired by the July 1941 murder of hundreds of Jews in Jedbawne by their Polish neighbors. This was documented by Princeton University professor Jan Gross in Neighbors,a nonfiction book that sparked national debate among Polish readers in 2001.
Aftermath is similarly incendiary -- literally when a home is burned down onscreen, and figuratively in its inflammation of anti-Semitic rhetoric in the media. After being (falsely) depicted as Jewish on the cover of a right-wing magazine, actor Maciej Stuhr received death threats. Nevertheless, Aftermath won the Critics' Prize at the 2012 Gdynia Film Festival in Poland, as well as the Yad Vashem Chairman's Award at the 2013 Jerusalem Film Festival.

A preview of Aftermath at Manhattan's Jewish Community Center on October 15 was followed by a panel discussion that I moderated. The packed screening elicited lively debate among the guests as well as the audience, beginning with the film's producer Dariusz Jablonski. (His own documentary Photographer [1998] is one of the best films ever made about the Holocaust, demonstrating how much he learned from Krzysztof Kieslowski as his assistant on the Decalogue.)

He acknowledged the "challenge and the duty" during the seven years that it took to finance and make this drama. Even more difficult was the reaction in Poland -- where the film was widely distributed in theaters and then on DVD -- which ranged from "'people saying, 'it's anti-Polish ... and could damage the image of Poland,' to others saying, 'we are proud of Aftermath,'" Jablonski recalled.
Dr. Michael C. Steinlauf, Director of the Gratz College Holocaust and Genocide Studies Program, contextualized the film by invoking Pavel Lozinski's documentary Birthplace (1992) which followed Polish-Jewish writer Henryk Grynberg back from the U.S. to Poland. In the countryside, Grynberg discovers his father's remains, and the fatal complicity of neighbors.

Dariusz Stola, a historian and professor at the Institute for Political Studies in Warsaw, reminded the audience that the Catholic Poles who killed Jews during World War II "were not just killers but traitors, murdering their fellow citizens."

In the audience was Slawomir Grunberg, the director of an excellent documentary of 2005, The Legacy of Jedbawne. Whereas his film included a Catholic woman who aided Jews (and was honored as a "Righteous Gentile" by Yad Vashem), the JCC event had some heated discussion about the absence of any such noble Pole in Pasikowski's drama.

Aftermath is one of two new Polish films that tackle the complex legacy of Polish Jews and Polish Christians during the Holocaust; the other is Pawel Pawlikowski's Ida, which won the Grand Prize at the Gdynia Film Festival a few weeks ago, as well as the Critics' Prize at the Toronto Film Festival.
From a script that Pawlikowski co-wrote with Rebecca Lenczewski and Rebecca Lenkiewicz, this powerful drama is set in 1962. Anna (Agata Trzebuchowska), a novice about to take her vows, discovers from her aunt (Agata Kulesza) that she is in fact Ida Lebenstein, whose Jewish parents were killed during the war.
The characters are consistently placed so low in the frame that the unpopulated space above them takes on narrative weight. Perhaps this space represents the souls of murdered Jews, taking up more room in the frame than the living. Even if the restrained style and female focus of Ida are radically different from Aftermath, it too suggests ghosts.
Annette Insdorf is the author of Indelible Shadows: Film and the Holocaust, as well as Double Lives, Second Chances: The Cinema of Krzysztof Kieslowski, which has just been reissued by Northwestern University Press.