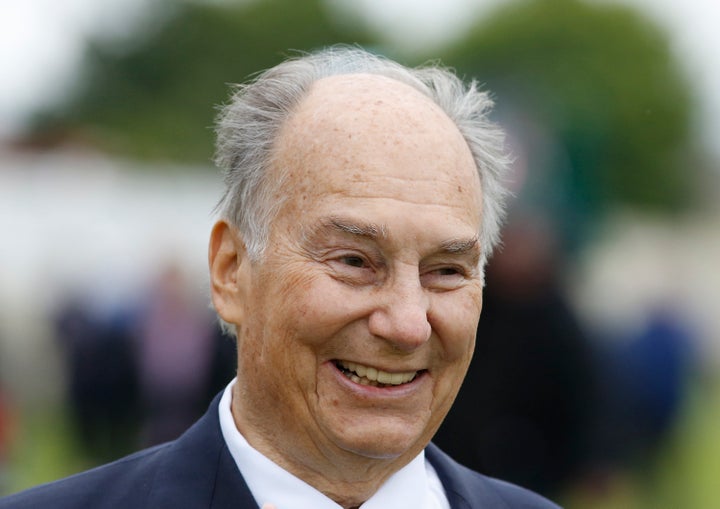 CAMBRIDGE, Mass. -- The Aga Khan is no stranger to Harvard. But 60 years ago when he walked the crisscrossed paths of the university's gated Yard between brick buildings as a young student, he wasn't yet the spiritual leader of a religious community -- and the world was a much different place.
On Thursday when he returned to the university to give the Jodidi Lecture on "The Cosmopolitan Ethic in a Fragmented World," he returned as the leader of approximately 15 million Shia Ismaili Muslims.
He spoke of "endemic poverty," of the poverty "manifested in … persistent refugee crises" and of the power of pluralism amid globalization. Differences between civilizations, he said, need not be reasons for discord if we take the time to understand and appreciate the value they offer.
The prominent Muslim leader traces his lineage back to the Prophet Muhammad, and during his junior year at the Ivy League university became the 49th hereditary imam of the subsect of Shias scattered across Asia, Africa, the Middle East, Europe and North America. He told a packed audience on Thursday that he rejects the age-old notion of a "clash of civilizations" between Islam and the West, instead arguing that many of the struggles humanity faces today stem more from "a clash of ignorances" and an inability to recognize that diversity can often be "an opportunity" rather than "a burden" for societies.
"It is perhaps in our nature to see life as a series of choices between sharply defined dualities -- but in fact, life is more often a matter of avoiding false dichotomies, which can lead to dangerous extremes," the Aga Khan said. "The truth of the matter is that we can address the dysfunctions of fragmentation without obscuring the values of diversity. … The road to a more cooperative world does not require us to erase our differences, but to understand them."
With Friday's attacks in Paris and Thursday's attacks in Beirut, along with many others in recent months, the message of solidarity over polarity is a relevant one -- and it is one that this Muslim leader embraces in his work as a spiritual leader and a philanthropist. While extremists who belong to groups like the Islamic State seek to eliminate difference, the Aga Khan seeks to celebrate difference by engaging with it. While ISIS destroys art and architecture in historic places like Palmyra, the Aga Khan rebuilds and restores them. While ISIS seeks out disenchanted youth to recruit, the Aga Khan seeks out youth to educate.
He is a practitioner of what Ali Asani calls "silent Islam," "the work that people do that's driven by faith" rather than the power-driven "loud Islam," in which people "are using Islam to justify hegemonic goals."
"Oftentimes I get asked where are the moderate Muslims and why aren't they speaking out. Well here is a Muslim -- listen to him," Asani, an Ismaili Muslim and director of the Islamic studies program at Harvard responsible for organizing the event, told The WorldPost.
"There are some people who write novels," Eboo Patel, founder and president of Interfaith Youth Core and also an Ismaili Muslim, told the WorldPost. "There are other people who make political pronouncements, and there are some people who over the course of a half century build sustainable institutions -- and sustainable institutions that advance new ideas and new ethics and build patterns of activities to those ideas and ethics. And I believe he's in that third category."
The Aga Khan has built the expansive Aga Khan Development Network and has advanced appreciation for Islamic art and architecture. He's also inspired scholars like Akbar Ahmed, Ibn Khaldun Chair of Islamic Studies at American University, who makes a point to highlight pluralism in parts of the world, like Andalusia, where Muslims have co-existed with other faiths and cultures.
"In a world where two dominant ideas appear to be clashing at different levels and in different ways -- the clash of civilizations and the dialogue of civilizations -- the Aga Khan is a key player on the international stage for team dialogue," Ahmed told The WorldPost. "His courageous and consistent projection of Islam as an intelligent, sophisticated and compassionate religion has allowed him to create a strong counter narrative to much of the nonsense that is propagated against Islam."
It is this "nonsense" that makes it important, perhaps now more than ever, to pay attention to the guidance of those such as the Aga Khan, Asani said. That "religious illiteracy" helps create an "exclusivist mentality," he said, and we're seeing that across the globe when people lack the tools -- the education -- to deal with difference.
"This exclusivist mentality is creating such terror," Asani said. "The geopolitical situation in the world has become worse, and you're seeing not only what's happening in the Middle East but also all these refugees surging to Europe. And it's creating panic in European societies."
The Aga Khan, too, noted some of the same trends in his speech and acknowledged that grappling with these developments is not an easy task.
"Whether we are looking at a more fragile European Union, a more polarized United States, a more fervid Sunni-Shia conflict, intensified tribal rivalries in much of Africa and Asia, or other splintering threats in every corner of the planet, the word 'fragmentation' seems to define our times," he said. "We have more communication, but we also have more confrontation."
This problem makes the challenge of pluralism perhaps more daunting, the Aga Khan said because, "even for the most 'tolerant' among us, difference, more and more, can be up close and 'in your face.'"
Truly understanding these differences is crucial today and not only "for Muslim communities adapting to societies but also within the Muslim world," where sectarian conflict can be exacerbated if these issues are not addressed properly, John Esposito, author of Islamophobia and the Challenge of Pluralism in the 21st Century, told The WorldPost.
This challenge of pluralism is of particular relevance to the Ismaili community, which has been persecuted during various chapters of its long history. In some areas of the world, practicing members continue to be the target of violence -- some sectarian, by those who consider the Ismaili version of Islam to be inauthentic -- including recently in Pakistan and Syria.
As he stood at the podium at Memorial Church looking over the pews of people gathered on the rainy afternoon to hear his message, the Aga Khan reminded them that despite the existence of different interpretations that run counter to pluralism, his religion has a history of cultural understanding.
"My hope is that the voices of Islam itself will continue to remind the world of a tradition that, over so many centuries, has so often advanced pluralistic outlooks and built some of the most remarkable societies in human history."
For Patel, who devotes his own time to interfaith work, the words of the Aga Khan resonated strongly.
"What he is saying is the question of how human beings with different identities live together in the same societies is a defining question of the human race -- and it's been with us from the beginning -- and [he's] going to spend 50 or 60 years advancing an ethic when it comes to that question," Patel told The WorldPost. "And there are very few people in the world who focus on something for 50 or 60 years."

Watch the full speech below:
Related
Popular in the Community