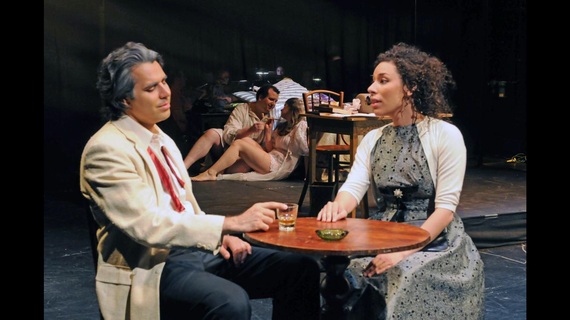 The dazzling young opera singer portraying Lizzy, the eponymous writer in my opera "A Woman in Morocco," which I am in Louisville at the Actors' Theatre directing for Kentucky Opera, sat down at the portable Remington, fed paper between the rollers, looked up, and asked, "Now what?" I offered motivation. "No," she laughed. "Not why. How. How do I work it? I've never use a manual typewriter before."
The opera's conductor laughed when I told him. "I recall teaching one of my protégés how to use a rotary phone; he kept looking for buttons to push." "Boy or girl?" I quipped. "Ah, it was not a 'princess' phone, if that's what you mean," he replied. Now, on our iPhones, smaller than the communicators Shatner and Nimoy once brandished, we can assign Siri not just a gender, but an accent. The telephone in my hotel room blinks, but I don't bother with it, since who would even think to call the hotel's switchboard to reach me?
After six hours working in the darkened Jory Theatre with the three gifted young 20-something women lighting, stage managing, and sound designing the opera, we took a break. Asked one, "Do I pronounce your name Hay-gen or Haw-gen?" I laughed, and answered the latter. "I'm sorry," she was quick to respond. "Not at all," I said. "Here's a quiz: how do you pronounce the name of the guy who wrote 'West Side Story'?" "Easy," said another, "steen." "Nope," I said, "stein." "No way," said the third, incredulous. "Way," I replied. "I remember how much it used to aggravate him that people messed it up." Silence. Quietly, almost reverently, my stage manager said, as though I might perhaps be a reanimated denizen of Jurassic Park, "You knew him?"
In the opera, in order to flesh out the doomed, touching fantasy self-image based on Bette Davis constructed by one of the men in their final love scene together, I had the character quote lines from the final scene in "Now, Voyager" where Davis and Paul Heinreid say goodbye over cigarettes. I saw it in a grand old movie palace as a teenager and wept not just for the characters in the story but for the actors' understanding of camp, modulated to the the very highest degree. Directing the scene, I asked the men if they'd ever seen it. No. "Dial it up on YouTube as soon as you can," I enthused, you'll love it; it will make this scene totally pop." I hope that they did.
"How much history we pre-internet types must seem to carry around in our brains to the Millennials," observed my conductor. "Now, that which fizzes in social media and art on the surface is enough for them most of the time. If they need to know more, they can Google it." I volunteered how Maurice Abravanel (whom spellcheck helpfully just corrected to "sabra engel," by the way) used to stroll around the grounds of Tanglewood, a sort of peripatetic Groves Encyclopedia whom young musicians (including myself) with a passion for oral history plied with questions, which he understood it was his role to answer with dignity and wisdom.
The other night, I stood in the middle of the empty stage of the darkened theater alone, a cup of coffee in one hand, the vocal score of my opera in the other, and reflected again upon not just how much accelerated the loss of our memories has become as a species, but how much more important the acting out of sophisticated, grown up, adult stories that reflect the multiple layers of meaning, intention, motivation, and memory has become, now that the Internet offers a pat answer for everything within two taps of an index finger.
Like education, opera is one of the "magic bullets." How quickly we are no more. Indeed, we are no more more quickly than ever before. The stories we tell, live, replete with mistakes, and wreathed in the inherent risk of live performance, vividly engage peoples' mature hearts and help to grow the poetic memories of folks starving, if only instinctively, for more than "two tap" answers.
America now leads the world in the development of opera. Our country needs opera companies more than ever to not simply spend their time massaging easily marketable retreads. We must encourage the composition of grown up, original stories told with sophisticated music that speak, as the saying goes, to our current condition. Otherwise, the Two-tappers win, and we should all hand our clarinets to someone who will play them.
REAL LIFE. REAL NEWS. REAL VOICES.
Help us tell more of the stories that matter from voices that too often remain unheard.