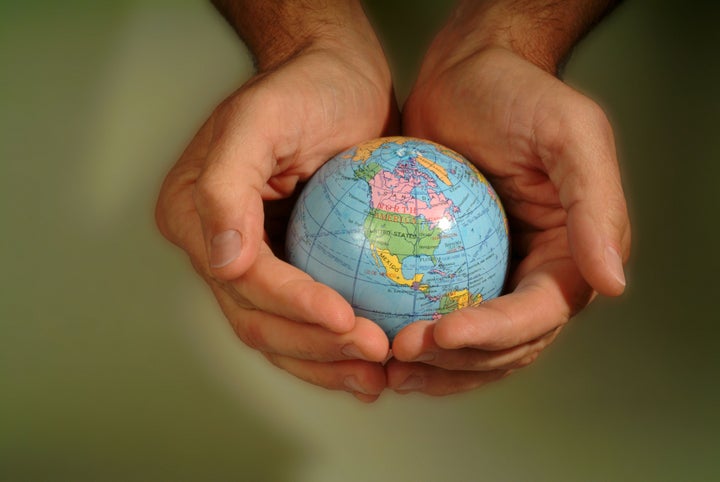 How many of us have represented our country as international delegates in some prestigious science fair? I would think that hardly 1% of those reading this article might have received this once-in-a-lifetime opportunity. But Jyothsna and Bhargavi, two 13-year-old girls from Settipalli, Andhra Pradesh, a quiet and remote rural village in India, attended the International Science Fair in Pittsburgh as "special international delegates" this year. Prior to this, they had been the winners of the Broadcomm Masters International Delegate award at the IRIS Science Fair in Chandigarh, India in November, 2011 for their project "Growing Oxygen on Highways," a study which determined the best tree to grow on the road dividers on the Indian highways.
Are you wondering how these two girls, hailing from a a remote village in India, develop the knowledge and skills to present their project on an international platform? How did this spark to do something innovative ignite within them? Agastya International Foundation, an organization with a unique mission of sparking curiosity and creativity in rural and economically disadvantaged children and teachers of India, has played a key role in fostering scientific geniuses such as Jyothsna and Bhargavi.
As you may be well aware, India's school-going population is served by an educational system that is, in most parts, stuck with methods that emphasize rote learning, endless examinations, and monotonous classroom drones. Set up in 1999, Agastya International Foundation seeks to infuse creativity as a life skill, by making learning fun, useful and accessible, and shifting the focus to hands-on learning and interactive teaching. Agastya started its operations by building a 172 acre creativity campus in Kuppam, Andhra Pradesh. Over 13 laboratories that practice creative teaching methods are spread across the campus. The campus also has a life-size discovery center, planetarium, spiritual gardens, acres of playgrounds and an art and cultural facility. More than 500 children visit the campus everyday to learn and ignite their curiosity for science. Agastya's vision has many innovation structures and processes, due to which it has achieved much success in nurturing numerous creative minds. It followed the Hub and Spoke model to expand its reach to thousands of schools in rural areas. The Mobile Lab program was one such innovation, which acted as the spoke of the model. Well equipped and colorful vans, manned by a driver and two instructors traveling large distances to government run schools, where Agastya instructors build on children's innate curiosity by demonstrating science concepts using models made of easily available, reusable material. A single mobile lab makes repeated visits to over 10,000 children a year. Currently, around 65 mobile labs in 10 states of India are run by the foundation. In 2006, science centers were launched which acted as a hub for Mobile Lab operations. At the science center, hands-on activities of the mobile lab are expanded by emphasizing teamwork and project based learning. Currently, Agastya has around 29 science centers. Peer-to-peer learning has found great favor with educators and teachers around the world. Thus, Agastya also encouraged peer-to-peer learning system. Students aged 14-16 were identified at the science centers and mobile labs to teach science models to the remainder of the class during specially organized science fairs. Last year, Agastya launched Jignyasa (Sanskrit for "one's inner urge to learn"), a science fair where children and teachers were encouraged to make their own models targeted at addressing a relevant social problem. Similarly, it launched Anveshana (Sanskrit for "inspired searching"), a twist on the peer-to-peer teaching model, where college students mentor and partner with government school students and build complete engineering solutions.
Building on the peer to peer teaching-learning methodology, Agastya started was the "Young Instructor Leader" program. By creating opportunities to acquire transformative hands-on learning (science, ecology, art, other disciplines) and behavioral skills (teamwork, leadership, communication) the program aims to raise the self-belief, confidence and critical/creative-thinking skills of rural youth. Jyothsna and Bhargavi were also Young Instructor Leaders. The striking thing I noticed about the foundation is that they aren't complacent about their work. Agastya keeps on innovating regularly and brings out of the box programs & initiatives. Their latest innovation is the Lab In a Box (LIB) & Lab on a Bike program. LIB is an immersive program that builds capacity in school teachers while simultaneously promoting hands-on learning. Twelve themed boxes, each containing models around a theme are circulated between groups of schools. Local School teachers are extensively trained by Agastya's staff to use these models as educational aids. LIB seeks to reduce dependency on Agastya's own resources while also ensuring that students are exposed to models for longer periods of time (more than any other Agastya initiative). Agastya's work is made all the more effective when schools co-opt the instruments Agastya creates. As of 2012, it has reached out to five million children and 150,000 teachers, making it one of the largest non-governmental initiatives focused on sparking curiosity through hands-on science in the world. Having the experience of teaching in a government school and observing things around, all I can say is that the need of the hour is to replicate such innovative, scalable and effective organizations, which have the potential to ignite passion among students to learn, innovate and create. I believe that many problems of our society can be effectively addressed if young minds are ignited and carefully guided to think out of the box, resulting in development of the the child's creativity and potential.
Calling all HuffPost superfans!
Sign up for membership to become a founding member and help shape HuffPost's next chapter