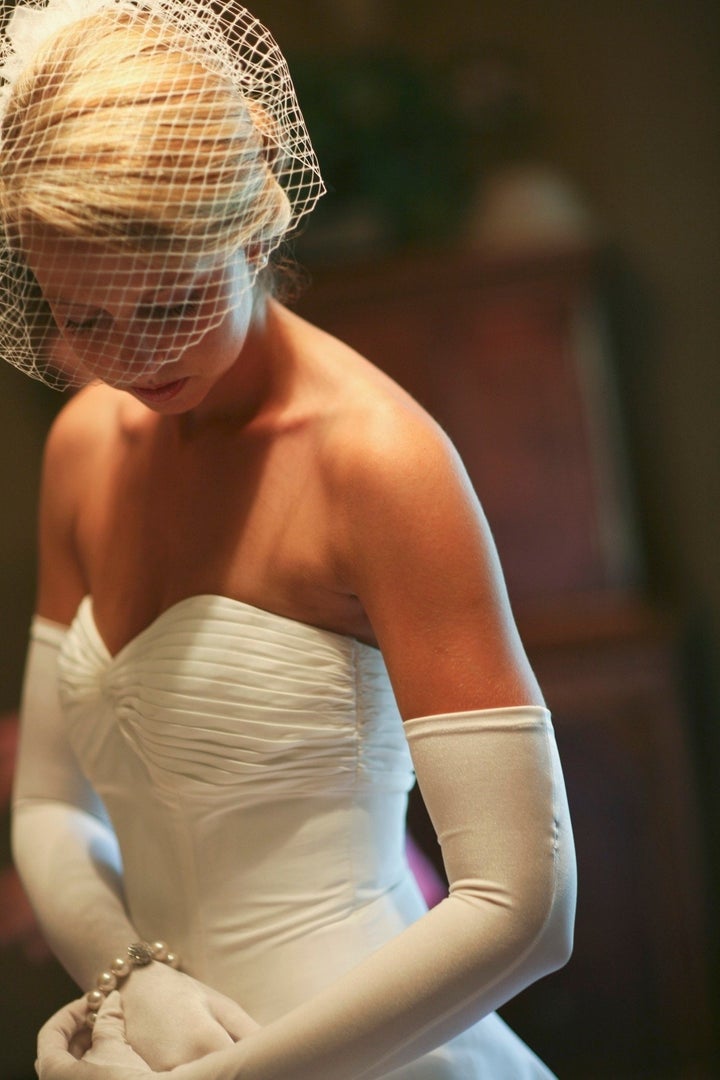 "True love can be ageless," declared actor Doug Hutchison, 51, an actor who starred in the television series "Lost," when he announced his May marriage to Courtney Alexis Stodden, a 16-year-old beauty pageant queen turned aspiring country star.
A few weeks later, The New York Times' June 16th Vows column featured the wedding of Christopher Cox, 32, the grandson of Richard Nixon and former campaign aid to John McCain, to Andrea Catsimatidis, whom he met when she was a senior at an Upper East Side high school. He was speaking at the school.
This squeamishness is understandable: Hutchison is nearly old enough to be Stodden's grandfather. In 12 U.S. states, a person can't legally consent to sex until age 17, and individuals under 18 years old must have a parent's permission to marry in all states except Nebraska, where the legal marriage age is 19.

Of course, men have paired up with younger women -- often much younger women -- for all of human history. That pairing may even make biological sense. Neuropsychiatrist Dr. LouAnn Brizendine, who has written about brain development in males and females, says that girls' brains are as much as two years ahead of boys' during puberty and that boys may not even catch up to girls until late adolescence or their early 20s, so a few year between partners can -- and often does -- make for a compatible match.
Marriage aside, the 2002 National Survey of Family Growth, conducted by the National Center for Health Statistics, found that a significant number of girls lose their virginity to older partners. Some 16 percent of girls had sex with male partners who were 4-6 years older and 11 percent had partners that were 7 or more years older. According to the NCHS's William Mosher, the average age for first-time sex for women is between 16 and 17.
What's different about the Hutchinson-Stodden marriage and the Cox-Catsimatidis wedding is that the grooms were willing to enter so publicly into relationships with teenagers, with the apparent approval of their brides' parents. Catsimatidis, who is now 21, told The New York Times that her father "wouldn't have given me up to anyone else," while Stodden's mother Krista was quoted as saying, "We are totally supportive of this marriage. Doug is a wonderful man and we love him."
While an age disparity like the 35 years between Hutchison and Stodden is by no means the norm, the recent openness around relationships involving huge age gaps -- especially the Times' willingness to feature the Cox and Castimatidis nuptials -- suggests that they may be becoming less stigmatized.
But should they? How does entering into a relationship with an older man before turning 18 -- or even 20 -- affect the young woman involved?
"When you start stretching decades and you're talking about young girls, under 19 or so, it's probably problematic," said Dr. Lee Cohen, a child and adolescent psychiatrist who is based in New York. "It's probably not healthy, or not the most 'normal' relationship.
"Based on 29 years of practice," Lee added, "I don't think you could be that mature at 17. You're still a kid."
According to Dr. Mani Pavuluri, director of the Pediatric Brain Research and Intervention Center and professor of psychiatry at the University of Illinois Chicago, teenage brains are still in the process of developing until age 19 or 20.
Before that, teens' "ability to consider and use judgment is still maturing," Pavuluri said, adding that peer pressure can further impact the impulsiveness of teenagers' choices. Although adolescents know right from wrong and understand consequences, she explained, "their ability to carefully consider these matters is somewhat limited relative to adults."
Sexual relationships and marriages between adult men and adolescent girls have very been common historically and continue to be in many other cultures. But experts seem to agree that in contemporary American society the potential harm to a young woman depends on both on her age and how big the age gap is with her partner.
While several psychiatrists cautioned against judging relationships like Cox and Catsimatidis' without knowing the specifics and what each partner is bringing to the table psychologically, studies show that there can be long-term emotional repercussions for teen girls who have sex with older men.
Dr. Ann Meier, a professor of sociology at the University of Minnesota, studied data from the National Longitudinal Study of Adolescent Health and found that compared to teen girls with a same-aged partner, girls in 7th through 12th grades who had sex with a partner more than one year older had higher levels of subsequent depression and lower levels of self-esteem.
"If they're with a male who has more power and status," because he is older, "this might make it harder for young women to say, 'No I don't want to have sex,'" Meier said.
There can be physical consequences for young women in these sexual relationships, too. Child Trends, a non-profit organization in Washington, D.C., has looked at contraceptive use amongst teen girls and found that those dating men who are 3 to 4 years older are at higher risk of STD and pregnancy than those having sex with boys their own age.
"Even if the girl would prefer to be using some type of contraceptive, she's less likely to do so if the guy has more power in the relationship," said Jennifer Manlove, a senior research scientist with the organization. As the age gap increases, Manlove explained, the likelihood of using contraceptives decreases.
Judy Prays, a 24-year-old graduate student living in Atlanta, dated older men from the time she was 16 -- intentionally. To this day, she said, she has no regrets.
"I thought it was so romantic and glamorous and adventurous," she said. "I wasn't interested in having any power. I was interested in the other person being in control of everything, being the smarter one, the stronger one. I was interested in letting them drive."
Prays said she never felt any of the men she dated were manipulating her and added that sex was not the focus. She argued that these relationships are too harshly criticized. For her, they were positive experiences -- she even saw the potential for marriage with some of the men.
For many women, though, these relationships look very different in hindsight. In 1999, Lynn Philips conducted a well-known study for Planned Parenthood in which she interviewed teenage girls mostly between the ages of 14 to 17 who were involved with men ages 21 to 29. Philips, a social and developmental psychologist and professor of Communication at the University of Massachusetts, also interviewed adult women who had engaged in similar relationships when they were teens.
The teenagers didn't believe they were being exploited, and no one reported feeling like a victim. Among the perceived benefits of their relationships were admiration from their peers and their partner's material assets. The girls stressed the emotional pluses even more, saying that their older partners were more considerate of their feelings and made them feel special. They believed their partners would be more faithful than boys their own age because older men were finished "sowing their oats."
"They really give adult men far too much credit," Philips said. "The irony is they find out after the fact that these men were 'sowing their wild oats' with them."
Older women interviewed about the relationships they had as teens felt quite differently.
"They had very little good to say at all when they were older: many were angry, really angry," Philips said. "They were pretty much disgusted."
Philips argued that individual needy girls and exploitative men are not the only factors driving these relationships.
"From music videos, to porn, to Disney, this is all sits within this bigger cultural context of media images and cultural messages that absolutely eroticize and hyper-sexualize teen girls," she said. "As much as we say we're appalled by [these relationships] and concerned by them, there are things out there in the culture that make this happen."
Popular in the Community