There's elbow room, breathing room and get a room. The green room, the powder room and the war room. And then there's the Metropolitan Room.
According to owner Bernie Furshpan, the goal of this Flatiron district cabaret (reincarnated from the 1996 Gotham Comedy Club) is to revive the "golden age of cabaret" with both renowned performers and new faces. The intimate 115-seat room basks in superb acoustics, a charming French sound and lighting guy (one dapper Monsieur Jean-Pierre Perreaux), an elegant and passionate General Manager (Bernie's wife, Joanne Camilleri), gracious staff, a sophisticated line-up, and devoted audiences. In February alone, we're looking at Jason Graae, JC Dreizen and the International Cabaret Festival (a brainchild of Bernie Furshpan, encompassing Joe's Pub, Triad, Duplex, 54 Below, and Don't Tell Mama).
Deluged with debates, overloaded with caucuses and CNN polls, gloomy about global affairs, weary of winter already? My best bet? Hear some uplifting music. Not to mention the Metropolitan Room's signature drinks -- including RUBY TINI; the COSMO-PEAR-ITAN & PETRO-GRONI...who says solid is always the answer? I say "Give liquid a chance!"
So here I was, disgusted with the pounding beat and repetitive bass pulsating with every move in my gym's cycling, spin, and barre burn class. Too broke for Broadway, I headed for my old hangout: The Metropolitan Room.
Not only is it about reawakening the cabaret community, but, as businessman and spiritual guru Bernie Furshpan says, "we have a bold responsibility to set a standard, reawaken the cabaret community." It's also about agelessness. Bernie himself is a Renaissance man - a marketer, chiropractor, comedy producer/booker, and cable tv host. When I asked how he juggles, he responded, "Don't over think. Just do."
Last new year's I attended his 1st annual Marathon, where I met -- for the first and last time --the dapper 88-year-old Joe Franklin, pioneer of early radio and tv broadcasting, brilliant champion of upcoming talent.
I'm a big fan of the older, wiser sages (and sagesses) of the world -- from carpenters to comedians; rabbis to rainmakers; King Solomon to Mother Teresa. In Japan there's actually an actual Respect for the Aged holiday. In Greece, Ancient Rome, and India, old age is honored and celebrated. In Native American nations, elders are respected for wisdom and life experiences. The Confucian tradition in China and Korea means respect for one's elders as the highest virtue.
So, enjoying my temporary hiatus from Selena, Ri-Ri, Adele & Gaga, I opted for the older, wiser brand. Lately it seems like my favorite musicians are all in their 80's and 90's...and there's no sign of stopping them. Their passion for life is like a burst of magenta in a sea of maroon. (Recently I told Dick Hyman -- age 88 -- that his songs flashed turquoise and cerulean blue. I guess I respond to music with colors).
Oddly enough, I 'd just performed at the very same Metropolitan Room, including my unusual linguistic skill (talking backwards), with a bit on The Wizard of Oz in reverse.
Coincidence? The two incredible, ageless performers I saw there both hail from the Kansas zone.
GO HEAR MARILYN, & I DON'T MEAN MAYE-BE!
Yup. I was eager to see Marilyn Maye, the icon that graced the Johnny Carson show with 76 performances, described by legend Ella Fitzgerald as "the greatest white female singer in the world." She's so revered that one of her recordings is included in the Smithsonian Institution's permanent collection.
Born in Topeka, Kansas in 1928, she's got grace and elegance blended with a toughness that's hard to crack. Proudly groomed in an upswept hairdo reminiscent of Doris Day, Rosie Clooney and any member of the Shirelles, she steps on stage with the conviction of her 87 years.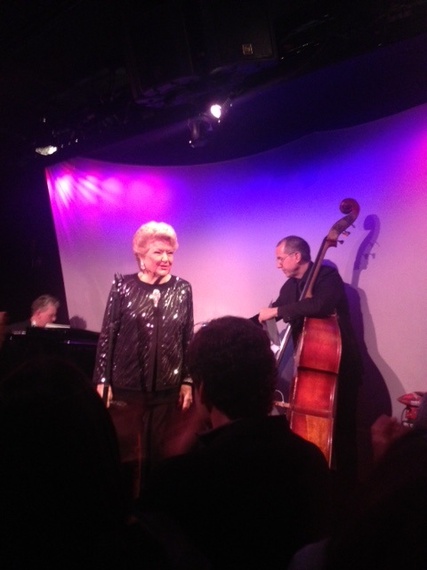 Marilyn Maye, pianist Billy Stritch, bassist Tom Hubbard at The Metropolitan Room
Photo Credit: Mia Berman
She immediately locks fingers with the closest guest, and nudges everyone to keep up the cheering and applause. She kibitzes with her pianist, renowned Billy Stritch, revealing her vulnerable side. When there is a pause in the song, she exclaims to Stritch, "You don't have to whisper the lyrics...everyone knows I forgot them."
The consummate cocktail torch song companion, the ultimate storyteller, Maye recounts in melody and words the heartbreak of Guess Who I Saw Today, then switches gear to a hilarious description of her 30-hour journey to get to this NYC cabaret spot, her infinite airport connections, endless delays, and her great fortune in running into baggage claim supervisor José, who raved over her jewelry and nails ("I knew I had it made").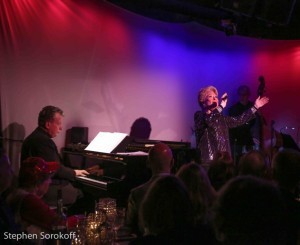 I sat next to a chap in a sold out audience who chose to celebrate his momentous birthday, he explained, by renting out the room, hiring Marilyn Maye to perform. It was a great way to share great music, have a great party, guarantee a great time...and she nailed it.
Marilyn Maye is indeed one octogenarian that sucks the oxygen out of the room in a swooping, mesmerizing, positive way. She's a no-nonsense performer (called "smoky, breathy, powerful, hip, hep, marvelous") born to piano player/mom Lyla, discovered by the likes of Steve Allen, Ed McMahon and appearing on rotating talk shows in the '60's and '70's (Ed Sullivan, Merv Griffin, Mike Douglas).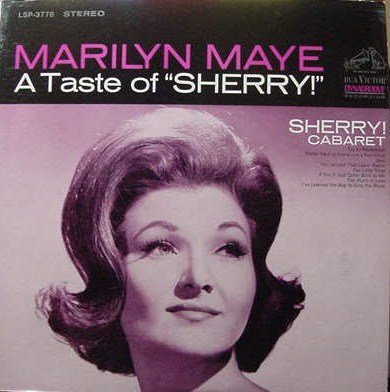 She gives rave master classes, focusing on the art of performance, phrasing, and connecting with the audience. In the last decade, she's played primarily nightclubs, the Mabel Mercer convention at Lincoln Center, and the annual ringing in of the New Year at The Metropolitan Room. Originally skeptical about headlining at The Metropolitan Room, the was shocked to see guests lined up down the block.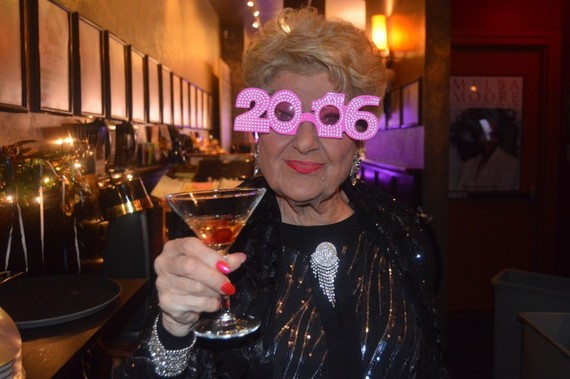 Photo Credit: www.theaterpizzazz.com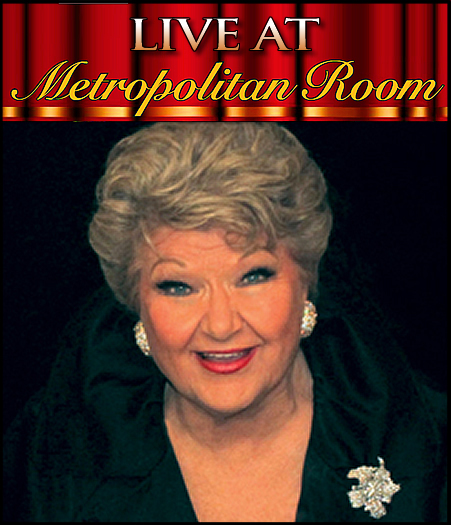 Photo Credit: www.Metropolitan Room.com
There's no maye-be about it. Marilyn definitely lives up to one of her signature tunes, Billy Barnes' Something Cool. Her heart-shaped face is a metaphor for the love she exudes, in both joyous and heartbreaking songs: Too Late Now; The Night we Called it a Day....she weaves in and out of cultures, from Brazilian bossa nova (Jobim's Quiet Nights) to the American Song Book (More Than you Know); from Alan & Marilyn Bergman (What Are You Doing the Rest of Your Life) to Burt Bacharach (I'll Never Fall in Love Again); from blues-y to bop. I was stunned when I heard her rendition of Dave Brubeck's Take Five in 5/4 time. Maye catches you off guard; her snappy repartée with accompanist Stritch is reminiscent of a Stiller & Meara or Mike Nichols/Elaine May moment....
Though she's performed in huge venues from Carnegie Hall and the Copacabana in NYC to the MGM Grand and Riviera in Las Vegas, Ms. Maye seems larger than life in this sweet, intimate spot: The Metropolitan Toom. As robust as a glass of Bordeaux, as chic as a Chanel babe, as haunting as Hermione Gingold reminiscing in I Remember it Well, as nostalgic as the martini sippers, Maye is strikingly touching in her unique rendition of Murray Grand's Guess Who I Saw Today.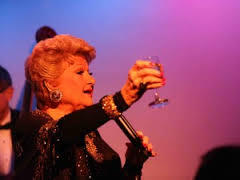 Photo Credit: www.broadwayworld.com
Yup. Marilyn Maye is vulnerable yet gritty, and that's what we as New Yorkers (and Metropolitan Room loyalists) are all about.
Maybe we should send Ted Cruz over there.
SO MANY QUESTIONS, BUT ED'S GOT THE ASNERS
Have you ever been married ? Can you type? There's lots of answers to that question. "What - can you type? It's either yes or no." Lou (Ed Asner) Grant was skeptical of Mary Richards, the ahead-of-her time feminist in the ageless classic, The Mary Tyler Moore Show. "You know what you've got? You've got spunk. I hate spunk."
Like Ed, I'm Jewish. Yup, we ask lots of questions. We also are chronic neurotic worriers. So if we walk into a doctor's office, we take the legal-sized pad.
Ironically, he's the King of Spunk...at 86, he 's made an art of compassion, curmudgeonry, and charm. An animal rights activist, Asner is the son of Orthodox Jews, known as a liberal politician, comedian, and actor. What I didn't know was that he was a young member of Quill & Scroll, the School Council and a football player.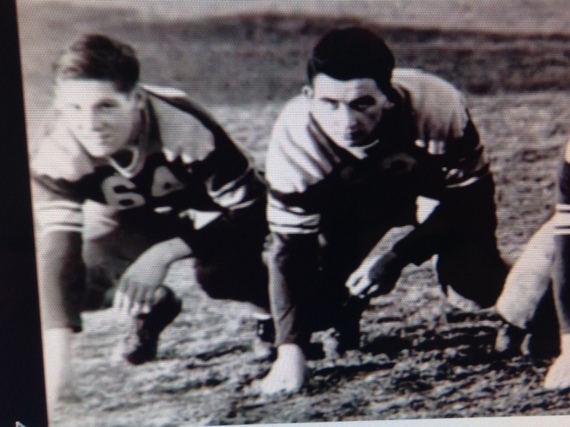 Photo Credit: http://www.biography.com/people/ed-asner-259339
I first met Ed when I played a bit part (a Picketer extra) in the Sidney Lumet film Daniel about Ethel & Julius Rosenberg. I remember him winking at me between takes, and I always had a soft spot, all through the 1960's tv years, hearing his pro-union voice as head of the Screen Actors Guild, hearing about his role in The Threepenny Opera (Mr. Peacham), and his wild poker games with colleague and friend Jerry Orbach.
A Kansas City kid who worked many odd jobs searching for himself, Asner ultimately followed his passion for the stage.
Yup. We've seen him in dozens of tv roles (Mary Tyler Moore; The Good Wife; Lou Grant); on stage in the FDR tour; and heard his voice of Carl Fredricksen in the Pixar smash Up!
Recently I saw Asner in a preview of A Man and His Prostate, a comic play written by Ed. Weinberger, on a two night tryout at The Metropolitan Room.
It's the same familiar, stalwart stance that Ed (Mr. Grant) Asner took in the WJM-TV newsroom. In a flashy Hawaiian shirt, Asner appears on a bare stage, sitting on a lone stool, delivering in his wry, dry, crackly bass intonation the sarcastic observations of a codger, revealing the wild tale of his (fictional) Italian cruise ("Royal Queen, Royal Princess, Royal Rip-off") that landed him in a hospital in Florence with a prostate condition.
With crunchy crackle, Asner delivers lines like "The doctor on board (the cruise ship) was on a conga line dressed like a Pirate of the Caribbean" and "so how did I end up on a cruise when I don't like going West of Sepulveda?" in his sarcåstic, sassy signature style.
Using his walking stick like an old-fashioned pointer, he indicates the location of the prostate ("it's the gland between the bladder and the penis"). No Excel spreadsheet or Power Point here...it's just Metropolitan Room intimacy with the old-fashioned diagram and chart of the male anatomy.
When Asner's character's Italian Doctor, Marco Carini, finally diagnosed him, he explained that all was well... except that when he ejaculated, the sperm would travel backwards. As I mentioned, I talk backwards, so many things in my mind happen in reverse.
Instead of a crotchety curmudgeon, we see Ed Asner as a dear, compassionate, curious, solid humane citizen of the arts and of the world.
Then, one fine Easter Sunday, when Asner's character finds he cannot perform a natural male function, he is perturbed. More questions. If the master could turn water into wine, why not water into urine? Why was he going in search of a hooker on such a holy day? His wife of 35 years ultimately crawls into his bed; the sun comes up, and so does something else.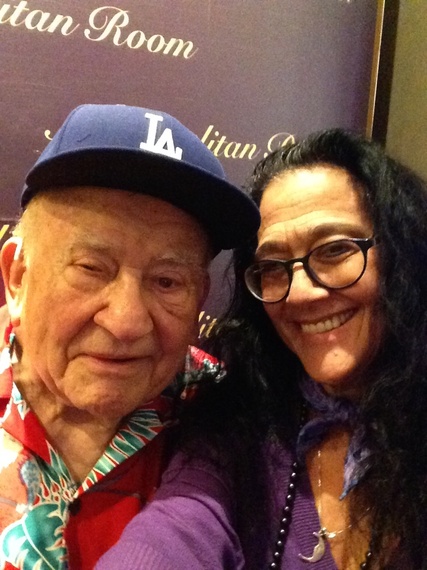 In a salute to all things coming up, Asner lifts a glass to the 115-seat packed audience of The Metropolitan Room, clinking to us all, celebrating life and love. L'Chaim!
Calling all HuffPost superfans!
Sign up for membership to become a founding member and help shape HuffPost's next chapter