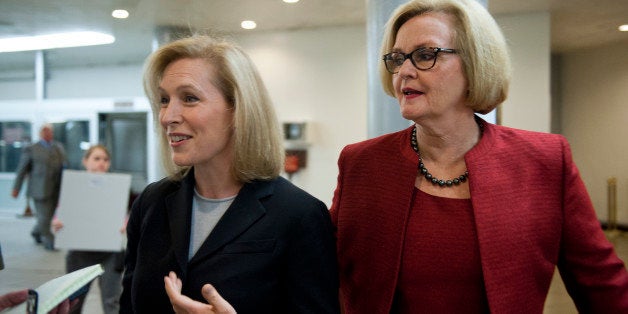 Sens. Claire McCaskill (D-Mo.) and Kirsten Gillibrand (D-N.Y.) have put aside their differences on military sexual assault reform to turn their attention to the issue of rape on college campuses. In a letter sent Friday, the pair requested an increase in funding at the U.S. Department of Education to improve enforcement of campus crime laws.
The letter -- sent to Sen. Tom Harkin (D-Iowa), chair of the Senate Health, Education, Labor and Pension Committee, and Sen. Jerry Moran (R-Kan.), ranking member of the committee -- calls for more than $100 million for the department to increase staffing that enforces the gender equity law Title IX and the Clery Act, a campus security law. Both laws mandate how colleges and universities that receive federal funding -- which is to say, nearly all of them -- must respond to sexual violence on campus.
"When our young people go on to higher education, it should be an opportunity to learn, grow, pursue their dreams and prepare for their future careers," Gillibrand said in a statement. "But for one in five young women on campuses across America, the college experience becomes their worst nightmare, as victims of sexual assault. America's colleges and universities are the best in the world. But it is simply unacceptable that they become havens for rape and sexual assault. It is time to take this crisis head on and end the scourge of sexual assault on our college campuses, hold offenders accountable, and keep our students safe."
The Education Department's Office for Civil Rights, responsible for Title IX enforcement, currently has half the staff it did in 1980, when it received one-third the volume of complaints it's receiving today, according to McCaskill's office. There is no staff position currently dedicated to investigating sexual violence complaints.
OCR officials disclosed to The Huffington Post that, in FY 2013 and 2014 to date, it has received more complaints against colleges relating to sexual violence responses than it has in the previous four fiscal years combined.
OCR officials also noted that complaints related specifically to sexual violence violations represent a significant minority of the 10,000 Title IX complaints they receive annually. Nevertheless, the office has increased the number of investigations into such complaints since 2011, and especially over the past year. As of late February, OCR had 41 pending Title IX investigations specifically involving allegations of sexual violence, and several new investigations have opened in the last month.
The Clery Compliance Team at the Education Department currently has fewer than a dozen staff members, the senators' offices said, and lack of staff has prevented it from investigating the 63 percent of schools that reportedly failed to report crime statistics in the manner required by the Clery Act. The staffing for Clery compliance is particularly notable given that the latest reauthorization of the Violence Against Women Act expands the types of crimes that colleges are required to report, and recently concluded rule-making negotiations with the Education Department have resulted in several significant changes to the adjudication of sexual assault cases.
In their letter the senators requested "$2 million to employ thirteen additional staff specifically trained and focused on investigating sexual assault cases as part of the Clery Compliance Team within the Office of Federal Student Aid Compliance Division of the U.S. Department of Education. In addition, we request at least $102 million in Fiscal Year (FY) 2015 for the U.S. Department of Education Office for Civil Rights (OCR), the amount requested by the President, plus $5.046 million for OCR to hire staff exclusively dedicated to investigation and enforcement of Title IX provisions regarding sexual violence."
Adding their signatures to the letter were Sens. Dean Heller (R-Nev.), Jon Tester (D-Mont.), Jack Reed (D-R.I.), Mazie Hirono (D-Hawaii), Richard Blumenthal (D-Conn.), Chris Murphy (D-Conn.), Dick Durbin (D-Ill.), Jeanne Shaheen (D-N.H.), Amy Klobuchar (D-Minn.) and Barbara Boxer (D-Calif.).
McCaskill and Gillibrand recently concluded a months-long battle over competing military sexual assault reform measures. The largest difference between their proposals was whether to take the prosecution of such cases out of the military command structure, as supported by Gillibrand but opposed by McCaskill. Gillibrand's measure was unable to gather enough support in the Senate, leaving McCaskill's bill to proceed unopposed; it is currently stalled in the House.
When OCR investigates a college and finds a school at fault, that institution often enters into a resolution agreement that dictates various policy and staffing changes. In extreme cases, the agency can refer the case to the Justice Department, or cut off the school from all federal funding (an option that the office has never exercised).
Investigations for Clery compliance, on the other hand, can result in a fine of up to a $35,000 per violation.
Support HuffPost
The Stakes Have Never Been Higher
Related
Popular in the Community