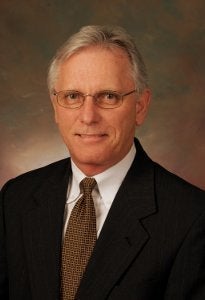 The Republican-controlled Kansas House of Representatives on Thursday adopted a resolution condemning the United Nations' Agenda 21 environmental action plan, which focuses on sustainable development.
Kansas lawmakers adopted the non-binding resolution following intense debate over what supporters believe is the U.N.'s attempt to "indoctrinate" the public on sustainability issues and its desire to control the local government planning process. Agenda 21 was adopted by world leaders during a 1992 climate change summit in Brazil. It has not been ratified by Congress and does not have the force of law in the United States.
"This resolution informs policymakers of the aggressive environmental, social engineering and global political control that is Agenda 21," Rep. Dennis Hedke (R-Wichita), the resolution's sponsor, told fellow lawmakers. "The notion of sustainability is not necessarily a bad thing. However when guidelines are transformed into indoctrination, globally, nationally and with each state and local government, and that indoctrination is connected to an intense socialistic philosophy, questions are raised."
Hedke spoke of issues surrounding a lawsuit filed by the conservative Goldwater Institute in Arizona, regarding Tombstone, Ariz.'s dispute with the federal government over access to mountain springs. He said the federal government's rulings show connections between federal forest laws and Agenda 21.
Hedke also suggested that Agenda 21 was behind the Obama administration's new coal power plant regulations and wetlands permits. He told colleagues that he believes that the Environmental Protection Agency, the Department of Agriculture and other federal agencies are working together to implement Agenda 21.
He also took aim at U.N. plans for implementing green technology around the world, which he said will cost the U.S. and other countries billions of dollars. He said he blames the United States' membership in the World Bank for the fact that the federal government is contributing.
"They are demanding first-world help for third-world problems," Hedke said. "The social engineering comes through the transfer of wealth."
Tennessee lawmakers passed a similar resolution condemning Agenda 21 in March, while one was defeated in Arizona.
Hedke has been pushing the Kansas resolution -- which will be sent to the state's congressional delegation -- all year. The resolution initially failed in the House Energy and Utilities Committee, which stripped it of language referring to "communist" and "socialist" principles before killing it. The measure was passed last week by the House Federal and State Affairs Committee, which routinely handles controversial measures.
When asked why the bill was sent to the second committee, Rep. Sean Gatewood (D-Topeka) replied, "so it would pass."
"Fed and State has more people who would be in favor of this type of thing," he told The Huffington Post. "It wouldn't pass [in Energy and Utilities] so they sent it to another committee they thought it would pass in."
Republicans joined Hedke in pushing the measure. They said that Agenda 21 has taken over local land-use boards around the country through the International Council for Local Environmental Initiatives, which the resolution states has "infiltrated" 600 land-use groups nationally. Several argued that local governments were not aware of the U.N.'s role in promoting such programs as bike paths, solar panels, easements and land-use regulation, which they called "radical" and "destructive to the American way of life." They said that local officials were seeking grant monies for these programs to avoid using tax revenue.
"This is a real problem," Rep. Charlotte O'Hara (R-Overland Park) said. "This has infiltrated our country. You would be amazed at the local government entities in our country that are involved."
Rep. Bill Otto (R-LeRoy) said during the debate that he believed the EPA is making laws and that the federal government should follow the Constitution instead. He also invoked a conspiracy theory surrounding President John F. Kennedy's assassination. Lee Harvey Oswald could not have been the only shooter, he said, because it would have been impossible for him to have gotten off multiple shots in such a short amount of time. He suggested that JFK's assassination and Agenda 21 are connected because people don't believe there were multiple shooters and that they don't believe that Agenda 21 is powerful.
Democrats largely opposed the measure, suggesting the House should focus instead on numerous other pending issues, including taxes, the budget, redistricting, education and pension reform.
Rep. Mike Slattery (D-Mission), who noted that he is not "funded by the U.N. or any left-wing organization," called the debate "wasteful" and quoted Forrest Gump in describing the House's discussion of the resolution.
"Stupid is as stupid does," he said.
Popular in the Community