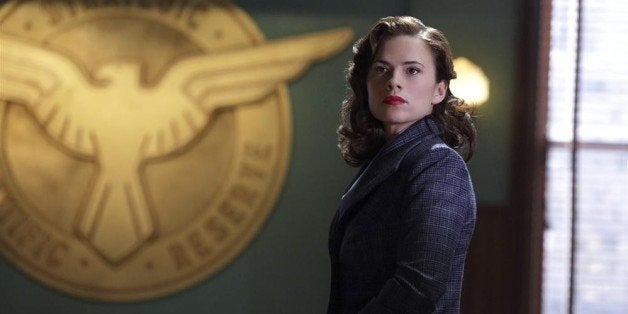 That sound you heard as 2015 arrived was a long exhale of relief.
It feels good to give the one of the first new shows of the year, "Marvel's Agent Carter," a positive review. Not only is it preferable to start the TV year on an optimistic note, there were plenty of reasons to be particularly worried about this property, thus I'm especially happy it didn't go awry.
The rocky first season of "Marvel's Agents of S.H.I.E.L.D." provided a cautionary tale that lasted the better part of a season and made it clear that bringing Marvel universe characters to the small screen is no easy task. Though "Agents of S.H.I.E.L.D." has gotten a lot better (huzzah!), many of those improvements came too late for a sizable chunk of the show's viewers, who didn't return for the stronger and more focused second season.
Despite that welcome uptick in quality, it wasn't unreasonable to worry about whether Marvel TV shows were capable of coming out of the gate strong. DC TV properties like "Arrow" and "The Flash" felt far more assured than "Agents of S.H.I.E.L.D." did in its early going; the two CW shows figured out what they wanted to accomplish very quickly, and that confidence has continued to help both ride out any week-to-week turbulence. That said, "Gotham" proves that DC shows (and superhero programs in general) can still have a lot of trouble with tone and execution. The Fox drama remains uncertain of what it wants to be and who it wants to be about, and right now, it doesn't consistently do anything except serve as unexceptional "brand management," as EW's Jeff Jensen wrote.
She's not exactly Batman, but these days, Peggy Carter's pop-culture profile is at least comparable to that of the Green Arrow, James Gordon or The Flash. The espionage agent is obviously a longtime part of the Marvel comic-book universe, but her inclusion in both "Captain America" movies made her much more famous, and when "Agent Carter" was announced, I was torn: Sure, it might be a cool show, but what if it was a high-profile train wreck? Not Peggy!
My fondness for the character runs deep: I think "Captain America: The First Avenger" is the best movie to have emerged from the post-"Iron Man" Marvel Cinematic Universe, and Carter, who is so warmly and ably portrayed by Hayley Atwell, provides some of the reasons that rock-solid, emotionally sensitive and exciting origin story works so well. A failure to do right by Carter would have been a particularly painful. To stumble when inventing mostly new characters, as "Agents of S.H.I.E.L.D." did, is regrettable but understandable. To mess up a well-known character who is already beloved, who fits into a known universe and who possesses so much potential -- well, a TV train wreck just didn't bear contemplating, especially given that Carter is one of the few complex, compelling women in the overwhelmingly male MCU.
Happily, my apprehensions quickly faded away as I watched the first two episodes of "Marvel's Agent Carter" on New Year's Day. The drama is every bit as brisk and engaging as its lead character, and I can only list one real objection to the show: its brevity. The first season of "Agent Carter" will consist of only eight episodes, so when Carter's adventures end in a couple of months, I'm betting many of us will feel as though it ended too soon.
Even so, telling one story in a limited amount of time seems like a very Peggy Carter thing to do. Crisp, entertaining efficiency is kind of her thing.
The downside of the short run is that it might not allow "Agent Carter" to explore the show's supporting characters in detail, which is a bit of a shame. The cast around Atwell is excellent, particularly Enver Gjokaj of "Dollhouse" as a fellow agent in the post-war Strategic Scientific Reserve (a cover for a covert spy agency). Dominic Cooper swoops in from the MCU to have fun playing the rakish Howard Stark again, but I found that James D'Arcy, who plays Stark's butler, Jarvis, quietly stole the show out from under his flashy boss.
It's nice to see the cast rounded out with solid players, but the soul of the show is Peggy Carter, and "Agent Carter" quickly and intelligently begins to add depth and texture to the character, who hides a well of sadness under her chipper British exterior. When the series begins, Carter is restless and frustrated within the confines of the sexist boys' club that is the post-war SSR (a situation that was glimpsed in the Marvel One Shot also titled "Agent Carter"). Her boss and co-workers are often callous and condescending to her, yet "Agent Carter" is never dour or bitter. The show clearly wants to be an energetic slice of period escapism, and it supplies spy-game derring-do with energetic efficiency. Atwell carries the show with forthrightness and aplomb, and there are grace notes that quietly remind the audience that Peggy is still mourning Captain America (who, in this time frame, is a "Cap-sicle" at the bottom of the ocean).
The secret-agent tales in these episodes aren't particularly new or original; the plots usually revolve around the usual MacGuffins and glowing orbs and chases and fights in warehouses. However executive producers and showrunners Tara Butters and Michele Fazekas do a good job of parceling out the show's overall story into smaller, episodic servings, and "Agent Carter" barrels along confidently in its first couple of installments. The period details generally look swell, and the direction of the show is not only energetic but recalls the classic aesthetic of the first Cap film, as is only appropriate. (See the note below for more on that.)
"Agent Carter" doesn't reinvent the spy game on TV, but it's a crackling start to what I can only hope is a long-running, female-centered Marvel adventure tale. The comic-book company has several more TV series in the works ("Daredevil," "A.K.A. Jessica Jones" and "Luke Cage" among them), and so far, Peggy Carter's adventures are making me feel optimistic about what's coming next.
Note: Louis D'Esposito, who directed the Peggy Carter Marvel One Shot, directed the first episode of "Agent Carter" and Joe Russo, co-director of "Captain America: The Winter Soldier," directed the second hour." During the summer, I read news reports that Marvel was exploring the idea of having "Captain America: The First Avenger" director Joe Johnston direct an episode of "Agent Carter," but a Marvel spokesperson confirmed that Johnston did not helm an episode this season.
"Marvel's Agent Carter" airs its first two episodes 8 p.m. ET Tuesday on ABC.
Ryan McGee and I discussed "Agent Carter," "Downton Abbey," "Galavant" and "Empire" on the first Talking TV podcast of 2015. The podcast here, on iTunes and below.
Before You Go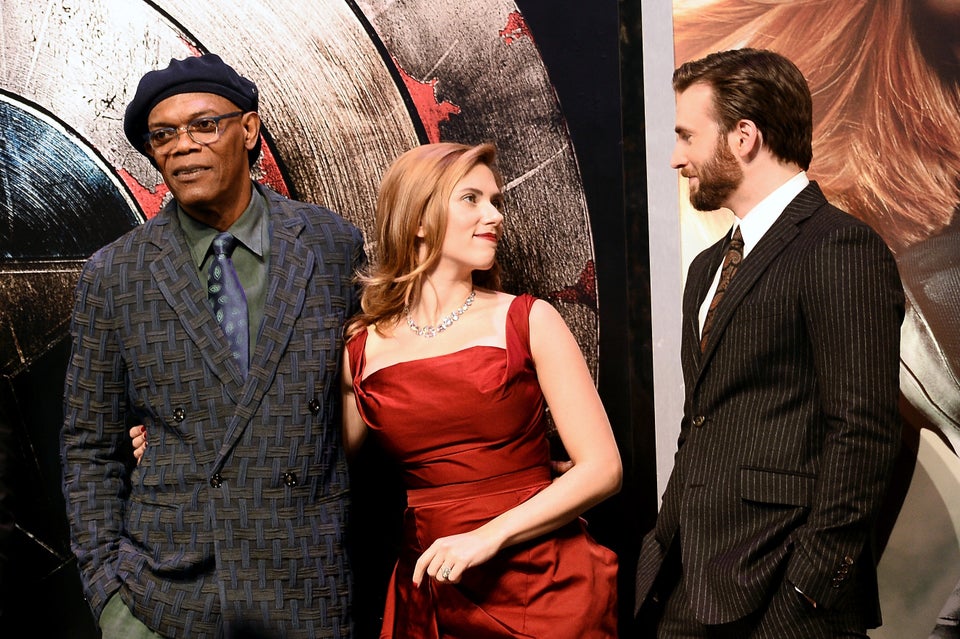 "Captain America: The Winter Soldier" Photos
Popular in the Community