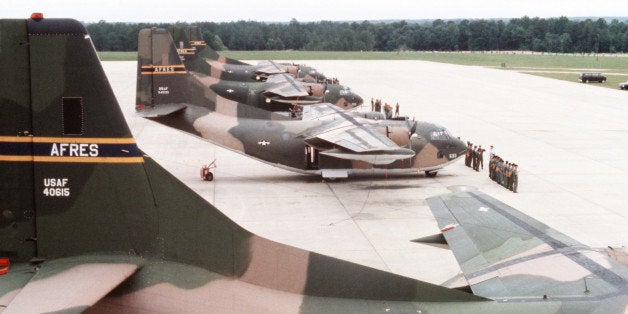 Lingering amounts of the herbicide Agent Orange aboard repurposed airplanes after the Vietnam War could have sickened military veterans, according to a new federal report.
In findings released Friday, an Institute of Medicine committee "emphatically" refutes a recurrent argument made by the U.S. Air Force and Department of Veteran Affairs that any carcinogenic dioxin or other components of Agent Orange contaminating its fleet of C-123 cargo planes would have been "dried residues" and therefore unlikely to pose any meaningful exposure risks to the 1,500 to 2,100 Air Force Reserve personnel who served aboard the planes between 1972 and 1982.
"That website should be taken down immediately," said Jeanne Stellman, an Agent Orange expert at Columbia University's Mailman School of Public Health, who was not involved in the new report.
"I can't imagine a harder slap in the face to the VA than what this committee delivered," she added. "This is justice, delayed. The VA Secretary will have to change the policy now. The veterans have won."
The VA has certainly taken notice.
Dr. Ralph L. Erickson, director of the Pre-9/11 Era Environmental Health Program with the VA, told The Huffington Post that a working group within the agency has already begun reviewing the new report. Its aim, he said, is to "package and interpret" it for consideration by the VA Secretary. While he suggested that process should be completed within a couple months, he couldn't state when and how the results might translate into health care or disability compensation for affected veterans.
Currently, veterans who sprayed or handled Agent Orange herbicide during the war, or who spent any time on the ground in Vietnam, are automatically eligible for care and compensation under federal Agent Orange legislation. The government presumes that certain conditions such as prostate cancer, Parkinson's disease and Type 2 diabetes are a result of exposure to the chemical. But only one post-Vietnam C-123 veteran to date, Lt. Col. Paul Bailey, is known to have been granted the help. Just weeks before his death, the VA reversed its initial denial of Bailey's claim.
"Environmental health issues like this are really important to the VA. This report was very well received," said Erickson, whose agency contracted with the Institute of Medicine -- an independent nonprofit organization and part of the National Academy of Science -- to conduct the review of the existing science. "There's a lot of complexity and controversy in this issue. But our technology and science knowledge base continues to grow."
Specifically, he referenced a paper co-authored by Stellman, published in February 2014, which found safety standard-exceeding exposures to the old herbicide likely occurred on post-Vietnam C-123s -- via skin contact, inhalation and ingestion. That study came out right around the time that the Institute of Medicine committee began meeting. Linda McCauley, an expert in environmental exposures and dean of the School of Nursing at Emory University, noted that it quickly became central to her committee's deliberations and ultimately their decision to "reject" the idea put forth by the Air Force and VA that dioxin residues were "immobile and effectively inaccessible to the Reservists."
Rather, she explained, the Agent Orange molecules degrade slowly and could continually move between airplane cabin surfaces and the air, attaching to dust and dirt particles.
"It's quite plausible that some of the reservists received exposures that exceeded acceptable safety levels," said McCauley.
Further, she suggested that the committee's conclusions were "conservative." Air Force Reservists' exposures could, in fact, have been far higher.
Between their decade of deployment in Operation Ranch Hand, a large-scale defoliation mission in Vietnam and other countries in Southeast Asia, and their new stateside assignments with the Air Force Reserve, the C-123s underwent no testing or decontamination. It wasn't until 1979, when crews complained about chemical smells, that officials took the first measures of potential contamination. Samples of wiped surfaces in 1994, and again in 2009, supplemented this 1979 air sample data. Nearly all the planes have since been smelted.
Given the dearth of data, and a lack of consensus among committee members on how to accurately recreate levels of contamination present at the time of the veterans' potential exposure, the Institute of Medicine panel considered only the trace amounts of herbicide remaining in a sample of the planes, and the risks of ingesting the herbicide.
"The levels back when reservists were on the planes would've been at least as high [as what was measured]," McCauley said. "We also know they could have been breathing it in and absorbing it through their skin."
Retired Maj. Wes Carter, who served aboard C-123s after Vietnam, has been leading the effort on behalf of this group of post-war veterans for the past few years. He said there were "hugs all around" with the release of the findings on Friday.
"This is a big deal," he said. "This is a giant step closer to justice."
Still, Carter, Stellman and other experts and advocates couched their enthusiasm, lamenting the lost years during which the VA repeatedly denied claims from veterans who said they were sickened by the residual toxins.
The Institute of Medicine committee itself criticized aspects of influential Air Force studies as "inaccurate" and "unreasonable," including an apparent attempt to associate a lack of proof of harm with proof of no harm. An Air Force spokesperson told HuffPost that their team is currently reviewing the Institute of Medicine report and could not yet comment.
"This is deceitful delay. It's hard to tell conspiracy from incompetence," said Stellman. "The history of the VA with regard to Agent Orange is one of their having to be dragged kicking and screaming along the way."
Erickson of the VA said that it's only within the last year or so that the science pointing to health risks associated with dried Agent Orange residues has become part of the "broader discussion."
"There's been a number of competing opinions," he added. "But with the evolution of our understanding, we've been moving forward."
Stellman insists that the basis of the findings made by her research team and the Institute of Medicine committee concerning the volatility of these dried residues is not exactly new science. "That's ludicrous. All of the things in this report are points that have been made repeatedly to the VA," she said, pointing to letters, meetings and even a 2008 study concerning the volatility of compounds such as dioxin referenced in her 2014 paper.
Over the past few years, scientists with the U.S. Centers for Disease Control and Prevention and the National Institute of Environmental Health Sciences, among others, have also posited that veterans who flew in post-war planes were exposed and that the VA's presumption should be expanded to include them.
"We asked for help in 2011," added Carter, who earned VA benefits due to injuries he sustained during the Gulf War, and therefore is not personally affected by the current VA roadblocks. "I've lost more friends this last month. It still hurts."
Popular in the Community