They walk among us--those agents of change. Sometimes, we just need to be reminded of who they are. Take note of five noteworthy women who are making a positive difference.
Hinaleimoana Wong-Kalu
She is the main focus of Kumu Hina, a remarkable, moving and powerful documentary, currently making its way around film festivals. In the film, Emmy Award-winning filmmakers Dean Hamer and Joe Wilson effectively chronicle an emotionally rich tale about Hinaleimoana Wong-Kalu, a Honolulu kanaka maoli teacher, cultural practitioner and community leader/activist. The doc shines the light on three specific things in Hina's life: 1) Her relationship with her husband. 2) Her experience as a kumu (teacher)--predominantly hula, but as the film unravels you see very clearly that Hina's education stretches far beyond her hula classes. And 3) The quality of her life as a māhū wahine (transgender woman). While the filmmakers may have been intent on creating a noteworthy doc about Hina's challenges to maintain Pacific Islander culture and values within the Westernized society of modern day Hawaiʻi--a huge issue now-they also manage to deliver a rare documentary that showcases a remarkable world, one where transgender people are visible and not marginalized, and one in which they are honored and revered. The film also illuminates something incredibly heartfelt--a safe place where youth are encouraged to be themselves; a place where their searching for creative gender expression is actually embraced and encouraged rather than hidden.
All of this comes to light thanks to Hina's efforts. She is a fascinating woman you can't help wanting to learn more about--her early days as a young man who always identified as a female helped fuel her rise of individuality and passion to keep the island culture alive for instance. To that end, we discover that Hina is a force of nature unlike any we may have seen on screen lately. As a prominent hula instructor, she was founding member of Kulia Na Mamo, a community organization established to improve the quality of life for māhū. She became the Cultural Director at Hālau Lōkahi, a public charter school that was dedicated to using Native Hawaiian culture, history, and education as tools for developing and empowering the next generation of warrior scholars. Warrior scholars--when was the last time you heard that phrase? We also learn that Hina served as a leader in many community affairs and civic activities, including as Chair of the O'ahu Island Burial Council--a riveting project that oversees the management of Native Hawaiian burial sites and ancestral remains. Interesting to note is that just last year, Hina also ran for a position on the board of the Office of Hawaiian Affairs, making her the first transgender candidate to run for statewide political office in the United States.
At a time when transgender civil rights gains more momentum, the documentary and Hina herself, reveals the deep value of being of service to the community, and something quite profound, too: The idea that the soul, even though it resides within the framework of the human body, is its own powerful creature ... and that embarking on a path of honoring it fully can eventually turn into a unforgettable journey that affects the lives of others.
As Hina puts it: "A māhū is an individual that straddles somewhere in the middle of the male and female binary. It does not define their sexual preference or gender expression,
because gender roles, gender expressions and sexual relationships have all been
severely influenced by the changing times. It is dynamic. It is like life."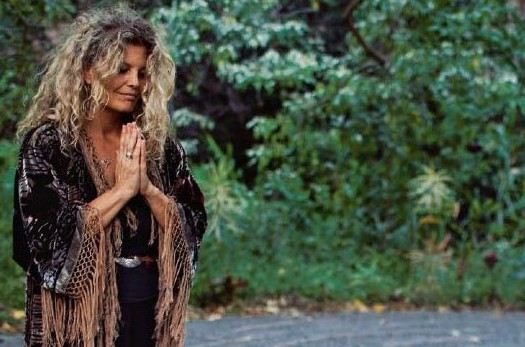 Eve Hogan
There are certain places on the planet that just emit a vibe of purity, beauty and transformation. Maui is one of those rare locales. So, it makes perfect sense that author-speaker-educator Eve Hogan is based on the magical isle of Maui--in an island jungle, in fact. For it is here, among a mix of ancient palms and other rain forest delights in a sublime portion of historic Makawao, where Hogan oversees operations of one of Maui's incredible gems: The Sacred Garden. Officially birthed about nine years ago after Hogan listened to "an inner calling" to transform a flailing orchid nursery, the garden quickly became internationally known for its unique locale but also for its stunning forest labyrinth and Full Moon Labyrinth walks. Hogan has been conducting labyrinth walks for nearly 20 years on Maui--nine at The Sacred Garden. In the early days, she says, she had to do a great deal of advertising and educating in order to get people to come and learn about the metaphoric and transformational essences of the centuries-old labyrinth walk. Now, Hogan says, "the [full] moon lets people know and I barely tell anyone because we wouldn't be able to handle the crowds. People come to Maui seeking labyrinths and every day they come to The Sacred Garden to walk."
The garden is also unique in that it provides a safe haven for individuals to experience what Hogan calls, "the divine in the beauty of nature, and a place to discover the beauty of their own nature as divine." She adds that, "in a beautiful place like Maui, you might think that a dedicated space would be unnecessary, however I have found that very few women feel totally comfortable enough alone in nature to close their eyes and meditate or journal beside a stream. We have an innate sixth sense that is always on guard for a predator. I love that the garden provides a safe place where people can sit by a stream, meditate, pray, journal, nap ... and listen."
The full moon walks regularly have 30-50 people in attendance.
But the core of Hogan's work, and what makes her stand out as a noteworthy woman generating positive ripple effects, lies in other realms, particularly in the field of motivational speaking and education, and assisting others in connecting to something deeper within--a truth, a calling, an essence, a clarity. In this sense, it helps that Hogan penned several notable books on the subject: "The EROS Equation: A SOUL-ution for Relationships!," "How to Love Your Marriage: Making Your Closest Relationship Work," "Intellectual Foreplay: Questions for Lovers and Lovers-to-Be," "Virtual Foreplay: Making Your Online Relationship a Real-Life Success," "Rings of Truth" (co-authored by Jim Britt) and the intriguing "Way of the Winding Path: A Map for the Labyrinth of Life." Often hailed as an exceptionally professional teacher, Hogan clearly is making her mark. Of her work, "Chicken Soup for the Soul" titan Jack Canfield noted that Hogan is a "very empathetic person who exemplifies patience, love and a positive attitude in everything she does."
As for that glorious labyrinth, Hogan remains candid: "It provides such a wonderful experiential path of self-discovery and insight. Once we see what it is that we are doing, we discover that we have choices. When we have choices, we become powerful. If we don't know what we are doing, or accept responsibility for the results of our choices, we think we are victims of life and other people, which is no fun at all. In my observation, the truth is that we are magnificent, powerful, creative, imaginative beings."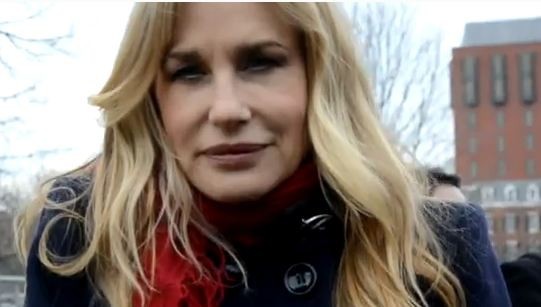 Darryl Hannah
In the 1980s, Darryl Hannah rose to fame via the blockbusters Splash, Roxanne and Blade Runner. And how could we ever forget her role in the ensemble female cast that comprised Steel Magnolias? Jump to 2003, and we get a very different Hannah--rough, tough, and Tarantino'd in Kill Bill Vol. 1. Somewhere along the way, Hannah drifted away from the bright lights of Hollywood--at least full-time, although she's now on the Netflix hit Sense8--and morphed into a prominent environmental activist. What makes her a bona fide Agent of Change? The winning trifecta of intelligence, commitment and perseverance. An active campaigner for raising awareness for environmental health and environmental injustices--she has been arrested several times for protests against developments that some groups believe threaten sustainability--Hannah continues to keep the momentum moving on her popular sustainable living/environmental blog, DHlovelife. During the last 10 years, she has also been instrumental in helping organize a variety of protests--from surface mining in West Virginia (a hot topic) to the well-publicized closure of a community farm in Los Angeles. No doubt her Hollywood profile adds tremendous visibility to such causes that would otherwise be overlooked by today's news media. For a deeper look into how Hannah is using her creativity to spark more passion for the environment, take note of Love Life, a well-edited and impressive vlog. Updated regularly, it features a remarkable side of Hannah. Better still: Love Life draws viewers in to fully explore topics that could so easily just slip through the cracks.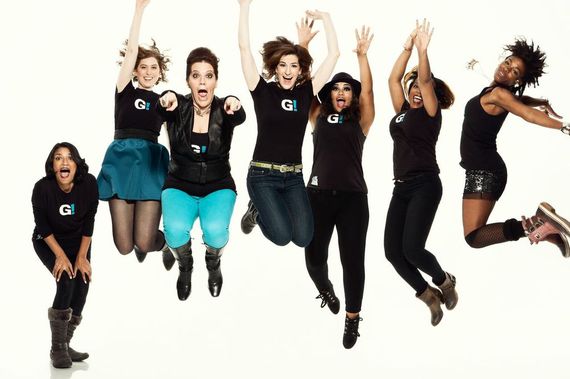 Girl Be Heard
This eclectic posse of young women marvels in its ability to galvanize its forces to create a sea change in the lives of females near and far. That the New York City-based entity manages to do that through theater as their primary vehicle is noteworthy, however the end results keep showing us that these individuals know how to remain true to their mission: To empower young women to "become brave, confident, socially conscious leaders and explore their own challenging circumstances." Founded in 2008 (then Project Girl Performance Collective), it all began with about a dozen young diverse women from various ethnic and socioeconomic backgrounds. A play was written by Director Ashley Marinaccio for a theater fest and when that sprouted into a workshop in which the cast penned their own shows to tell their own unique stories, a new outlet was paved for the work that Marinaccio et al would be doing. A much more formalized a girl-empowerment workshop and curriculum was developed and along came mentoring in addition to the theater platform. These days, about 100 members tour the country in a valiant effort to raise the level of awareness on a myriad issues affecting girls. For instance, stats indicate that six out of 10 girls growing up in America will experience physical or sexual violence in her lifetime. More sobering perhaps is this: 34 percent of girls become pregnant before age 20. And the threat of being trafficked is a brutal reality. The theater component allows young women to discover their own strength, realize their potential and express a wide range of emotions--from fear and anger to their deepest hopes and dreams. Another interesting thing to note is that Girl Be Heard also serves many thousands of youth through its unique school performances, workshops and nonprofit partnerships in the five boroughs and Tri-State area. To date, Girl Be Heard has performed at the White House, State Department, United Nations, TED Conferences, off Broadway, and has gone on several national tours. They recently collaborated with Pakastani activist Malala Yousafzai to perform and offer an original anthem for the Malala Fund. Of being part of the group, member Aya Abdelaziz puts it this way: "I found that by investing in myself as an Egyptian female artist and activist I was investing in the world around me."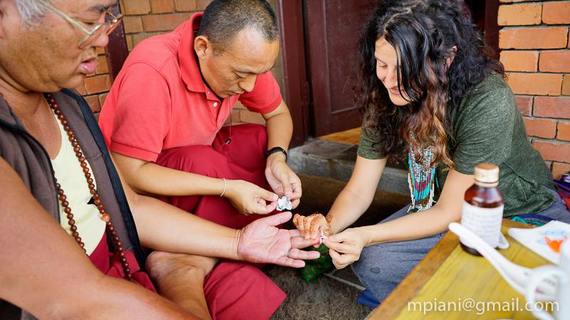 Sarah Fields
Yes. One person can make a difference. Meet Sarah Fields. "I found such humility with my experience volunteering with the Mayan people in the hospitals of Guatemala, treating PTSD, that I knew I wanted to travel and volunteer wherever and whenever I could," says the Santa Cruz, California, resident. The acupuncturist and natural health care practitioner was so driven to help others through the healing modalities she learned at Five Branches University, that she felt called to head to Nepal after April's devastating 7.8 Earthquake killed more than 8,000 people and left thousands injured. Enter Acupuncturists without Borders" The remarkable organization, which shows up on the scenes of natural disasters, was on hand in Nepal and Fields entered the fold last summer to assist. The purpose? To treat the injured via acupuncture and especially those people who were experiencing PTSD--more than 300 smaller earthquakes have rattled the area since April.
Westerners who are now being introduced to acupuncture are quickly getting in the know--that the centuries-old healing practice maintains natural health and well-being but also treats PTSD and calms the nervous system. It is now integrated in more Veterans and addiction clinics across the country than ever before. For Fields, who has her own practice, dubbed Leyki Healing, heading to Nepal was remarkably rewarding in that it gave her an opportunity to be of service, but also an opportunity to be reminded of her core values. "As a practitioner of Tibetan Buddhism I'm forever indebted to Tibet, Nepal, and this region of the world for freeing me of my own mental afflictions, internal battles and sufferings through the teachings of Buddha, as this was his birth place," she says. "I was given the chance to wake up from my ignorance blaming others for my problems. I delighted in laziness for too long. Service work offers a chance to awaken in this reality. The least I could do was give back in this way."
She calls Nepal a sweet culture steeped in all lineages of Buddhism and Hinduism, and its people with "hearts still pure."
"I visited demolished villages, orphanages, old people homes, schools, rescue homes where girls were freed from sex slavery and treated families in this time of grief, loss and great pain," she adds. "The Nepali and Tibetan Refugees were always so grateful to see us. As everything in this life is transitory and impermanent, the most lasting satisfaction I've come to know is serving others. "Giving truly is the new Getting," a wonderful spiritual practice when it comes from the right place."
Related
Popular in the Community