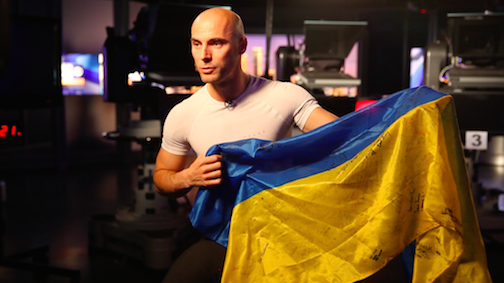 They walk among us--those agents of change. Sometimes, we just need to be reminded of who they are. Take note of six noteworthy souls that strive to make the world a better place.
6. Viktor Kee
Last month, when the revered Cirque du Soleil performer realized that things politically were taking a horrible turn south in his homeland of Ukraine, the man leapt into action. He had two weeks before the end of his Cirque run of "Amaluna" in San Jose and its launch in New York City. He quickly gave birth to the Help Ukraine Project with the sole purpose of delivering support from Americans to Ukrainian citizens seeking freedom. As Kee, who is 43, notes about the project on its website, "Freedom to choose, freedom from corruption, freedom to elect people to represent their government." At the forefront of his mind was to raise funds for those who had lost their families in the bloody battles that took place in Kiev back in February. But he didn't want to stop there. He decided to embark on a nearly 3,000-mile road trip across America. Since March 3, he and Ukrainian colleague/video editor/photographer, 25-year-old Kate Pavlichenko, have been traveling to major U.S. cities, connecting with various media and raising the level of awareness about what's unfolding in Ukraine (see related story). Funds raised go directly to those in need back in Ukraine. With stops in Washington D.C. planned this week, the duo plans to hit New York City for various events on Sunday March 16. In such precarious times of transformation, it's nice to know people like Kee can boldly step forth creatively with the hopes of affecting change.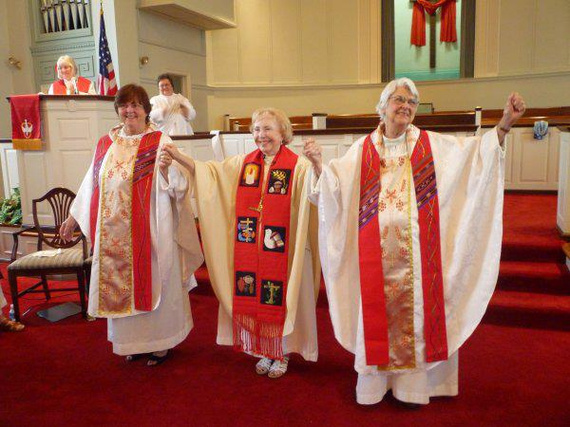 5. Roman Catholic Womenpriests
I was raised in a Polish-Catholic household in Chicago back in the 1970s. The thought of women entering the priesthood was unheard of. But ... the winds of fate changed course and thanks to a chance encounter several years ago with a Roman Catholic Womenpriest, Victoria Rue, whom I previously reported on, I became privy to a bona fide spiritual estrogen parade. Women are no longer asking for permission to be priests. In fact, more than a decade ago, they began challenging and breaking Canon Law 1024, which, they say, is unjust law and discriminates against women. A succession of ordinations into the priesthood took place and are, technically, considered valid. Now, their numbers are growing. So, too, is the buzz. The eye-opening documentary, Pink Smoke Over the Vatican, which was released in 2010, continues to attract attention. And with social media on the rise, and the publication of several books--"Women Find A Way" and "Contra Legem (A Matter of Conscience)"--ordained women are already ministering in more than 29 states across America. The ladies apparently are, as they say, "here to stay," which makes this posse one of the most vigorous agents of change to emerge of out the last decade.
Several years ago, when Thiermann was 19, he released the short film Claim Your Change on YouTube and generated big waves among environmentalists and beyond. It was all in the execution of the compelling tale, which revolved around a Bank of America-funded coal power plant in Constitución, Chile--more importantly, it tapped into the benefits of banking locally as an alternative to banking with larger conglomerates. Basically, Thiermann walked viewers through where their bank dollars actually went. Since that time, the environmental patriot, now 24, has made several video docs that showcase everything from the importance of shopping locally to the perils of single-use plastics. Nabbing a 2011 Brower Youth Award and Ted Talks only fueled his passions, and his latest documentary, Pro Surfers vs. GMOs, has just been released. It offers a sobering if not haunting look of how much people don't know about GMOs and the state of today's agriculture system. When asked why he does what he does, Thiermann is candid: "Because I see a very big disconnect between the people that are doing really awesome work in world and their ability to communicate that work with the rest of world. I see myself as a conduit between people and big organizations, and I package their stories in a way that is digestive enough so that they can take action about it.
"We live in really exciting time," Thiermann adds. "You can make a YouTube video and it can change the awareness about something globally. If you give people actions to take, it can really shift issues in a much quicker way."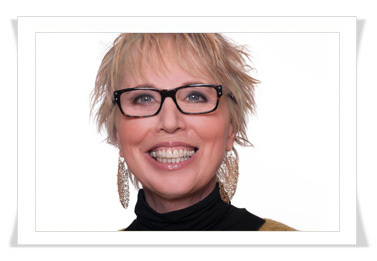 3. Geneen Roth
New York Times Best-selling author and food/body issues revolutionary, Roth was one of the first people to tackle the complex subject of "food, eating and you." That she linked such things as compulsive eating and perpetual dieting with more deeply personal and spiritual issues, was, well, transformative, as her numerous books so vividly reveal--"Women Food and God" and "When Food is Love" particularly stand out. In an interview with Roth several years ago, she revealed to me how, in the past, after looking deeper into her own issues with food, she was finally able to understand that the way she was eating and "what I was eating--the thoughts and beliefs and the conflicts I had around food--were expressions of something much deeper and that I needed to pay attention to." Still prolific on the subject--although I encourage folks to take another look at Roth's revealing read on the relationship we all have with money in "Lost & Found"--Roth seems to have entered into a new realm as the decade unravels. Workshops, lectures and other media appearances are still on the roster--and, no doubt, future books--however her intention to steer people toward creating a sea change in their own lives has never been stronger. Registering more than a blip on my radar is Roth's "Trust Yourself With Food" call, which is free and open to all. Check her website and Facebook page for more details about that and futures. In the meantime, here's to one of the most crafty, soul-stirring women to champion such a complex topics.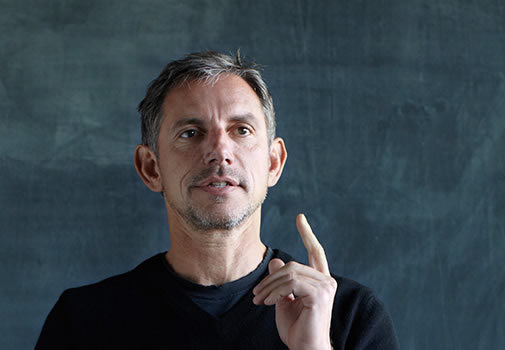 2. Ben Davis
As the founder of San Francisco's Illuminate the Arts, Davis's passion for conceptualizing and initiating the creation of transformational works of public art is simply one-of-a-kind. A vast majority of his outings revolve around taking on breathtaking civic art projects that, at first glance, may seem impossible to fathom--or bring to life, for that matter. Enter: The Bay Lights, which became a reality to much fanfare last year. Davis's idea to use San Francisco's iconic Bay Bridge as a canvas for an awe-inspiring spectacle of uniquely algorithm-ed LED lights has completely transformed the visual look of the city's Embarcadero area. (And boosted local tourism to boot.) Surely, partnering with renowned artist Leo Villareal--a visionary in his own right--was necessary and now, the duo continue to receive accolades. The Bay Lights is the world's largest LED sculpture. Just recently, the men garnered more attention for it at SXSW, which screened the new documentary, Impossible Light, chronicling the artistic and strategic process of The Bay Lights. That, coupled with Davis' Pi In The Sky outings (take a look at it--really!), clearly makes him stand out as an unstoppable visionary force. Just when I thought the man might take a breather, I discovered yet another one of his adventurous projects, currently in the works in San Francisco: LightRail, which would become the world's first "subway-responsive light sculpture." The lowdown: two LED strings suspended above the San Francisco MUNI lines will stretch two miles--from Van Ness Avenue all the way The Embarcadero--to showcase in real-time the movement of underground trains. Sublime to say the least. Click here, be amazed.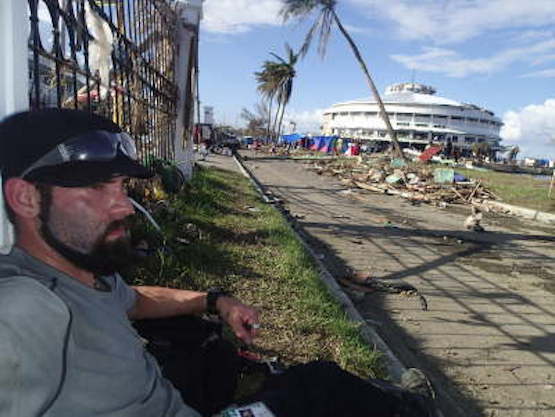 1. Alekz Londos
He appears to be like other young men in their early thirties. He's healthy, boasts a tremendous amount of creativity and has a strong desire to contribute something valuable to society. But make no mistake: Alekz Londos is definitely in a category all his own. Equal parts bold humanitarian and intrepid daredevil, his valiant efforts in the Philippines in the wake of Super Typhoon Haiyan (also known as Typhoon Yolanda) in November of 2013, makes him a kind of über agent of change. Typhoon Haiyan devastated Southeast Asia and the Philippines in particular. More than 6,200 people were reportedly killed and more than 1,780 people went missing. Cost of the devastation: $1.5 billion. It is the deadliest Philippines typhoon on record. That Londos dropped everything at his home in Santa Cruz, Calif., to travel to the region may be impressive, but what he discovered there in three weeks time was life-changing--personally and beyond.
"When you know people are suffering ... it's knowing you can do something to alleviate that suffering," Londos says of what compels him to help. "Nobody should have to live like that. I'm disappointed in the industrialized world's contribution to our changing environment. I try to help people wherever I am at--to help them make it through difficult times in life with whatever skills I have. That's why I got into this field of EMS Rescue."
Over the last decade, he has immersed himself--and still does--in an eclectic mix of courses and heady subjects: environmental geology, physics, an EMT course, fire behavior and combustion, CPR, meteorology and hazardous materials--and even a course on becoming a nuclear chemical biological first responder, which, despite the emotional weight of its moniker, manages to sit well on the brain and provoke further thought and reflection. Extensive research on hurricanes also factors into the mix. Actually, Londos found himself in several intense situations, particularly during Hurricane Katrina, back in 2005. He says he typically flies into a city before a storm hits-- in the case of the Philippines, he had to wait due to airport closures. In addition to relief efforts, he documents the area and its people through photos as a photojournalist for various media outlets. Currently, he's created an Advanced Disaster Relief International Survival Kit, an emergency kit, which will be sold and distributed around the world. The kit is also available to the general public and includes items designed to help people recover during the aftermath of a disaster. For an extended interview with Londos and to view a captivating photo essay of his time in the Philippines click here or visit AdvancedDisasterRelief. The video below illuminates the scope of what individuals faced in the wake of the super typhoon.
Calling all HuffPost superfans!
Sign up for membership to become a founding member and help shape HuffPost's next chapter