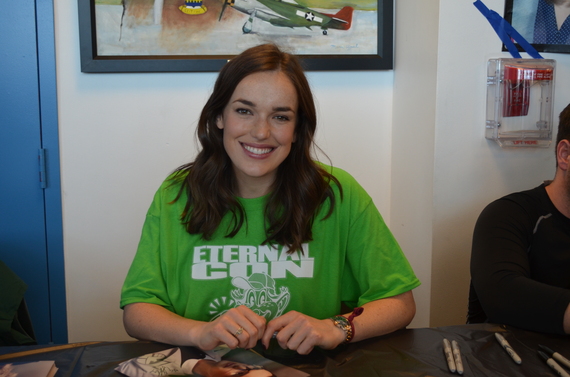 Agents of S.H.I.E.L.D actress Elizabeth Henstridge at Eternal Con at the Cradle of Aviation Museum, Photo by Anthony Biondolillo
Comic-cons are officially taking over the world. What started as a haven just for geeks has expanded into a multidimensional universe that manages to represent everyone- even women who have in the past felt left out of the clique. As critics might complain about the X-Men: Apocalypse poster and whether or not it promotes violence toward women, fans have clearly decided that it means that women are very much now an equal part of the club. Long Island's Eternal Con, held at the Cradle of Aviation Museum from June 10th-12th, was a clear display of just how far women have come in the comic-con scene. Eternal Con was a sprawling three-floor nirvana that was any geeks playground with artwork, comics, toys galore and amazing contributors that were equally as passionate about the convention as its goers- many of whom were women. Such as Kathryn Calamia; a vlogger who has begun her own feminist comic, or Jennifer Rose; a creative cosplay designer that adds a pin-up touch to her looks.
And then, there were the headliners of the event! Filled with fan favorites to nerd-out over such as Vic Mignogna (the original voice of Dragonball Z), David Harris (The Warriors), the voice-cast of Sailor Moon and actors from the original Japanese version of The Power Rangers (Super Sentai), girl power still seemed to be in full force with actresses like Karen Gillan (Guardians of The Galaxy) and Elizabeth Henstridge (Agents Of S.H.I.E.L.D.), proving that fans are totally interested in seeing some girl heroes as they came in droves!
The downright magnetic and poised Elizabeth Henstridge took some time to talk about feminism in fan universes, and what to expect from Agents of S.H.I.E.L.D!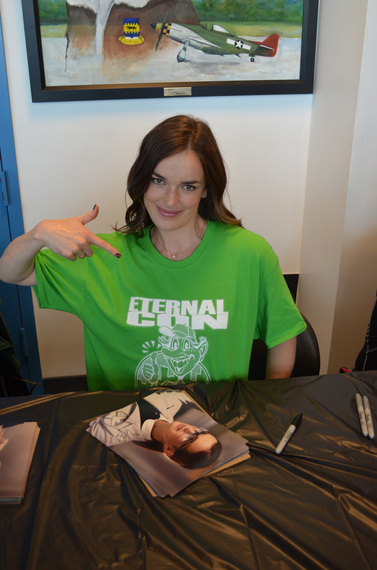 Agents of S.H.I.E.L.D actress Elizabeth Henstridge at Eternal Con at the Cradle of Aviation Museum, Photo by Anthony Biondolillo
One thing that has been great about the ever expansive world of fandoms and comic-cons is the support for strong females for girls to look up to. Talk about that a little and taking on roles that can inspire young girls. These are no longer female characters that just need to be rescued!
It's something that I was really attracted to and fought hard for- to play this strong female character. It's important to me as a woman. I didn't even realize the impact that it would have, but so often, especially at events like these, young women come up to me and thank me for playing someone they can look up to- a woman who is a strong and intelligent within what could be a sometimes male-dominated world, and never apologizing for her intelligence. They thank me for not taking my clothes off in every scene- which is fine of course if that is what you want to do- but it's just nice to hear that praise from someone it does matter to. And the appreciation has been sort of unexpected, really. I loved the character initially for who she was and what she stood for and I didn't really think of how she would affect young girls- and young boys for that matter, who also exclaim their appreciation of what they see on TV. Because at the end of the day we really do value our close relationship with our fans- we come into their homes every week and Marvel takes that relationship very seriously and is very good at promoting their strong women.
You have some time off right now. What are you looking to do during your off season from the show right now while you are on break?
I took this break to just be with my family- they all live in England, so shooting in America you have to spend months away and you do get a bit homesick. So, I decided this break to just spend some time at home and be a sister and an auntie and a daughter- and I'm so glad I did that because I'm going back feeling refreshed. There are a few things in the pipeline, but right now my main focus is going back and doing a good job on Agents Of S.H.I.E.L.D!
And what can fans look forward to on Agents of S.H.I.E.L.D next season, if you can even tell us anything?
Well- I do work for Marvel, so I can't really say much! (Giggles sweetly.) I honestly don't know anything about season four! I haven't seen or read anything yet! I'm really excited about where we are going though- we have a later slot which might open the door to discuss some darker issues. Our show seems to have gotten progressively darker each season which allows the writers freedom to explore things they haven't been able to do. We left season three on a very explosive finale- no pun intended, and I just can't wait to get back to work. And this makes me want to get back to work more than ever- seeing the devotion of these fans that show up to wonderful events like these and express their love and excitement. That makes me just as excited!
And judging by the turn-out, fans are clearly just as excited to see Henstridge get back to work and give them more of the show they are so addicted to, and a great character they can look up to- a hero well-worth waiting all day on line to meet!
Agents of S.H.I.E.L.D comes back in the fall on ABC.
Inquire at www.eternalcon.com for future comic-cons!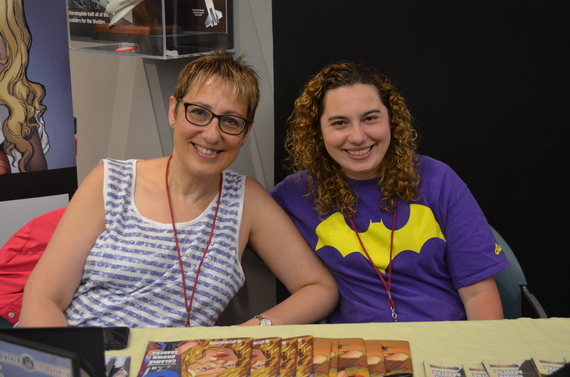 Artist and blogger Kathryn Calamaria (R), www.youtube.com/user/haydenclaireheroes, Eternal Con at the Cradle of Aviation Museum, Photo by Anthony Biondolillo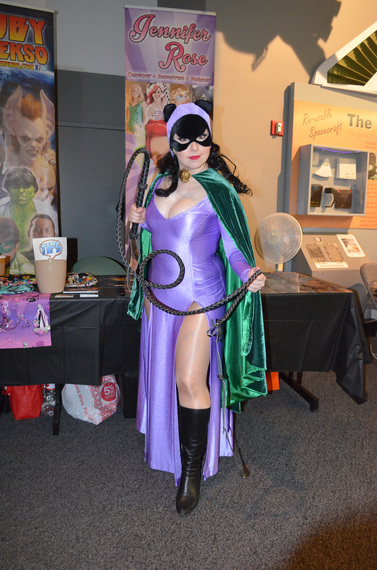 Cosplay designer Jennifer Rose, etsy.com/shop/constroversialpeach, Eternal Con at the Cradle of Aviation Museum, Photo by Anthony Biondolillo

Cosplay designer Derrick Nova and his team/models, www.superheroesunlimited.com, Eternal Con at the Cradle of Aviation Museum, Photo by Anthony Biondolillo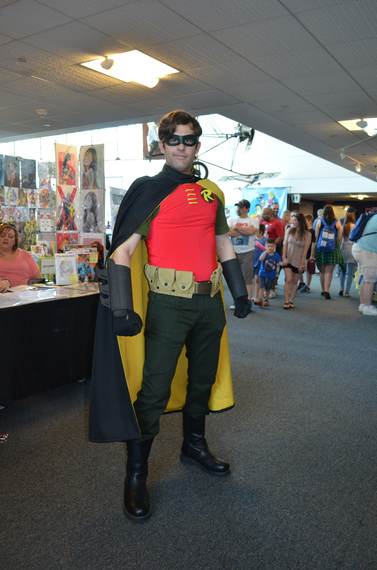 Cosplayer, Eternal Con at the Cradle of Aviation Museum, Photo by Anthony Biondolillo