Beau, my Golden Retriever, came into my life as a 15-pound puppy. Eight years later, he's 115 pounds and as charming as ever. This big fella has been by my side through it all, and it's only fair that I do the same for him. Beau is a part of the family, and we want to make as many memories with him as possible.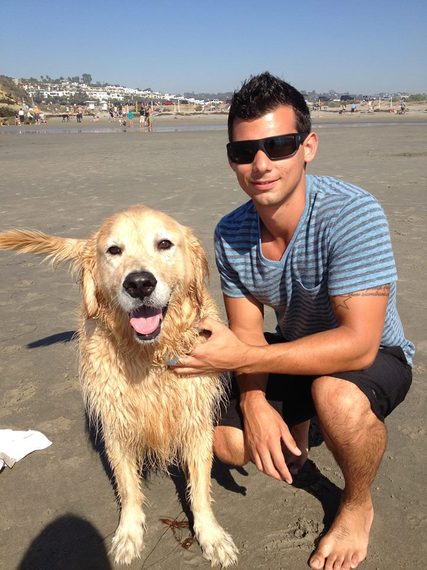 Sean with Beau enjoying a day at the beach

It's easy to add happiness, health, and years of life to your aging pup. Here are five ways to care for your older dogs:

1 - Schedule regular checkups. As dogs age, they're more prone to health issues, including arthritis, heart, and kidney disease. Stay on top of your pet's health by taking them for checkups twice a year. Beau's vet and I are on a first name basis so that I can keep as up to date on his health as possible.

2 - Keep them active. Dogs, just like their humans, slow down with age. Exercise is necessary to keep their bodies healthy. Your pup may not have as much energy as it did in its youth, but it still needs time outdoors to feel the wind in their fur and to stretch out those legs!
You know your dog best. Take it easy and be attentive to their physical limitations and energy levels. I try to do simple things with Beau. We go on early morning walks and wet our paws on the beach before heading to the office.
3 - Make it easy for them to get around. With health conditions like arthritis, your dog might need help doing simple things. A set of stairs can make it easier for older dogs to get into your bed and snuggle. To prevent slipping on hardwood floors, consider rugs. You may need to lend a helping hand to your pup as they get in and out of the car. Beau is a little too heavy to lift, but he loves to go for rides. We have a ramp, so he can hop into the backseat with ease.

4 - Help them catch lots of Zzzs. A good night's rest is important for any dog, especially your old friend. Memory foam dog beds keep older pups cozy. There are pet beds out there that retain heat, perfect for achy joints. If you're the DIY type, there's no shortage of ideas for handmade dog beds.
5 - Keep to an age-appropriate diet. Just like humans, dogs need changes in their diet as they get older. Some dogs are prone to rapid weight gain, while others shed too many pounds in their old age. It's important to purchase pet food that meets their needs. Don't be afraid to chat with your vet for recommendations.
I cherish the time that I get with my best friend, Beau. He's been my right hand man, with me through every adventure. By doing these few things, I can help my aging pal stay "furever" young.
For more tips on caring for your pets, visit our blog here!
Popular in the Community