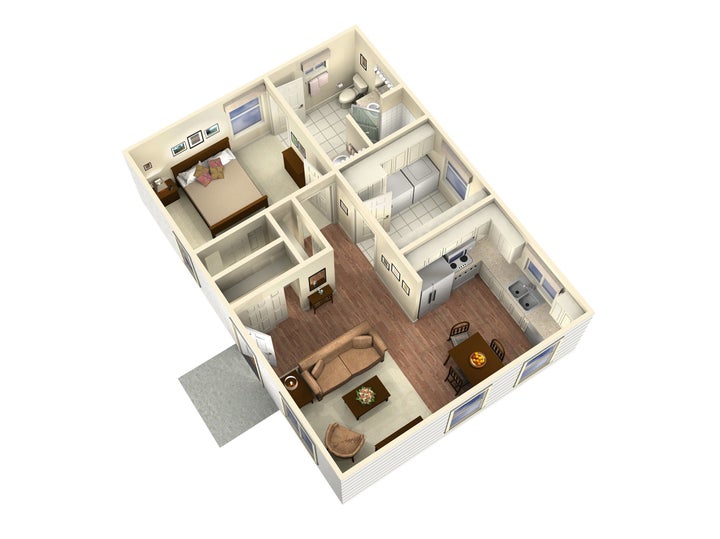 OK, so the only thing standing between your mother and the assisted living place with the awful medicinal smell is your guest room -- and as much as you love Mom, you really don't want to have her living under the same roof. Is there no other choice?
Actually, there is. There's a burgeoning industry that aims to provide a low-cost, aging-in-place alternative. These small homes -- in some cases not much larger than a big shed -- come in a do-it-yourself construction kit. For about $17,000, you get the plans and materials to construct a locked shell for a 681-square-foot structure -- walls, windows and roof trusses, all neatly numbered and ready for you to assemble like a puzzle. Additional costs will be incurred for plumbing, sheet-rocking and electrical work, appliances, fixtures plus any permits needed. Those less construction-minded might also hire someone to oversee the job for them and when all is said and done, expect the final costs to be around $60,000, experts say.
But even at $60,000, it's about a zillion times cheaper than an assisted care place. Plus Mom will be safe, nearby and not underfoot asking why you and your husband fight so much or why you let your kids talk to you like that. A bargain by most definitions.
Why not just toss up a single-wide in the sideyard and be done with it? Because manufactured homes, just like stick-built ones, aren't all that easily adaptable to the issues associated with aging. The new transitional home environment (the formal name for what we are talking about) includes things like improved lighting (someone age 60 needs three times as much light to see), casement windows that crank open at wheelchair height, bathrooms large enough for a wheelchair to maneuver or a caregiver to stand in, "smart house" technology for in-home digital health care over the Internet, furnace filters lower to the ground for easier changing, ample storage and stepless entryways. For example, in order to have a handrail along a hallway, it's not just a matter of using screws to hold it in the sheetrock. Codes much be met and a backing installed inside the wall to provide support.
Pacific Modern Homes Inc. of Elk Grove, CA., is in the forefront of this transitional home environment movement. (The shorthand term of "transitional homes," by the way, is generally associated with temporary housing for rehabilitation -- so googling it isn't likely to yield the results you want for Mom.)
Sales, they report, are brisk and the target end user is, you guessed it, a boomer with aging parents.
Everett Merriam Jr. is a satisfied Pacific Modern end user. Merriam, who at 70 is retired and lives with his wife in a 3,000-square-foot home in Central California, just moved his 95-year-old father from New Mexico into a newly erected unit he put in the backyard on his one-acre home lot. The 600-square-foot "casita," was his dad's idea. Still active and sharp-minded, Everett Sr. walks a few miles each day and is largely self-sufficient. But living alone at such a distance was becoming worrisome, so Dad came up with this plan. His number one priority: He wanted his own privacy.
"After about 20 minutes of listening to him, I became convinced," says Everett Jr. His Dad has been installed in his new home for about a week and so far, so good. "He calls about every ten minutes for me to come fix something like the TV," said Everett Jr., "but at least I'm nearby and can do it." He plans on installing an intercom between the two houses.
When his dad no longer needs the unit, it likely will become a guest house.
Pacific Home's vice president of marketing Ken Rader says that these homes are "infinitely adjustable" to the various stages of a boomer's life. While initially purchased for aging parents, boomers might then use them for adult children returning to the home nest because of the economy or post-college. At some point, he notes, boomers might move themselves into the transitional unit and use it as a home base while they travel, renting out the main house for income or giving it to adult children to move in. Or the unit could be leased out to supplement the boomers' retirement income.
"The uses can easily adapt, which is the whole point," Rader said.

Support HuffPost
The Stakes Have Never Been Higher
Related
Popular in the Community