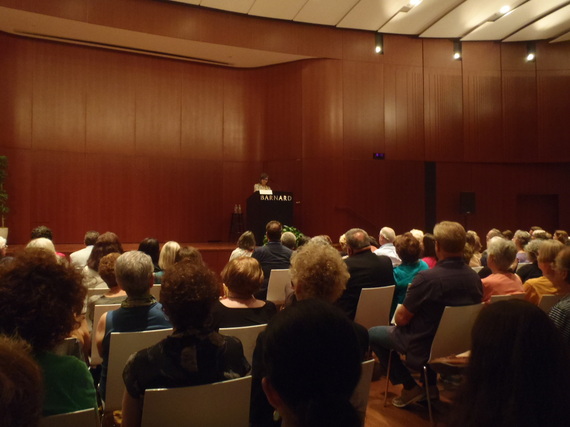 Anna Quindlen wowed the sold-out audience at Barnard on Saturday, May 31, 2014, in the Event Oval of The Diana Center. This was the second time I've heard Anna speak -- both in New York City -- and she was gracious, revealing and a bit self-deprecating about her life as a journalist, mother and wife.
For my friends who have never read one of Quindlen's seven novels or even heard of her (that would be the majority of my Florida gal pals -- sorry, Anna!), this active Barnard alumna and trustee (chair emerita) started as a reporter for the New York Post and later rose through the ranks at the New York Times, becoming the third female to ever have a regular feature on the New York Times' op-ed page, which resulted in her winning the 1992 Pulitzer Prize for commentary. In 1999, she created her biweekly column for Newsweek. She has written fiction, nonfiction, self-help and even two children's books. Her latest novel is a love story, Still Life with Bread Crumbs.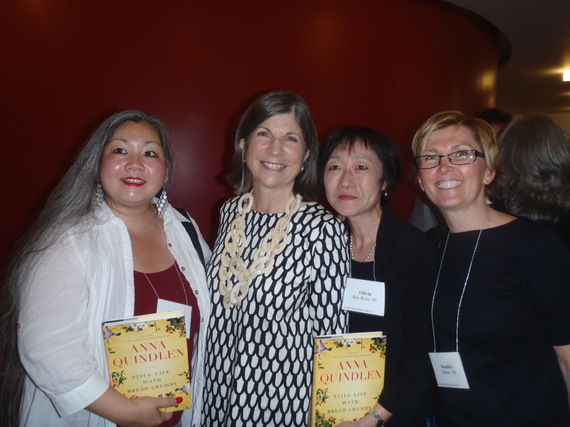 At her alma mater, Anna confessed that she's had a "pretty peripatetic career" (superior Scrabble word and nice alliteration!) for over 40 years. Having written a memoir at the age of 60, Anna dared to use the "E" word in front of her fellow alumnae and a few of us Columbia alumni. "E" does not stand for "Evil" or "Elegiacal," but shhh... it's "Elderly"...
Eagerly listening to her every word, we Anna admirers gravitated to her vulnerability and even factoids. Anna espoused that in 1952, life expectancy was the age of 68. Nowadays, life is topping 80. That's a gain of 12 years! Anna shared her excitement and sense of relief. Although some in the audience were celebrating their 25th or 30th class reunion over the weekend, many spectators could hardly believe that young Anna is old enough to have wrinkles. One-third of the attendees were decorated with crow's feet; another one-third was nearing hearing or visually challenged; while the remaining one-third picked up their first autographed Quindlen book.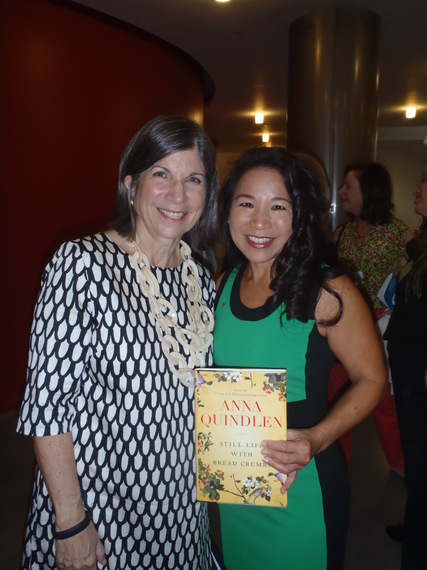 This quintessential feminist shared about what uber-moms go through -- from transporting kids to the soccer fields to fetching beer from the fridge for their beloved hubbies. Barnard alumna and market researcher Karen Radkowsky could identify with Anna joking about how the 40-hour work week evolved to 60 hours, then 100 hours... So how does Anna Quindlen look at age 61?! Fabulous! Her quirky sense of humor kept us laughing in stitches, as we were aging in place (sitting for an hour and becoming cellulite-ridden). She was burning calories simply by gesturing her hands and arms. Her eyebrow raises and eccentric expressions were preventative measures for a facelift. If anything that could have been sagging in that auditorium were just our jawbones from catching all her punchlines. Hey, Anna -- I'm a size zero, and I wear Spanx! Feel better?!
When I'm in Florida, I'm surrounded by signs of aging. As a kid, I lived in Venice, which claims to be the nation's oldest nonretirement city in the U.S.: The median age is 66.7, per the recent U.S. Census Bureau. In Sarasota, my 85-year-old widowed friend and Barnard 1951 alumna Nancy Schlossberg (also a board member of the Institute for the Ages) wrote a column on senior romance. The editors came up with "It's Never Too Late," but she had titled her Better Living feature as "Senior Romance: Saturday Night Can Be the Loneliest Night of the Year." I'm high-fiving Nancy -- not because she has authored books on retirement (yes, in 2009 I bought her Revitalizing Retirement: Reshaping Your Identity, Relationships and Purpose, though it's in my archival stack of signed-and-thank-you-for-taking-a-picture-with-me books), but she got a date! Way to go, Nancy! She found her match on JDate, and they recently vacationed in Costa Rica. I can't wait to read her next column in January on online dating (perhaps I'll dub it "Hooking Up in Your 80's").
Anna, in my books, is aging gracefully and has not quite reached the non-exclusive membership club for the elderly. Semi-retired psychologist in Jacksonville, Florida, Dr. Ruth (Weinstein) Klein (a fellow Barnard alumna who, like Anna, is still married to her Columbia University sweetheart), may look back at her 60s and marvel at how Anna has interpreted the challenges of American women... Nathaniel Heard was born in 1917 -- a Newton High School classmate of Myron "Mike" Wallace (journalist and correspondent of CBS's 60 Minutes) and the same Harvard class of 1940 with President John F. Kennedy -- and later served as my surrogate grandpa for almost 30 years. I watched Nat peacefully die in his hospital bed on February 6, 2012, at his ripe age of 94... On June 29, 2014, I will attend the ribbon-cutting ceremony for The Sally and Sam Shapiro Babies and Children's Medical Center at The Glasser Schoenbaum Human Services Center in Sarasota, Florida. There, the generous 90-plus-year-old Sam Shapiro will stand tall -- accompanied by his lovely wife Sally and perhaps supported by his latest gadget called the "walker" -- and see his vision of affordable health care for children become reality.
Last fall, I emceed a Columbia event at the University Club in midtown Manhattan, where I introduced the honoree and metallurgist Bernard Queneau at the age of 101. He earned his degrees from Columbia College in 1930 and Columbia Engineering in 1933, while his sister Bertile graduated from Barnard in 1930 -- nothing close to Anna Quindlen's Barnard '74.
My grandfatherly friend Nat Heard had outlived all his peers, so anyone who was turning 90 was considered a "spring chicken" to Nat. So if I could only move like Jagger and "age like Anna" (that'll be my next rap song!!), I would be so lucky...