One by one they join the spontaneous discussion in the coffee shop. One woman who had just been focused on her laptop approaches, saying, "I'm going through this same thing with my mother. She's 85. Do you mind if I join in?"
"No, no, it's fine," comes the echo from three others.
"I've been looking at five places," the balding man explains. "The one I like, it has independent living, it has assisted living. But for my mother, the problem is accents."
"Your mother has an accent?"
"No, it's the accents of the staff. They're from all over and she can't understand them."
I sit and watch and listen, remembering it all. The resistance (my mother), the frustration (my father, me), the pain (everyone, everywhere).
It's been 20 years since the roles reversed on me. Suddenly I was the parent -- cajoling, coaxing, pleading, gently scolding. Dutifully watching over, ready to break a fall, prevent a slip, steady a wobble. Helping get in and out of the car, buckling seat belts, holding hands, interlocking arms going up and down stairs.
I want to get up and tell this ever-widening group of not-so-baby boomers to prepare for one of the worst experience of their lives -- to let them know that no matter what they do, who they talk to, where their parent ends up, it will hurt. It will hurt their hearts forever. A sadness will envelope them, an ache will endure. Mortality knocks. First for your parents, then for you.
Watching your parents age and being the one on the front lines of denial -- I'm not moving, I'm not selling the house, I'm going to keep driving my car, I don't need help -- slaps you awake into a reality no one wants, or is prepared, to face. Not parents, not children, and sometimes it seemed to me, not American society.
I've never felt so alone, so helpless, so conflicted as I did when I packed up 40 years worth of family possessions from the only home I ever knew while my parents sat, usually in the dark, and usually silent.
I was 35 years old, the youngest of six kids and the most available to upstage my life (read: single, no kids). Talk of being the "sandwich" generation, taking care of both children and parents, was just beginning. I took family leave from my newspaper job to help my parents pack up their house in the suburbs of Buffalo, N.Y.
The plan was to move them to the Northwest where my sister and brother had settled more than 30 years ago, and where five grandchildren lived. After much searching, my sister had found an apartment for them in a retirement home that served nice meals, planned many activities, and provided round-the-clock security.
I had measured the furniture and my sister had figured out what would fit into the two-bedroom place with a living room, small kitchen and tiny patio. The matching buffet dining set, my father's motorized reclining chair, my mother's piano were Seattle bound.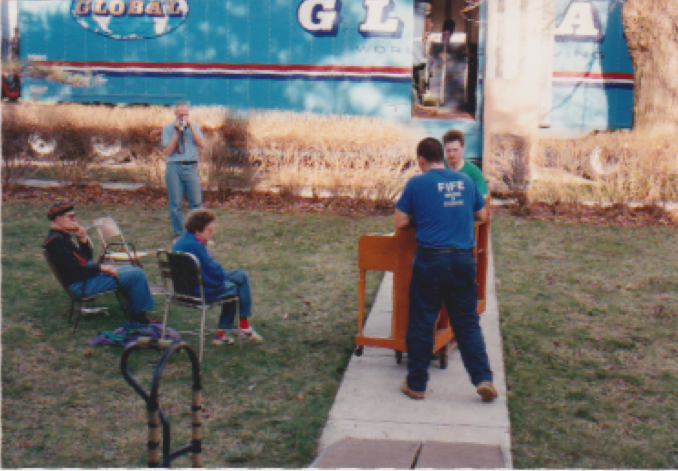 April 1995: My parents watching the piano being loaded onto the moving van.
Photo by Patricia Guthrie
Arranging the moving van, setting the moving date, finding a realtor, selling the car, selling the sailboat were just some of my jobs. My main task: packing up and clearing out a six-bedroom, two-story house with an attic chock full of memories and a basement cluttered with abandoned tools and toys. Railroad sets, darkroom equipment, beer-making kits. A busted sink from a long ago too-wild my-parents-are-out-of-town high school party. Among the layers of a lifetime, I uncovered were my father's chemistry sets and his father's shaving razor.
He tried to help. But congestive heart failure left my dad living in slow motion while Parkinson's disease clouded his emotions and judgment. One time when I was cleaning out the garage (a task I soon gave up on, decreeing all contents to the home buyer), I watched my father slowly walk to the curb carrying a small box. He put it down near the overflowing garbage cans.
Waiting until he returned to the house, I opened it up and inspected the contents. Inside were hand-drawn comic strips of a futuristic rocket man, neatly collected in a three-ring notebook. His admiration of Buck Rogers was well known as were these wonderful drawings from his 16-year-old imagination. Grabbing the treasure, I marched inside the house and confronted my dad.
"Why did you leave this out with the trash?"
"That's old stuff. No one wants it. I'm just trying to help."
My father died months after we moved them. He probably knew that would be the case. He also knew what none of us had figured out -- his wife of 54 years, my dear stoic mother of Norwegian and English stock, needed to be pushed into a new life no matter how much it hurt.
It took her a few years (and some new anti-depressants and anti-anxiety pills), but she blossomed. She gladly attended the old lady gatherings of red hats and made a habit of keeping old prescription bottles brimming with nickels and dimes. She even grew so confident as to agree to duet piano recitals.
When mom died five years ago at age 91, she was the oldest -- not in years, but in residence of her building. I had moved to Seattle from Atlanta three years earlier to spend time with her. She was not the same mother I had known so many seasons before, sitting in a lawn chair sadly watching her piano roll up the moving van ramp. We took short road trips together, to see fields of blossoming tulips and sip tastes of local wines. She even went out on "dates" a few times with another resident to a nearby Jack-in-the-Box. Stan wore a bow tie with a tucked-in flannel shirt and jeans. My father had worn clip-on bow ties before switching to his ever-present "string" tie. I never knew this until I found a small bag of bow ties preserved among my mother's slips.
I keep them lined up on my dresser next to the bottled bingo winnings of my mother.