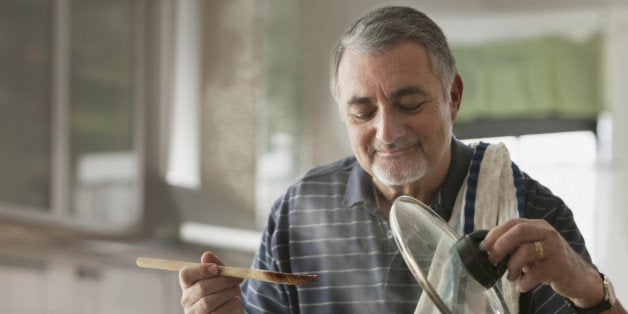 I was lunching with my 90-year-old dad at the West Side Tennis Club in New York when a woman approached us. She spoke with excitement, in awe of an incident that happened the previous night. After falling asleep alongside her tablet, she was startled into wakefulness by a voice. Having helped Dad launch his website she knew well the welcoming voice of his home page avatar.
"It was your avatar, Ira. From your website," she repeated as my dad remained silent. "I was asleep! I hadn't clicked on it and the tablet didn't fall off the bed!"
"It's Lonnie, "I said with conviction, speaking of my dad's life partner who had died 18 months previously.

"That's what I thought," she said, solemnly with a glint of Irish magic in her eyes.
My dad remained silent. As a man of science, he believes in what he can see. Yet, as evidence mounts, I am noticing a slight shift in his beliefs. He would like to believe it was a message from the woman he'd shared a life with for 45 years.
"Tell her about Lonnie's phone call, "I encouraged. He told his friend of a strange occurrence on another device, his phone. Although it was on a table next to him, untouched by human hands or pockets, the screen suddenly lit up with Lonnie's photo.
He remembered, too, climbing into bed for his nightly ritual of Murder She Wrote, when his television show was suddenly superseded by The Borgias on Netflix. It had been almost two years since he'd watched the series with his life partner.
"Lonnie," he grumbled playfully in the voice of Seinfeld when suspecting Newman of some mischief.
Considering Dad had closed their Netflix account after her passing, how else to interpret this mystery? To me, it was another piece of evidence that Lonnie was clearly communicating from the beyond. Sensing an opening in his attitude, I asked, "If you did believe, dad, what do you think she was trying to say through the voice of your avatar?"
He answered without hesitation, "Start blogging on your website again!" The website that once excited him now lay fallow. With great loss, we often lose the motivation to access our creativity. Yet, it's that same creativity which can enliven us, connecting us deeply to life.
He had begun blogging Nobody Asked Me But with the eye and voice of an administrator working with the disabled. Now, at 90, he was on the other side having less mobility himself. Dealing with a world where the limitations of aging are often viewed as our entirety can be demeaning. He wants to be seen for who he is beyond limitations. At 90 he still swiffers and vacuums his apartment; shops online and prepares his own meals. His walking may be slower but, his mind is as fast as ever.

When he said he had nothing much to say, I asked, "If you did have something to say, what would you write about?" Immediately he said Access-a-ride. The car service that used to take him to Manhattan for the cost of a subway ride, while fantastic in concept, had caused another friend to miss our lunch. It clearly needed my dad's organizational skills for arranging shared rides.
He went on to tell of his friend's experience just that day when a shared half hour ride from the City to Forest Hills arrived at the tennis club 2.5 hours later. "People think we should take what we are given and just be grateful."
At times, the indignities of growing older can be worse than the process. Catching hold of anger's fuel he felt motivated to write again. I know it will be well crafted as he was executive director for United Cerebral Palsy in NY before retiring. Actually he still works for them, from home, having recently let go both riding the subway and Access-a-ride. His electric blue scooter gets him where he needs to go.
Dad is advocating now for greater accessibility within his coop. "I'm the oldest but it's not only the aging in need of better access. Just yesterday, I had to help a young woman with a stroller get into the building!"
With the determination he used to bring about about the curb cuts in his neighborhood, he's working with his co-op board to solve the problem of an automatic door.
It's good to have a model of what is possible while scattering some of our myths on aging. He's taught me that it's essential to still have dreams and go for them. Two years ago, he dreamed of having great grandchildren. This past year both of his grandchildren made his dream a reality.
Inspired and grateful, I'm dreaming of living in London to be close to my new grandson. "Thank you, Dad, we are all so fortunate to still have you in our lives."
Calling all HuffPost superfans!
Sign up for membership to become a founding member and help shape HuffPost's next chapter