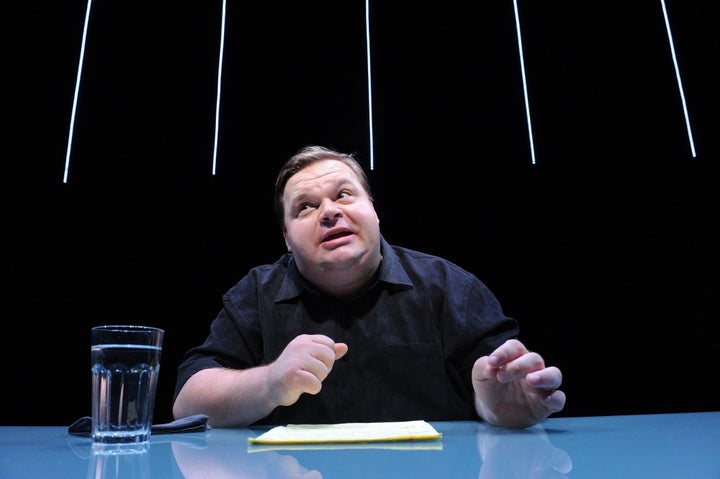 Prior to the airing of last weekend's Retraction episode of This American Life, the big story around Mike Daisey's monologue The Agony and the Ecstasy of Steve Jobs was its release by Daisey and director Jean-Michele Gregory as a free download, available for others to perform royalty-free. While Daisey is scheduled to perform the buzzed-about, now-controversial monologue March 31st in Burlington, Vermont, as well as stints in the UK and another run this summer at Washington, DC's Woolly Mammoth Theater Company (which will be home to the world premiere of his next monologue, American Utopias, in 2013, also directed by Gregory), others are continuing to perform and expand upon the show while incorporating current events.
Actor Lance Baker was the first other than Daisey to bring the script to life on stage in Chicago on March 5th to benefit A Red Orchid Theatre, and again on March 12th, and performances are scheduled in Lafayette, Louisiana March 24th and 25th by Acting Unlimited, Inc. and by The Actors Guild of Lexington (Kentucky), directed by Larry Snipes, running May 10th-20th. In an email to his mailing list on March 6th, Daisey wrote that the show had been downloaded over 60,000 times and that "There are now over twenty productions going up all over the world: Chicago, Barcelona, Minneapolis, Kurdistan, Buffalo, Italy, Kentucky, Turkey, and many, many more." According to Acting Unlimited, Inc., which performed the show twice prior to the airing of the TAL Retraction episode, "the performances will include newly created material commenting on the ongoing controversy, written by the show's performer, Cody Daigle." On their website, Daigle explains, "With our performances starting at the moment this story is breaking, we thought it was only appropriate to include this bit of truth-telling in with Daisey's amazing piece."
I emailed my friend Courtney MacLean, a collaborator with Minneapolis's The Hacktor's Collective, to find out about their plans for their upcoming production of the show on April 13th, where audiences will be asked for a suggested donation, with proceeds going to a to-be-determined human rights organization. Other performers are Katie Knutson, Ben Layne, Jeremy Motz, Amy Salloway, and Candy Simmons. According to their Facebook event page, "Here in Minneapolis, six actors and writers have formed The Hacktor's Collective to perform 'The Agony And The Ecstasy...' for one night only at The Hack Factory, the home of Twin Cities Maker, a community group whose mission is to encourage the grassroots making, sharing and learning of media and technologies."
Can you tell me more about the production of The Agony and the Ecstasy of Steve Jobs (TATESJ) being planned? What has been the reaction of the organizers to the This American Life retraction?
We were planning on just doing a dramatic reading of TATESJ, but with the 6 of us reading different parts at a music stand with some gutted Macs and a huge LED scrolling marquee as our set. Each person would be assigned to a different "theme" that arises in the script, i.e., someone would read the parts that deal with Shenzhen/China, someone else would take the parts about Apple's history, someone else would read as Mike Daisey as a technology-obsessed adolescent. We'll be performing it at The Hack Factory, which is a member-supported hacker space in South Minneapolis.
The reactions to the TAL piece varied only slightly amongst the six of us, but some of us briefly considered throwing in the towel, while others were excited that the controversy might spur more audience into seeing what the fuss is all about, while others felt betrayed by one of our own. Ultimately, we decided to continue on with the production. I think the blanket reaction was that none of us agree with Daisey's choice to perpetuate the exaggerations about his experiences in China. As theater artists, we understand and frequently use the tool of embellishment ourselves, but when asked point-blank about the truthfulness, we didn't understand why Daisey didn't just admit that he had compacted news and personal experience for theatricality and to evoke empathy in his audiences. However, we all agree that, after reviewing the items about which Daisey exaggerated, the fact still remains that our products are being made by human beings in sub-par conditions. Though the controversy may distill the message, the bottom line is that we should all consider the entire life-span of our purchases, from the hands that put the gadget together to the moment we unwrap it in our homes. The irony of this situation is, as one of our group pointed out, Daisey is asking us to think about where our devices come from and now we, as audience and producers and fans, are being asked to think about where our theatrical pieces are coming from.
Because we are a collection of actors, writers and solo performers, the events generated a lot of discussion among us regarding how we define the truth of the theater pieces we see and create, and whether we feel it's "okay" to assume that our audiences will know we're not claiming to be representing absolute facts onstage. We also talked about how we each perceive TAL--whether we think it IS true journalism or not, and whether the producers were partly at fault, and we had some differing opinions about that...but we thought that if we were having these discussions, then it was a sign that audiences would maybe have them as well. What changes, if any, are you making to the script?
We will be adding some commentary to the script that may include pieces from the This American Life retraction show and other related news items, including items post-TAL retraction that support (what I believe is) Daisey's primary objective: to shed light on the journey of our purchases. One of us might even be playing Ira Glass interjecting when the fallacies arise. I would love to get my hands on the new parts of the script that Daisey has revised for the show at the Public right now. But it's going to be fun to get to take the "original" (I use quotes because Daisey's works are constantly evolving), embellishments and all, and insert the facts that have surfaced.
How do you think this will affect the turnout and reception of the piece?I think that some of our community might be wondering why we're continuing to produce the show. I hope that the controversy will affect the turnout positively. I would love for those potential audience members that feel betrayed and skeptical to come and see the show in its entirety, with our added commentary on the parts that have been brought into question. I am hoping in taking the monologue from both sides we can still make our audience go home and look at their electronics, their cars, their clothes in a different light. The show is a very moving and funny piece. The recent events have put the spotlight on only Daisey's trip to China, but the piece also contains some great anecdotes about being a tech geek and Steve Jobs himself, none of which has been disproved...yet. My hope is that we will have a nice-sized audience of people who are willing to listen and willing to be moved.
The Hacktor's Collective will perform The Agony and The Ecstasy of Steve Jobs by Mike Daisey on April 13th at 7 pm at The Hack Factory, 3119 East 26th Street, Minneapolis, Minnesota.
Related
Popular in the Community