Independent travel is one of the ultimate forms of freedom, but sometimes it's lovely to know someone is waiting when you arrive somewhere new. Especially if you are on an Indian train at night and the railway keeps changing its mind where the locomotive is going to stop.
I was on my way to Agra, home of the world's greatest monument to love - the Taj Mahal. When I eventually arrived I was thrilled to find I could look out my window any time to gaze at the Mughal masterpiece, which was Unesco-listed as a World Heritage Site in 1983. But first I had to get there.
Fortunately, I was booked to stay at The Gateway Hotel and though there was some problem with the railway that I was unaware of, the hotel staff were keeping track -- literally -- of where the train was so they could meet me. After vacillating between three destinations, Indian Rail eventually settled on Agra Fort. Some stations are badly lit with tiny little signs, so I was nervous, unnecessarily, that I'd disembark in the wrong place. I was up and down like a flea, but no one else seemed the slightest bit perturbed.
"It doesn't matter for the local people -- it's all Agra for them. But we were worried about you," the General Manager said the next day. Not that I was in any real danger, just a little confused.
Next morning I set the alarm for 5.30am for a glimpse of the Taj Mahal at sunrise, before going back to sleep in preparation for a big breakfast and a look at Agra Fort.
This immense 16th-century structure is very impressive. The part open to the public features grand gateways, palaces and lots of marble inlay work known as pietra dura which is also found at the Taj Mahal. From the fort you can see the Taj a couple of miles away by the Yamuna River.
Emperor Aurangzeb imprisoned his father in the fort's white marble palace known as the Khas Mahal for eight years until his death. The deposed Shah Jahan had wonderful views of the Taj Mahal from his balcony, which was nice for him seeing as it was he who built it for third wife, Mumtaz Mahal, mother of his 14 offspring who died in childbirth aged 38. Once dead, he was buried there along with his beloved spouse.
That evening I dined at Jhankar, the Gateway's contemporary fine dining restaurant that celebrates the Mughal emperors' love of eating. Behind a large window at the back chefs prepared kebabs or fresh naan bread in the "live kitchen" tandoor (charcoal-heated clay oven).

A Royal Thali of badshahi parosa (emperor food) was a tempting selection of kebabs, sublime chicken and mutton curries, vegetables, dal and three breads, including a flaky paratha with mint. Those rulers liked variety. The vegetarian thali is called begumi parosa (queen food).
Really famished travelers could try a whole leg of marinated lamb cooked in the tandoor.
Agra itself is a bit chaotic, but The Gateway has a cosy bar and various entertainments in the relaxed lobby, including a tattooist and an astrologer who said I would make lots of money between the ages of 60 and 83. It's a pleasant place to relax after a sweaty day of sightseeing.
Next morning I actually arose at 5.30am for an early visit to the "most beautiful building in the world". Standing in front of it is a bit like seeing the Eiffel Tower or the Empire State Building for the first time - you knew they existed, but finally you experience it for yourself.
My guide and I entered through the impressive red sandstone southern gate after which the Taj, gardens and reflection pools were spread out before us. Apart from other tourists who were taking photos and videos, the formal Persian gardens were quite serene. Here Diana, Princess of Wales, was photographed alone 20 years ago to indicate all was not well within her marriage.
I paused for a moment to think about Mumtaz Mahal and her 14 children. 'She was very pretty,' said my guide.
'He must have cared for her very much,' I replied.
'She gave him the children the first two wives didn't,' he offered. 'And she was very pretty.'
The mausoleum is adorned with exquisite marble relief work, and pietra dura. The light is filtered by jali, or carved lattice screens, inside so a flashlight was handy to see the layers of semi-precious stone in the flower inlays around the central area where the replica cenotaphs of Mumtaz Mahal and Shah Jahan lie. The real tombs are downstairs, but I was told the basement is considered too poorly ventilated to handle large volumes of people and has not been open to the public for many years.
That afternoon we drove 24 miles west of Agra to visit the fortified ancient city of Fatehpur Sikri, which was the Mughal capital between 1571 and 1585. The city itself includes palaces for three wives and a number of pavilions. Emperor Akbar built here after consulting a Sufi saint in Sikri village who predicted the birth of a royal heir. The site includes a huge and atmospheric mosque full of lively locals, and a marble tomb for Akbar's saint where childless women tie strings to the jali.
Agra is one of the most memorable places in India - there is no forgetting the Taj Mahal. However the fort, the food and Fatehpur Sikri are considerable attractions in their own right. I didn't find a monarch to father 14 children with me in Agra, but when you're on the road, sometimes what you really need is someone who can point to a car and carry a bag.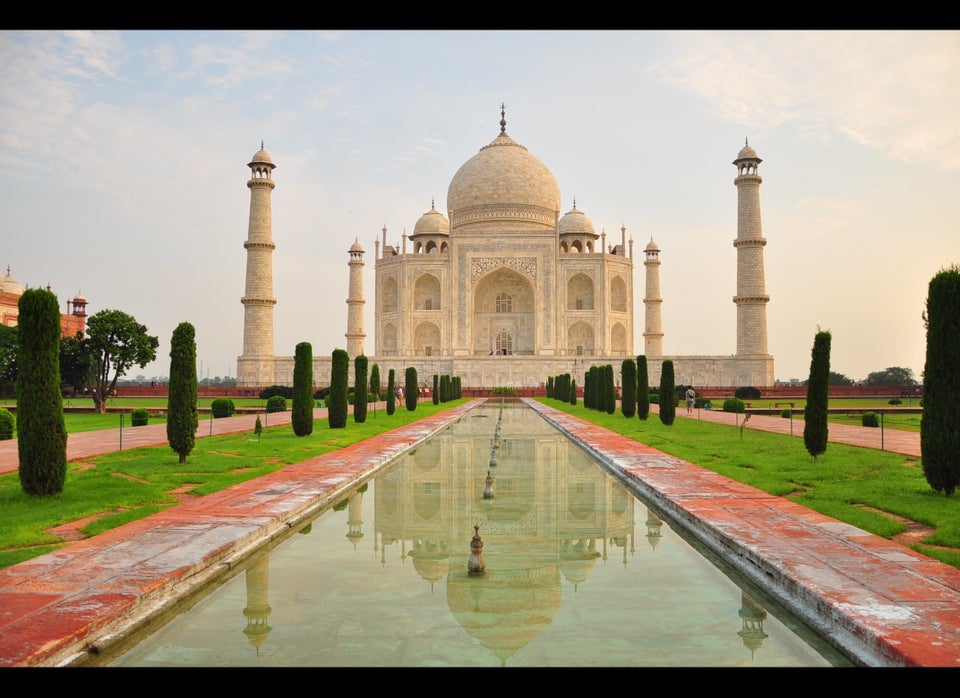 Heritage of the Moghuls
Popular in the Community